BOYS 2-MILE
| | | | |
| --- | --- | --- | --- |
| Lap | Split | Cum | Comment |
| 1 | 67 | | Caught in traffic jam on 1st turn |
| 2 | 64 | 2:09 | 50 meters in front already |
| 3 | 65 | 3:15 | all alone the rest of the way |
| 4 | 66 | 4:21 | |
| 5 | 68 | 5:29 | crowd cheering loudly every turn |
| 6 | 65 | 6:34 | picks up the pace |
| 7 | 65 | 7:39 | |
| 8 | 65 | 8:44 | |
Start: From right: Erik Grumstrup SD, Chris Solinsky WI, Kevin Davis CA, Dathan Ritzenhein MI,
Charlie Koeppen IN, Robert Smitson IN, Michael Kiter WA, Tim Moore MI, and Chandler Goodwin UT.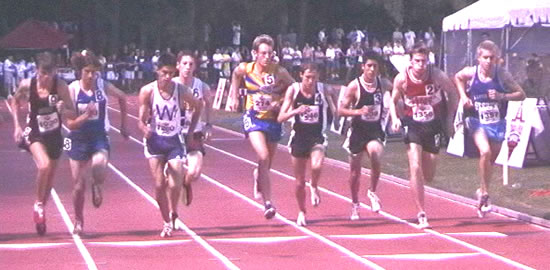 Ritz was buried in traffic immediately, but got free after 100 meters. Ritz said it probably cost him one second.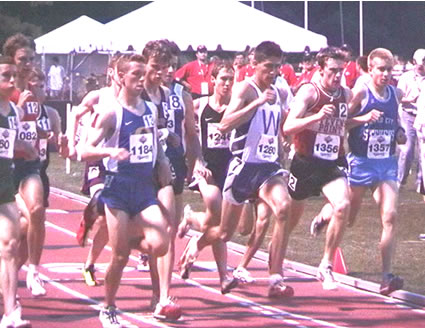 Below: By the stretch of Lap 1, Ritz already has daylight,
and he runs alone the rest of the way.

Right: Ritz picked up the pace
at the end of lap 6
The finish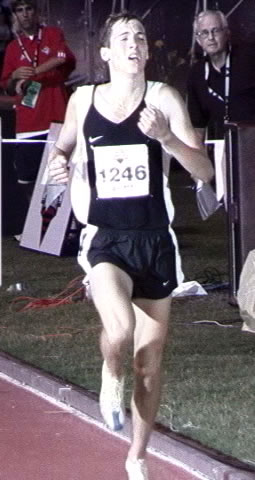 Robert Smitson IN finished strong for second,
14 seconds after the hunched over Ritzenhein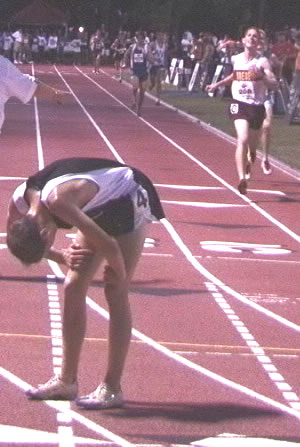 .
Ritz takes refuge in a golf cart.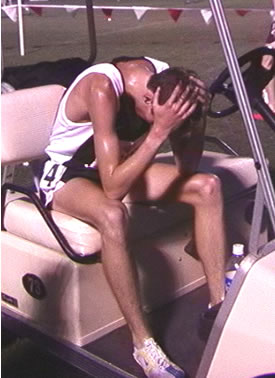 | | |
| --- | --- |
| Ritz tells announcer Ian Brooks he can come back in the morning for the 4-mile relay and run as fast as it takes to win. "I'm in great shape this year." | Ritz meets the press |
     PLACE ATHLETE NAME              YR HOMETOWN                  TIME      HT  

    ===== ========================= == ========================= ========= ==  

        1 Ritzenhein, Dathan        01 Rockford, MI              8:44.43 *  2  

        2 Smitson, Robert           01 Carmel, IN                8:58.95 #  2  

        3 Grumstrup, Erik           01 Black Hawk, SD            8:59.57 #  2  

        4 Moore, Tim                02 Novi, MI                  9:03.84 #  2  

        5 Kiter, Michael            01 Spokane, WA               9:04.00 #  2  

        6 Goodwin, Chandler         01 Pleasant Grove, UT        9:09.97    2  

        7 Maline, Matt              01 Herndon, VA               9:11.34    2  

        8 Millioen, Charles         01 Blue Point, NY            9:12.34    2  

        9 Elder, Chris              01 Cary, NC                  9:13.51    1  

       10 Esche, Matt               01 Waukesha, WI              9:14.28    1  

       11 Moulton, Patrick          01 Pelham, NH                9:16.25    1  

       12 McAndrews, Seton          01 Queensbury, NY            9:18.17    2  

       13 Jones, Chris              01 Coralville, IA            9:19.81    1  

       14 Dalpiaz, Brian            03 Sayville, NY              9:20.17    1  

       15 Ruiz, Bryce               02 Williamburg, VA           9:21.29    1  

       16 Solinsky, Chris           03 Stevens Point, WI         9:22.62    2  

       17 Marlowe, Kurtis           01 Richland, MI              9:23.79    1  

       18 Keally, Matt              02 Virginia Beach, VA        9:25.45    1  

       19 Glaz, Dan                 01 Palos Hills, IL           9:25.59    2  

       20 Ludwig, Adam              02 St. Joseph, MI            9:26.71    1  

       21 Henk, Mint                02 Braintree, VT             9:28.10    1  

       22 Fuqua, Scott              02 Birmingham, AL            9:29.98    2  

       23 Van Antwerp, Matthew      01 Oak Ridge, NJ             9:30.13    1  

       24 Prunty, Jared             01 Winchester, VA            9:33.90    1  

       25 Koeppen, Charlie          01 Carmel, IN                9:37.00    2  

       26 McConnell, Ryan           01 North Kingstown, RI       9:40.09    1  

       27 Davis, Kevin              02 Fresno, CA                9:49.86    2  

       28 Weaver, Austin            02 Brentwood, TN             9:51.27    1  

       29 Damony, Giles             01 Philadelphia, PA          9:53.35    1 
Return to adidas Outdoor Championships page