Lap 1 - After first turn jostling, Nick Schneider MN (1310) moved to the front on the backstretch,
yielding to Perkins (866) at the end of the lap. Others visible are David Vidal MT (499) and Ian Cronin IL (867).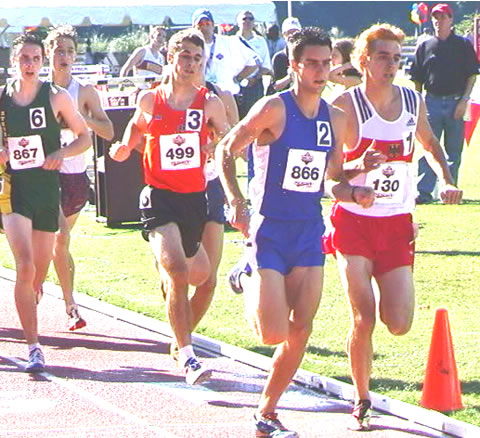 Lap 2 - Perkins continued on top through the half in 2:05.5,
a step ahead of Schneider, with Ty Jensen NJ (922) 3rd.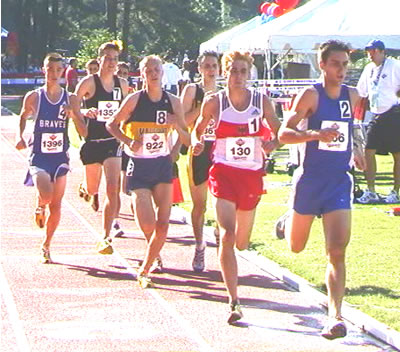 Lap 3 - Nick Schneider got the lead down the backstretch,
but Shane Stroup MD made a big move on the homestretch to join Schneider.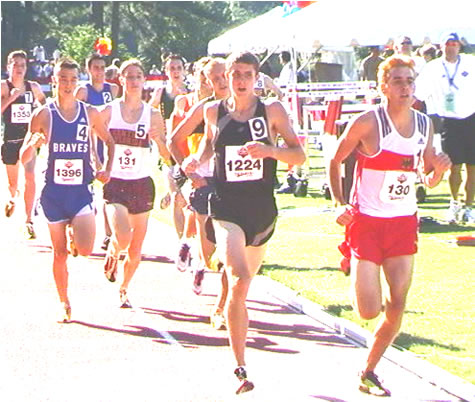 Lap 4 -Stroup and Schneider gap the rest of the field at the start of the bell lap.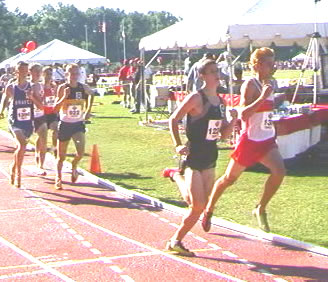 Stroup spurted ahead by several meters, but Schneider came back on the far turn.
In mid-stretch, Schneider in command, as Jesse Rhodenbaugh OH (1396) comes up to challenge Stroup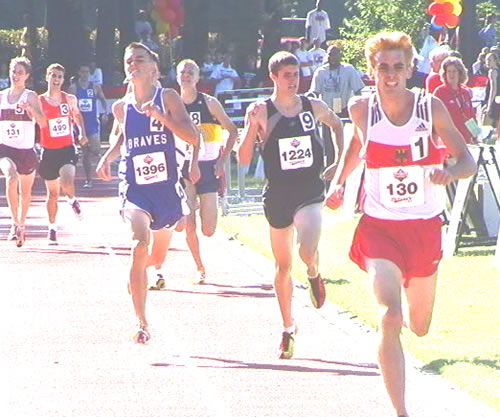 Orange hair was a team decision by Schneider's SMR team.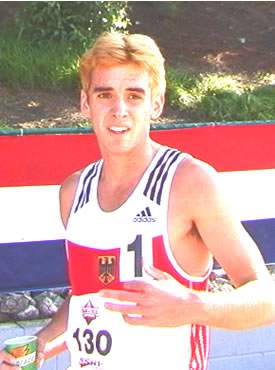 PLACE ATHLETE NAME              YR HOMETOWN                  TIME      HT  

    ===== ========================= == ========================= ========= ==  

        1 Schneider, Nick           01 Victoria, MN              4:09.42    4  

        2 Stroup, Shane             02 Highland, MD              4:10.61    4  

        3 Rhodenbaugh, Jesse        01 Oxford, OH                4:10.71    4  

        4 Jensen, Ty                01 Marlboro, NJ              4:12.53    4  

        5 Curtis, Bobby             03 Louisville, KY            4:12.60    4  

        6 Smitson, Robert           01 Carmel, IN                4:12.92    3  

        7 Gregory, Ben              01 Racine, WI                4:13.06    3  

        8 Fennell, Brendan          03 Pearl River, NY           4:13.60    3  

        9 Steier, Rolf              02 Temple Terrace, FL        4:14.34    4  

       10 Vidal, David              01 Kalispell, MT             4:15.69    4  

       11 Snead, L.A.               01 Fairfax, VA               4:16.51    3  

       12 Cronin, Ian               01 Lincolnshire, IL          4:17.14    4  

       13 McGovern, Brian           01 Newtown, CT               4:17.62    3  

       14 Richardson, John          03 Tuckahoe, NJ              4:18.63    3  

       15 Solinsky, Chris           03 Stevens Point, WI         4:18.81    2  

       16 Marlowe, Kurtis           01 Richland, MI              4:19.05    2  

       17 Wiechnicki, Drew          02 Sandisfield, MA           4:19.51    2  

       18 Hyde, Bruce               01 Waterbury, VT             4:20.81    1  

       19 Glaz, Dan                 01 Palos Hills, IL           4:20.83    2  

       20 Carr, Allen               01 Yorktown, VA              4:20.96    1  

       21 Smith, Brian              01 Rockford, MI              4:21.19    3  

       22 Perkins, Adam             03 Liberty, MO               4:21.48    4  


Return to adidas Outdoor Championships page