June 15-17, 2001 at North Carolina State University, Raleigh NC

AOC pix page

Girls 2-Mile

Anita Siraki again - defending champion outlasts newcomers Erika Odlaug and Molly Huddle
in meet record time of 10:12.48


Without Sara Bei and Alicia Craig, her fellow medal winners last year and her future teammates at Stanford next year, Anita Siraki defended her title smartly against strong newcomers: Erika Odlaug IL, winner of the Golden West Invitational a week ago, and Molly Huddle NY, double winner at the New York State Meet.

Huddle, who boldly invokes the spirit of "Pre", set all the pace through 5 laps before Siraki and Odlaug reeled her in. From then on, the Hoover Glendale CA star methodically lengthened her lead and finished with a meet record and the fastest time in the country this year.

Odlaug, Huddle and fourth place finisher Allison Tubbs WA will return next year.
Splits
Lap 1: 71 Huddle - Odlaug, then a gap to Cicero
Lap 2: 74 and 2:27 Huddle - Odlaug - Cicero - Tubbs - Siraki
Lap 3: 77 Huddle - Odlaug - Cicero - Siraki - Tubbs
Lap 4: 81 and 5:03. Huddle - Odlaug - Siraki
Lap 5: 78 Huddle - Siraki - Odlaug
Lap 6: 77 Siraki
Lap 7: 78 Siraki
Lap 8: 76 Siraki
Lap 1
Huddle breaks on top at the start stays there. "That's the way Pre did it,"

Huddle told Stephen (steveu) Underwood after the race.

End of lap 1: (

right

) Huddle and Odlaug are out in front of everyone.
Lap 2 - Huddle opens a gap on Odlaug and maintains it through lap 3.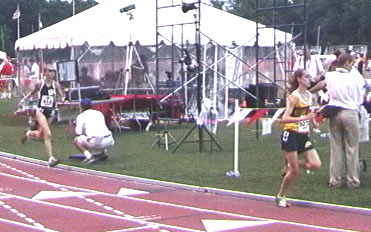 Lap 4 - Leaders bunch up and Siraki moves up to third, with Cicero fourth.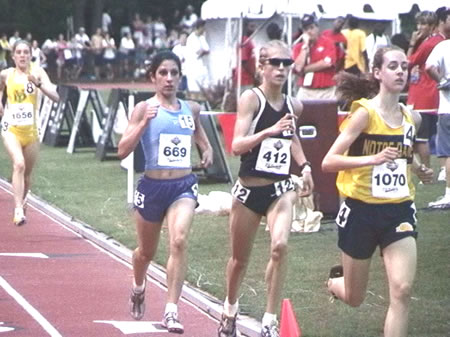 End of Lap 5 - Huddle is holding on, but Siraki is ready to strike and Odlaug is right behind.

End of Lap 6 - After moving out by 10 meters on the far turn,
Siraki has taken charge, with Odlaug also passing Huddle for their final positions.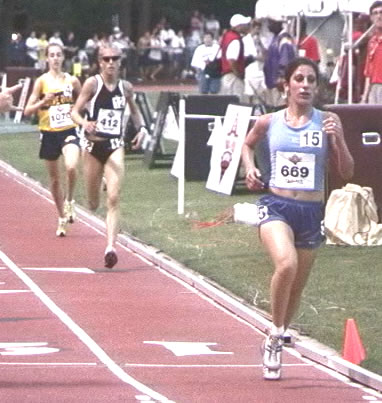 Siraki congratulates Odlaug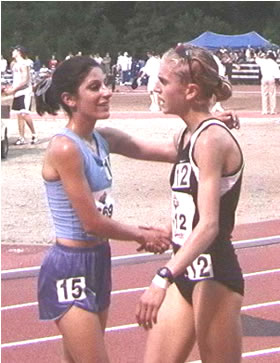 PLACE ATHLETE NAME              YR HOMETOWN                  TIME       HT  

   ===== ========================= == ========================= ========== ==  

       1 Siraki, Anita             01 Glendale, CA              10:12.48 *  2  

       2 Odlaug, Erika             02 Bannockburn, IL           10:17.15 #  2  

       3 Huddle, Molly             02 Elmira, NY                10:25.30    2  

       4 Tubbs, Alison             02 Enumclaw, WA              10:26.57    2  

       5 Cicero, Maria             01 Elmhurst, IL              10:33.37    2  

       6 Roetter, Natasha          02 Lexington, MA             10:39.68    2  

       7 Stanley, Laura            02 Fletcher, NC              10:40.84    1  

       8 Roth, Kristina            02 Celina, OH                10:44.54    2  

       9 McLeod, Brianna           03 Jenks, OK                 10:46.35    1  

      10 Wale, Michelle            01 Pine Bush, NY             10:50.12    2  

      11 Blood, Nicole             06 Saratoga, NY              10:53.05    2  

      12 Lauver, Valerie           02 Allen, TX                 10:54.28    2  

      13 Ewart, Katie              02 Ft. Washington, PA        10:55.06    2  

      14 Ko, Phebe                 01 Salt Lake City, UT        10:58.80    1  

      15 Saterstad, Angela         03 Lykens, PA                11:06.11    2  


Return to adidas Outdoor Championships page