June 15-17, 2001 at North Carolina State University, Raleigh NC

AOC pix page

Girls Mile

Erin Donohue's great kick
gives her 2nd title in 3 years

Brooke Novak WI, the national leader coming in, went to the lead at the outset and led the group through a swift 68 second first quarter. Defending champion Alicia Craig WY took over on the second lap to lead for the next half mile. But she couldn't shake Erin Donohue NJ, the 1999 champion here. With 300 meters to go, Donohue put the pedal down and stormed to the lead, duplicating her winning move at the Penn Relays this year, to win going away in 4:42.96, a meet record and the fastest time in the country this year.

Splits: 68 - 73 - 71 - 70

Below: Start, from left, Novak, Craig, Owen, Donohue.

Right: lap 1 stretch: Novak a few steps in front
of Craig and Donohue, with Huddle fourth.
Lap 2 - Below, top four are spaced out on the first turn.
Right: Stretch, lap 2: After the top 3 bunched up down the backstretch, Craig went to the front on the far turn and Donohue went with her. Novak (hidden) is in third and Huddle fourth.
Far right: End lap 2, top 3 have gapped Huddle.
Lap 3
On the backstretch, Craig tries to break away, but can't get clear of Donohue.
Craig said later: "I knew she had a great kick, so I wanted to set a pace to make it hurt to keep up. But she stayed right with me." Below: Donohue stalks Craig down the stretch before the gun sounds the bell lap.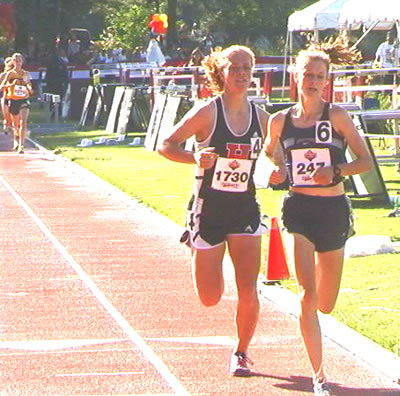 Lap 4
Above: With 300 meters to go Donohue started her kick and shot past Craig.

Right: In the home stretch, Donohue is in complete command, with Huddle moving up to third.
In the post-race interview, Donohue seemed as happy as anything
about breaking the New Jersey state record - "I've been going after it four years."
Asked about the 300 meter kick, she said, "That always seems a
good spot to go. All of my training is to be strong at the end of the race."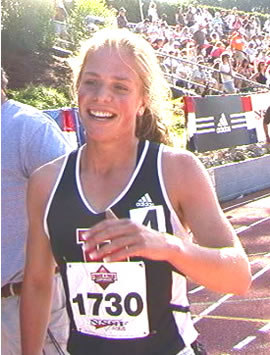 The versatile Donohue also competed in the javelin, finishing 2nd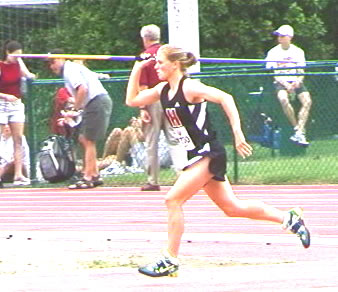 PLACE ATHLETE NAME              YR HOMETOWN                  TIME      HT  

    ===== ========================= == ========================= ========= ==  

        1 Donohue, Erin             01 Haddonfield, NJ           4:42.96 *  3  

        2 Craig, Alicia             01 Gillette, WY              4:47.29    3  

        3 Huddle, Molly             02 Elmira, NY                4:50.98    3  

        4 Novak, Brooke             01 Kaukauna, WI              4:54.61    3  

        5 Olds, Megan               02 Gloversville, NY          4:55.15    3  

        6 Stanley, Laura            02 Fletcher, NC              4:59.23    2  

        7 Hawrylo, Shannon          01 Flemington, NJ            4:59.53    2  

        8 Owen, Meghan              03 Danielson, CT             5:00.35    3  

        9 Cicero, Maria             01 Elmhurst, IL              5:00.42    3  

       10 Carlstrom, Keira          02 Oakton, VA                5:01.56    3  

       11 Dixon, Lynn               03 Manhattan Beach, CA       5:01.87    3  
Return to adidas Outdoor Championships page