Ritz Happy for Webb, but He's Ready to Rock Too
By Stephen (steveu) Underwood
Like thousands of track nuts around the world, a certain young man in
Rockford, Mich. was attached by the retinas to his TV set (his teammate's
actually) last Sunday afternoon as a certain fellow prep distance-running
megastar from Reston, Va. moved up through the pack in the Bill Bowerman
Mile.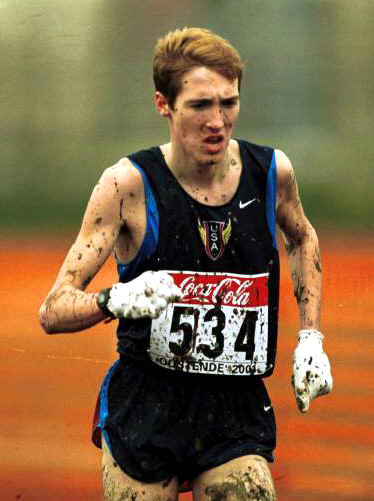 Ritz at the World Junior Cross Country in Belgium in March
In this Prefontaine Classic shot at history, Alan Webb, who the
above-mentioned young man is so often linked to in this glorious new age of
the sport, had raced swiftly, but, as would later be revealed, with
restraint through 3/4-mile in 2:57. But now on the backstretch of the final
lap, he was making an electrifying move not only to break Jim Ryun's
long-revered 3:55.3 HSR, but to pulverize it and challenge the phalanx of
world-class runners within his grasp.
"When I was watching the race, I was like, 'man, he's running so perfect,'
but to tell you the truth I thought he was gonna run like 3:57. Then when
he took off on the backstretch, I was like, 'OH MY GOD!!!'"
Yes, indeed. For a few golden minutes last Sunday, Dathan Ritzenhein joined
the rest of us mortal Dyestat runners and racing lovers whose jaws dropped
to their Nikes as Webb blazed to the 3:53.43 that will be the talk of our
little universe for a long, long time to come.
"It was unreal. The whole last lap I was on the edge of my seat," Ritz
recalls. "I couldn't believe it. I was tuned for like an hour afterwards. I
am so happy for him; he has unreal speed and he deserves it."
Ritz has his own sterling goals
But you can bet that while the rest of us have since contributed endless
blather to the message boards (yours truly leading the way), the focus of
the steely senior in Western Michigan has quickly returned to his own
sterling goals in the weeks ahead. With equally fiery resolve to that of
his friendly rival, Saturday's Michigan State Meet, the Foot Locker
Nationals and, finally, the USATF meet will serve as stages for the final
efforts of Ritzenhein's historic prep career.
If you've been wondering where Ritz has been these last three weeks or so,
it's been on the familiar tours of duty for his Rockford Rams, once again
the leading part of the juggernaut distance crew that carries the team
through its schedule. In stark contrast to Webb's program, Ritz routinely
runs 3-4 events per meet, and often more than a meet a week. His recent
marks have thus been a litany of 1:57s, 4:15s and 9:10s, roughly speaking.
In doing so, he has helped his team to a runner-up conference finish
(5/15), a region title (5/18) and a third in the MITCA Team State
championships.
Competing at MITCA (last Saturday) was actually contingent on winning the
region, which Rockford wasn't necessarily favored to do. So the senior
dynamo could hardly be blamed for wondering what benefit an uninterrupted
two weeks might have had.
"It kind of sidetracked my training a little, but it was OK because we just
trained right through it," he says. "We worked really hard last week, so we
were all just dead tired for (that meet)."
"I have been doing some really good speed workouts for about two or three
weeks now," he adds, "and I'm finally starting to feel somewhat fast again.
I know that with two more weeks of fine tuning, I will feel really good for
Foot Locker and USAs."
No Ritz-Webb matchup at Raleigh
Unfortunately, at least in the hearts of many fans, Raleighwon't
include a Clash of the Titans over eight laps. It's virtually certain now
that Ritz and Webb will complete their high school careers having never met
on the track.
"I already knew that we weren't going to meet up this spring," Ritz admits.
"I'm not disappointed though, because I think people are finally seeing
that we aren't the same kind of runner, although meeting in the middle at
a 3200 would be awesome."
Would Webb's 3:53 translate into record-beating, or Ritz-beating, 2-mile
ability?
"I know that he has been doing a ton of speed work, so I have to believe a
2-mile would be a little tough for him, even though 64s sound pretty easy
after that 3:53, just because it is totally different than the mile."
Ritz and Webb talk to each other
The two have been in touch, however, especially around the time Tim Layden
was putting together his piece for Sports Illustrated. "I haven't talked to
him since about a week before Pre, so I have to e-mail him soon, because I
have to hear about his race. We do talk sometimes and we talked about the
SI thing for a while."
That story in the May 28 SI was probably the biggest exposure yet for Ritz
(and Webb, too), who has also been profiled in USA Today, along with
probably every major running publication in the country. He admits getting
in SI "was very cool", but don't expect him to launch a sports modeling
career any time soon. Posing or posturing is not the way of The Ritz. "I
was like, 'what the heck, man, I'm not doing that!'"
Chances are he would prefer to pound through the last 400 of a draining
workout or collapse-to-the-track race than standing around that same track
being photographed. But he's ready to finish off the season with an
eye-popping explosion.
While his Michigan fans are going to have to wait until Saturday to see
what Ritz plans for the first Grand Finale, the MHSAA State Division I
Championships are on the home oval at Rockford, he makes no bones about
what he'll be up to two weeks later.
Going for Jeff Nelson's record
Will Jeff Nelson's immortal 8:36.3 get one more mighty challenge?
"Oh, yeah, there will be no holding back in Raleigh," he affirms. "I have
had my eye on that for two years and I really want it. It will be a good
warm up for USAs, actually it will be like my last hard workout. I feel
that if I hit a good day I will be able to get it."
And, reflecting on what has been required to rise to the occasion again and
again this spring, especially after Penn, he continues, "Nobody knows how
much it takes out of you when you run a long race like a 5,000. I was tired
for a while after it. But the speed work really helps to make me feel less
dead now."
Finally, Ritz's Great Adventure will have its climax in Eugene, where he
has been granted an exception to compete in the USATF 5,000 after missing
that qualifier by a mere 0.19 second with that storied attempt in The City of
Brotherly Love (13:51.69).
"I got a call the day after Penn from three people that told me all I had
to do was fill out an entry form and, since Mr. Chaplin can approve or deny
anyone he wants, there would be no problem," he says. "They realized that
race was early and I wasn't in peak shape ? and that it would be good for
running. I'm really glad they let me do that, because I really didn't want
to run another one (to try and qualify)."
While Ritz has been challenged to do 8K/5K training, move down to race
800-3200, then go back up again, he continues to prove himself worthy of
the task.
"I have so much endurance and strength right now, in fact, I think I could
run a nasty 10,000, that I have been able to focus mostly on speed for the
past two weeks," he says. "I had only done like one speed workout before
Penn, so I had to get into it if I really wanted to do better in the 5,000,
and that is what I have been focusing on."
Considering the whole wondrous journey that his senior year has taken.
from Boulder to Belgium, Kenosha to Orlando, Philly to Raleigh and finally
to Eugene, the young man who some Michigan fans like to call "Lord Ritz"
has emerged with an equally wonderful perspective on his sport and life.
"Well, nothing has came close to the world cross country champs," he
confides. "I have just mostly had fun with this year. I think of it like
this: 'It could all end tomorrow, so enjoy what you have and never take it
for granted. And never forget to take an easy run for yourself once in a
while and just remember why you love to run.'"