April 26-28, 2001 at Franklin Field, Philadelphia PA
107th Penn Relays
The oldest and biggest track meet in the country. Although college and Olympic level events are prominent, the high school events bring the majority of the thousands of athletes to the Penn Relays. International flavor is provided by Jamaica, which sends its best every year followed by a huge rooting section, and Ireland, which has owned the boys DMR in recent years. Nearly 100,000 fans attend the 3 days of action, with more than 40,000 jamming the old Franklin Field grandstands for the Saturday races. It is officially called the Penn Relays Carnival, and a carnival atmosphere prevails on the streets surrounding Franklin Field on the U. of Penn campus -- scores of souvenir and food stands, with barbecue smoke filling the air and throngs of sweatsuit clad athletes, fans and coaches filling the sidewalks.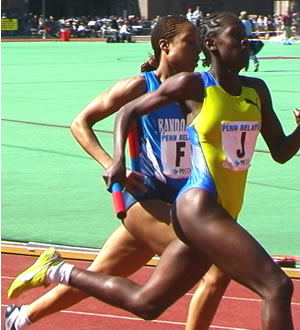 St. Jago JAM (J) anchor passes A.P. Randolph soph Natasha Hastings in 4x400 heat.
See what happened next.
Penn pics
More than 100 action pictures from the Penn Relays with text, splits, and quotes: Alan Webb and South Lakes VA win DMR and 4x800 - Boys & Girls NY wins girls DMR and record 4x800 - Bobby Lockhart's easy boys mile - happy warrier Erin Donohue fixes hair and kicks at 300 meters in girls mile - Candice Baucham owns girls triple jump - pulled muscle costs Oakland Mills MD in boys 4x100 - Krystle Moss redeems herself in girls high jump - Air Time girls (Shepard and Lederman) dominate pole vault - Charles Millioen looks like a million in boys 3000 - Paige Miller breaks up 3-way battle in girls 3000 - Holmwood Tech wins 3rd relay title in girls 4x400 - 3 NY teams (A.P. Randolph, Boys & Girls, and Bellport) win girls 4x800 heats - Jamaica recaptures girls 400m hurdles with record run by Melaine Walker - and Donna on the Side capturing the carnival atmosphere outside the stadium.