Photos
Qualifiers
4x800 Qualifiers
Qualifiers to Event #107
High School Girls 4x800 Championship
Pos Affiliation
1 Boys & Girls/NY
2 Holmwood Technical/JA
3 Edwin Allen Comprehensive/JA
4 A. Philip Randolph/NY
5 Long Beach Poly/CA
6 Bellport/NY
7 Manchester Central/NH
8 Robinson/VA
9 Voorhees/NJ
10 New Rochelle/NY
11 William Penn/PA
12 Tacius Golding/JA
| | | |
| --- | --- | --- |
| | Boys & Girls NY had a sensational heat, going under 9 minutes without even their best from anchor Stacy Livingston. They ran four even splits (Thomassina Brown 2:16.3, Meisue Francis 2:15.0, Keziah Fernandez 2:13.0, Stacey Livingston 2:13.6) for a time of 8:57.91. Here, Fernandez hands off to Livingston. | Bellport anchor Theresa Fath finishes up heat win in 9:17.18 |
4x400 Qualifiers
Event 157, Friday, 5:35 pm
HSG 4x400m Championship of America
QUALIFIERS
H Samuel Tilden / NY
G Holmwood Technical / JA
F William Penn / PA
E Eleanor Roosevelt / MD
A A. Philip Randolph / NY
B St. Jago / JA
C Boys & Girls / NY
D Long Beach Poly / CA
Event 252, Saturday, 4:50 pm
HSG Philadelphia Area 4x400m
QUALIFIERS
A Merion Mercy / PA
B Woodrow Wilson / NJ
C Willingboro / NJ
D Camden / NJ
E Edgewood Regional / NJ
F Chester / PA
G Abington / PA
H Cardinal O'Hara / PA
J Archbishop Wood / PA
K Simon Gratz / PA
L West Philadelphia / PA
M Brandywine / DE
Alternates: N Great Valley / PA; O Strath Haven / PA; P Spring-Ford / PA; R Central Bucks West / PA
4x100 Qualifiers
Qualifers to Event #116
High School Girls Large School 4x100 Relay
LN Time Affiliation

2 48.94 Washington Township/NJ

3 48.91 Abraham Lincoln/NY

4 48.75 Harrisburg/PA

5 48.69 Mary Ward C.S.S./ON
6 48.06 Bethel/VA
7 48.13 Washington Irving/NY
8 48.29 Trenton Central/NJ
9 48.37 The Queen's School/JA
alt 48.96 Holy Trinity/NY
alt 49.00 St. Andrew Girls/JA
Qualifers to Event #117
High School Girls Small School 4x100 Relay
Ln Time Affiliation
2 49.30 St. Croix Educational/VI
3 49.05 Lakewood/NJ
4 48.80 Franklin Township/NJ
5 48.55 Elizabeth Seton/MD
6 48.14 St. Elizabeth Technical/JA
7 48.20 Howard D. Woodson/DC
8 48.44Herbert Morrison/JA
9 48.46 Far Rockaway/NY
alt 49.44 Lincoln/NY
alt 49.48 Suffern/NY
Qualifers to Event #118
High School Girls 4x100 Relay Championship of America
Ln Time Affiliation
2 47.33 Paul Robeson/NY
3 47.28 Largo/MD
4 47.23 A. Philip Randolph/NY
5 47.05 William Penn/PA
6 45.1h Holmwood Technical/JA
7 45.69 Vere Technical/JA
8 45.95 St. Jago/JA
9 46.97 Long Beach Poly/CA
Qualifiers to Event #228
High School Girls Tri-State 4x100 Relay
Ln Time Affiliation
2 49.34 Camden/NJ
3 49.30 Woodrow Wilson/NJ
4 49.05 Lakewook/NJ
5 48.94 Washington Township/NJ
6 47.05 William Penn/PA
7 48.29 Trenton Central/NJ
8 48.75 Harrisburg/PA
9 48.80 Franklin Township/NJ
alt 49.43 Pennsauken/NJ
alt 49.46 Abington/PA
Results
(Winners and all DyeStat Elite performances)
THURSDAY RUNNING

High School Girls 400 meter Hurdles 10:25 am
There would be a new winner for the first time in 4 years with 3-time champion Sheena Johnson graduated and moved on to UCLA.
Top 4 in the starting blocks: (from left) Shevonne Stoddart NY, Patricia Hall JAM, Melaine Walker JAM, and Tiffany Abney PA. All four would end up under 60 seconds.

Walker (2) wins in 57.85, taking down the Relays record
(58.06 Tanya Jarrett JAM 1994), with Abney (1) closing
fast in 58.80 for a new Pennsylvania state record.
Final Standings
1 57.85 Melaine Walker St. Jago 1
2 58.80 Tiffany Abney Merion Mercy 1
3 59.35 Patricia Hall Vere Technical 1
4 59.43 Shevon Stoddart Uniondale 1
5 61.57 Camile Robinson Christiana 1
6 62.16 April Butler Gwynn Park 3
7 63.72 Kara Snyder North Hunterdon 3
8 63.77 Beth Smith Apponequet 1
9 63.95 Courtney Clark Norristown 1
10 63.95 Tyeshia Thomas William Penn 2
11 64.86 Kate Lawson Sacred Heart Academy 2
12 64.87 Pam Richardson Edgewood Regional 1
13 65.09 Dana Robinson Largo 1
14 65.24 Tennille Payne Edgewood Regional 3
15 65.99 Robyn Ellerbrock Ithaca 3
16 66.39 Latoya Whitted Woodrow Wilson 2
17 66.67 Rachel Clinton Oakland Mills 3
18 66.71 Natasha Marshall Palmyra 2
19 68.00 Samantha O'Reilly Shawnee 3
20 70.53 Amy Hundley Lafayette 2
21 70.70 Julia Perry Academy Park 2
22 71.29 Nicole Day Mount Pleasant 2
Section 1
1 57.85 Melaine Walker St. Jago
2 58.80 Tiffany Abney Merion Mercy
3 59.35 Patricia Hall Vere Technical
4 59.43 Shevon Stoddart Uniondale
5 61.57 Camile Robinson Christiana
6 63.77 Beth Smith Apponequet
7 63.95 Courtney Clark Norristown
8 64.87 Pam Richardson Edgewood Regional
9 65.09 Dana Robinson Largo
Section 2
1 63.95 Tyeshia Thomas William Penn
2 64.86 Kate Lawson Sacred Heart Academy
3 66.39 Latoya Whitted Woodrow Wilson
4 66.71 Natasha Marshall Palmyra
5 70.53 Amy Hundley Lafayette
6 70.70 Julia Perry Academy Park
7 71.29 Nicole Day Mount Pleasant
Section 3
1 62.16 April Butler Gwynn Park
2 63.72 Kara Snyder North Hunterdon
3 65.24 Tennille Payne Edgewood Regional
4 65.99 Robyn Ellerbrock Ithaca
5 66.67 Rachel Clinton Oakland Mills
6 68.00 Samantha O'Reilly Shawnee

5 High School Girls 4x800 "Small Schools" 10:35 am
1 Holmwood Tech/JA 9:02.03 (Celia Whyte, Kerri Ann White, Cadian Beckfolrd, Anetia Denton)
2 Edwin Allen /JA 9:03.20 (Maresia Pencil, KayAnn Thompson, Jodian Richards, Paula Thompson
3 Tacius Golding/JA 9:23.44 (Vanessa Whitle, Kerrine Whittle, Maureen Whittle, Nadine Whittle)
4 Middletown South/NJ 9:31.01
5Wissahickon/PA 9:32.06

6 High School Girls 4x800 "Small Schools" 10:45 am
1 Bellport/NY 9:17.18 (Kelly Powell 2:23.9, Rachel McGee 2:14.6, Corinne Gabirel 2:21.6, Theresa Fath 2:17.1)
2 Voorhees/NJ 9:20.05 (Elizabeth Wort 2:20.6, Lauren Rugge 2:20.6, Sara Best 2:23.2, Sarah Rhodes 2:15.6)
3 Hopewell Valley/NJ 9:25.81 (Jessica Pall, Jackie Muscente, Kate Willever, Whitney McNees)
4 Radnor/PA 9:26.21
5 Glen Rock/NJ 9:34.09
6 Pennsbury/PA 9:34.41

7 High School Girls 4x800 "Large Schools" 10:55 am
1 A. Philip Randolph/NY 9:10.07 (Angelica Reed 2:21.0, Akilah Bates 2:20.1, Kelly Wallace 2:18.4, Robin Mortel 2:10.6)
2 Long Beach Poly/CA 9:16.12 (Keyotta Delemenea, 2:17.9, Michelle Hunt 2:22.1, Tiana Hemmans 2:19.5, Gaven Jones 2:16.6)
3 New Rochelle/NY 9:21.98 (Nana Hanson-Hall 2:15.3, Natalee Pennicoole 2:22.4, Kia Brady 2:28.3, Offibea Hanson-Hall 2:16.0)
4 William Penn/PA 9:23.09
5 Spring-Ford/PA 9:25.16
6 Laurel/MD 9:25.61


8 High School Girls 4x800 "Large Schools" 11:05 am
1 Boys & Girls/NY 8:57.91 (Thomassina Brown 2:16.3, Meisue Francis 2:15.0, Keziah Fernadez 2:13.0, Stacey Livingston 2:13.6)
2 Manchester Central/NH 9:18.05 (Frisha Hewitt 2:20.7, Liz Gesel 2:17.0, Sarah Girard 2:25.6, Jenny Stevens 2:14.7)
3 Robinson/VA 9:19.42 (Lauren Hovland 2:21.1, Sam Ference 2:22.0, Joanna Rodgers 2:17.4, Michelle Gregory 2:18.9)
4 Largo/MD 9:30.19
5 St Hubert/PA 9:31.76
6 Colonie Central/NY 9:33.12


9 High School Girls 4x100 "Small Schools" (Heats) 11:15 am
Heat1 Archbishop John Carroll/DC 51.22
Heat 2 Bishop McDevitt/PA 51.59
Heat 3 Caroline County/VA 50.01
Heat 4 Army Prep/NJ 50.61
Heat 5 Deer Part/NY 51.02
Heat 6 Dover/DE 50.81
Heat 7 Far Rockaway 48.46
Heat 8 Franklin Township/NJ 48.80
Heat 9 Glasgow/DE 51.10
Heat 10 Holmwood Tech/JA 45.1h
Heat 11 Kennett/PA 50.81
Heat 12 Lakewood/NJ 49.05
Heat 13 Long Reach/MD 50.05
Heat 14 Metuchen/NJ 51.46
Heat 15 Montego Bay/NA 50.92
Heat 16 Nazareth Academy/PA 50.28
Heat 17 Wibur Cross/CT 51.03
Heat 18 Oxford/PA 51.17
Heat 19 Pennsbury PA 50.37
Heat 20 Pottstown/PA 51.73
Heat 21 Paul Orbeson/NY 47.33
Heat 22 Jt. Jago/JA 45.95
Heat 23 Arthur P. Schalick/NJ 51.91
Heat 24 Elizabeth Seton/MD 48.55
Heat 25 Sidwell Friends/DC 50.61
Heat 26 Suffern/NY 49.48
Heat 27 Teaneck/NJ 52.18
Heat 28 Vere Tech/JA 45.69
Heat 29 West Philadelphia?PA 50.84
Heat 30 Wissahickon/PA 50.37
Heat 31 Howard D. Woodson/DC 48.20


10 High School Girls 4x100 "Large Schools" (Heats) 11:55 am
Heat 1 Abington/PA 49.49
Heat 2 Bethel/VA 48.06
Heat 3 Camden/NJ 49.34
Heat 4 Chester/PA 49.55
Heat 5 DeWitt Clinton/NY 49.39
Heat 6 Eastern Senior/DC 50.15
Heat 7 Girls'PA 49.76
Heat 8 Harrisburg?PA 48.75
Heat 9 Washington Irving/NY 48.13
Heat 10 Lake Braddock/VA 50.42
Heat 11 Long Beach Poly/CA 46.97
Heat 12 Centreville/VA 50.35
Heat 13 Mount Vernon/NY 49.45
Heat 14 North Rockland/NY 49.70
Heat 15 William Penn/PA 47.05
Heat 16 A. Philip Randolph/NY 47.23
Heat 17 Shaker/NY 52.89
Heat 18 South Shore/NY 50.54
Heat 19 Trenton Central/NY 48.29
Heat 20 Mry Ward C.S.S./ON 48.60
Heat 21 Washington Township/NJ 48.94
Heat 22 Woodrow Wildon/DC 51.38

Girls 4x400
Winners and DyeStat Elite times
Event # - name - time - relay members)
14 High School Girls 4x400 1:25 pm
1 Kearny/NJ 4:17.86
15 High School Girls 4x400 1:30 pm
1 Linden/JN 4:07.47 (Amy Syra, Sheila Asie, Pia Ruth, Shakira Peterson)
16 High School Girls 4x400 1:35 pm

1 Buena Regional/NJ 4:05.15 (LaShay Gregory, DaShauna Melton, Andrea Cirino, Cheryl Ewing)
17 High School Girls 4x400 1:40 pm
1 Jamaica/NY 4:15.12 (Syrece Bredwood, Shelly Brown, Shereka Henry, Robyn Hill)
18 High School Girls 4x400 1:45 pm
1 Hopewell Valley/NJ 4:08.32 (Jessica Pall, Kate Willever, Kristen Mapp, Jackie Muscente)
19 High School Girls 4x400 1:50 pm
1 Newark Science/NJ 4:14.40 (Willette Miller, Latasha Adams, Adrienne Smith, Michanda Young)
20 High School Girls 4x400 1:55 pm
1 Bishop Ahr/NJ 4:09.52 (Natasha Norville, Ogechi Emenioke, Danielle Todman, Jacqueline Todd)
21 High School Girls 4x400 2:00 pm
1 River Dell Regional/NJ 4:09.70 (Briana Bayersdorfer, Erin Piscetta, Jesie Seidler, Catlin Sherry)
22 High School Girls 4x400 2:05 pm
1 Ocean City/NJ 4:10.03 (Missy Halliday, Sara Slaughter, Colsey Moreland, Erin McNulty)
23 High School Girls 4x400 2:10 pm
1 South Western/PA 4:04.43 (Adrienne David, Nocole Lobach, Kate Brady, Ashley Lobach)
24 High School Girls 4x400 2:15 pm
1 St. Anthony's/NY 4:11.24 (Jenna Daly, Kaitlin Clark, Doreen Mullady, Katie Napolitano)
25 High School Girls 4x400 2:20 pm
1 Montclair/NJ 4:04.14 (Lajuan Samuels, Camelia Watson, Shirley Rislin, Jennifer Whitlock)
26 High School Girls 4x400 2:25 pm
1 Eastern Senior 4:09.96 (Christina Roberts, Shantielle Thomas, Rachelle Jackson, Jemma King)
27 High School Girls 4x400 2:30 pm
1 Walter Johnson 4:03.73 (Leigh Rivlin, Regina Rice, Julia Simons, Sara Calderone)
28 High School Girls 4x400 2:35 pm
1 Far Rockaway 4:07.03 (Shellean Fyffe, Monique Hoilett, Marsha Hayes, Doreen Russell)
29 High School Girls 4x400 2:40 pm
1 Hillsboroug 3:58.26 (Erin Fuller, Lauren Kloss, Erin Crawford, Jaci Pfeiffer)
30 High School Girls 4x400 2:45 pm
1 Central 4:04.09 (Krista Brown, Kim Dedmon, Tiffany McPhatter, Tiffany Duncan)
31 High School Girls 4x400 2:50 pm
1 Tacius Golding 3:52.99 (Venessa Whittle, Kerrine Whittle, Kedine Geddes, Nadine Whittle)
32 High School Girls 4x400 2:55 pm
1 New Rochelle 4:03.86
33 High School Girls 4x400 3:00 pm
1 Clarence 4:06.87 (Kate Kohout, Sarah Coseo, Rachel Ippolito, Jessica Hilton)
34 High School Girls 4x400 3:05 pm
1 Gov Thomas Johnson 3:59.83 (Erin Gaeng, Tara Hetgen, Lauren Grimes, Jennifer Spivey)
35 High School Girls 4x400 3:10 pm
1 St Croix Educational 3:58.31 (Sherma Aurelin, Xiamara Gomez, Latoya Samuel, Evelise Gomez)
36 High School Girls 4x400 3:15 pm
1 Archbishop John Carroll 4:02.10 (Rhea Godsey, Tiffany Brfemby, Indira Garcia, Siyani Taylor)
37 High School Girls 4x400 3:20 pm
1 Cardinal Spellman 3:59.75 (Dana-Lyn Foster, Tiera Flectcher, Sheryl-ee Walters, Rouschelle Jackson)
38 High School Girls 4x400 3:25 pm
1 Eleanor Roosevelt/MD 3:43.82 (Antoinette Gorham 55.4, Romona Modeste 55.8, Angel Chinn 57.5, Renee Clarke 55.1)
2 Abraham Lincoln/NY 3:52.14
3 Mary Ward C.S.S./ON
4 Largo/MD 3:53.88
5 Paul Robeson/NY 3:55.45


39 High School Girls 4x400 3:30 pm
1 Boys & Girls/NY 3:42.32 (Meisue Francis 55.0, Keziah Fernandez 55.9, Tameka Johnson 56.5, Stacey Ann Livingston 54.9)
2 Holmwood Technical/JA 3:45.27 (Karen Gayle 58.9, Kerri Ann White 55.0, Failth Smith 59.0, Sheryl Morrison 52.4)
3 Christiana/J 3:51.50
4 Lincoln/NY 3:52.86
5 Lake Braddock/VA 3:53.22
6 St. Andrew Girls/JA 3:54.32
7 Laurel/MD 3:56.61
40 High School Girls 4x400 3:35 pm
1 Long Beach Poly/CA 3:43.03 (Tunisia Johnson 57.1, Jasmine Lee 55.5, Dashanta Harris 56.7, Shalonda Solomon 53.7)
2 Samuel Tilden/NY 3:49.75 (Shermika Bennett 57.7, Samantha Dawkins 58.9, Amica Chen 57.3, Renay McPherson 55.9)
3 DeWitt Clinton/NY 3:50.95 (Tameika Hunter 56.2, Samantha Smith 56.3, Shenalka Pemberton 57.5, Judine Williams 61.1)
4 Elizabeth Seton/MD 3:53.80


41 High School Girls 4x400 3:40 pm
1 A.Philip Randolph/NY 3:39.90 (Natacha O'Connor 55.4, Desirree Moorer 54.7, Yendy Gilchrist 56.1, Natasha Hastings 53.7)
2 St. Jago/JA 3:41.65 (Kashain Page 55.2, Tamera Thomas 55.7, Deidra Harrison 56.6, Kerron Stewart 54.2)
3 Trenton Central/NJ 3:51.56
4 Bethel/VA 3:51.59
5 Harrisburg/PA 3:54.34


42 High School Girls 4x400 "Prep School" 3:45 pm
1 Lawrenceville School/NJ 4:15.08 (Jane DFilorio, Astrid Werner, Louise Kiefer, Emily Lewis-Lamonica)
43 High School Girls 4x400 "Central" 3:50 pm
1 Strath Haven/PA 3:58.83 (Chiara Best, Allie Kowalski, Kelly Rowland, Erin Bagley)
44 High School Girls 4x400 "Suburban A" 3:55 pm
1 Chester/PA 3:57.52 (Tia Richardson, Farren Benson, Cierra Germany, Crystal Conquest)
45 High School Girls 4x400 "Suburban B" 4:00 pm
1 Merion Mercy/PA 3:51.71 (Kristi Wallin 60.2, Julie Lentz 59.5, Evelyn Dwyer 57.8, Tiffany Abney 54.2)
46 High School Girls 4x400 "Suburban C" 4:05 pm
1 Great Valley/PA 3:58.76 (Katy Andersen, Carolyn Auwaerter, Erica Hartford, Danielle Eaton)
47 High School Girls 4x400 "Suburban National" 4:10 pm
1 Abington/PA 3:58.10 (Takia Brooks, Latoya Wilson, Victoria Johnson, Erica Aiken)
48 High School Girls 4x400 "Suburban American" 4:15 pm
1 Norristown/PA 4:00.96 (Selena Porter, Shoshoni Crawford, Sena Wheeler, Courtney Clark)
49 High School Girls 4x400 "Northern Delaware" 4:20 pm
1 Brandywine/DE 4:09.19 (Ashley Sullivan-Kirksey, Danielle Kerns, Jen Meier, Bonita Mullen)
50 High School Girls 4x400 "South Jersey Small" 4:25 pm
1 Paul VI/NJ 4:05.56 (Cheryl Scott, Jen McDonald, Stephanie King, Ashley McNutt)
51 High School Girls 4x400 "South Jersey Large" 4:30 pm
1 Woodrow Wilson/NJ 3:51.80 (LaToya Carmichael, Lotoya Whitted, Kenyetta Conway, Lisa Kassa)
52 High School Girls 4x400 "Philadelphia Catholic" 4:35 pm
1 Cardinal O'Hara/PA 3:58.54 (Jen Kosloski, Karon Lugay, Beth Pupura, Kristen Frustillo)
53 High School Girls 4x400 "Philadelphia Public" 4:40 pm
1 William Penn/PA 3:45.17 (Gorgeous Harper 56.3, Christina Smith 55.5, Tyeshia Thomas 57.9, Juanita Broadus 55.5)

67 High School Girls Distance Medley "Championship" 5:50 pm
1 11:53.64 Boys & Girls
Tameka Johnson 3:39.5, Meisve Francis 55.6, Stacey Ann Livingston 2:09.6, Akilah Vargas 5:08.8
2 12:01.58 Bellport
Corinne Gabriel 3:47.4, Kelly Powell 58.3, Rachel McGee 2:13.5, Theresa Fath 5:02.4
3 12:05.11 Edwin Allen Comprehensive
Lorain McKenzie 3:42.3, Paula Thompson 58.3, KayAnn Thompson 2:15.4, Nicola Maye 5:09.1
4 12:07.18 San Lorenzo Valley
Raquel Barrientos 3:52.4, Lindsay Scharborough 59.0, Shiloh Whiting 2:19.3, Alejandra Barrientos 4:56.5
5 12:11.35 St. Hubert
Amy Kelly 3:40.6, Megan Neary 63.8, Kate Mehaffey 2:20.6, Jackie Kelly 5:06.4
6 12:13.99 Bronxville
Carolina Mullen 3:43.4, Kate Ogorzaly 65.5, Melissa Wisner 2:27.5, Catha Mullen 4:57.6
7 12:14.80 Archbishop Prendergast
Sarah Mcfadden 3:46.9, Pilar Batts 56.8, Nicole O'Dea 2:22.5, Lindsay Scottoline 5:08.6
8 12:20.02 Nazareth Academy
Jennifer O'Connor, Liz Rybas, Rachel Hamilton, Maureen McCandless
9 12:20.67 Red Bank
Katy Trotter, Christine Hurley, Melissa Dooley, Amanda Trotter
10 12:24.13 Radnor
Julie Opet, Emily Karel, Casey Ostien, Collen Flanagan
11 12:29.91 Cardinal O'Hara
Erin Kelly, Kristen Frustillo, Jen Kosloski, Danielle Schopt
12 12:37.80 Villa Maria Academy
Kim Malcolm, Kate Hoban, Lauren Graham, Christine Egan
13 13:31.28 Tacius Golding
Nadine Whittle, Kedine Geddes, Venessa Whittle, Tamikea Thomas
68 High School Girls Mile Run "Championship" 6:05 pm
1 4:54.15 Erin Donohue Haddonfield Memorial / NJ
2 4:58.78 Colleen Taylor Ursuline Academy / DE
3 5:00.84 Melissa Donais Phillips Academy / MA
4 5:01.36 Meliesha Spencer Vere Technical / JA
5 5:01.65 Kelley Otstott Thomas Jefferson / VA
6 5:03.04 Heather Iataura Tri-Valley Central / NY
7 5:04.77 Liz Gesel Manchester Central / NH
8 5:11.61 Debbie Huss Wyomissing Area / PA
9 5:12.19 Tanice Barnett The Queen's School / JA
10 5:12.44 Ashley Robinson Half Hollow Hills East / NY
11 5:12.67 Lindsay Thomas Overbrook Regional / NJ
12 5:13.43 Megan O'Shea Miller Place / NY
13 5:31.55 Courtney Epps Columbia / NJ
14 5:36.68 Kate Twarog Colonie Central / NY
69 High School Girls 3000 meter "Championship" 6:10 pm
Paige Miller makes a strong surge late
to pull away from Julia Pudlin (inside) and
Lauren Shaffer in a 1-2-3 finish for Pennsylvania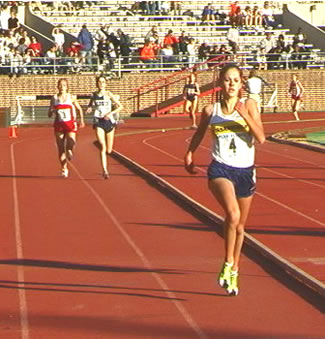 1 9:53.19 Paige Miller Wissahickon
2 9:57.54 Julia Pudlin The Baldwin School
3 9:57.60 Lauren Shaffer West Allegheny
4 10:07.05 Michelle Wale Pine Bush
5 10:08.32 Chelsea Lenge Conard
6 10:12.50 Kristen Meyer Hillsborough
7 10:15.42 Carmen Winant Germantown Friends
8 10:15.46 Amanda Meyer Saratoga Springs
9 10:15.60 Jackie Kosakowski Sauquoit
10 10:15.92 Nicole Boykin White Plains
11 10:17.12 Karen Pulliam Quince Orchard
12 10:20.51 Kelly O'Connell Coatesville
13 10:22.64 Veronica Gobeyn Williamson
14 10:28.35 Hannah Oberman-Breidel Fieldston
15 10:29.58 Whitney McNees Hopewell Valley
16 10:32.77 Jesse Mizzone Passaic Valley Regional
17 10:40.63 Margie Boltzer Saratoga Springs
18 10:45.08 Kelly Swain Lake Braddock
19 10:45.61 Laura Cummings Bay Shore
20 10:53.81 Meghan O'Conor Saratoga Springs
21 11:02.13 Jean Coleman Wantagh
22 11:03.64 Jenny Lewis San Lorenzo Valley
23 11:10.54 Jessica Wolf Bishop Ireton
(Note that three of Saratoga Springs NY's young army of distance runners finished 8, 17, and 20. )

THURSDAY FIELD
Event # Event Time

Event 283, Thursday, 3:00 pm
HSG High Jump Championship
1 1.73 5-08.00 Krystle Moss Thomas Jefferson
2 1.73 5-08.00 Shaunette Davidson Holmwood Technical
3 1.70 5-07.00 Bonnie Meekins Oakton
4 1.65 5-05.00 Amy Wisheart East Lyme
5 1.61 5-03.25 Caitlin Redding Penncrest
5 1.61 5-03.25 Kaitlyn Ryan Garden City
5 1.61 5-03.25 Lauren Edwards Port Jefferson
5 1.61 5-03.25 Tamara McGill Franklin Township
9 1.61 5-03.25 Nichole Brundage Pine Bush
9 1.61 5-03.25 Kathrine Wallace The Hill School
11 1.61 5-03.25 Lisa Schenk Jackson Memorial
No Height: Jessica Taibe Hunterdon Central; Katy Romano Episcopal Academy; Mandy Stille McKean
Event 273, Thursday, 1:00 pm
HSG Pole Vault Championship
Air Time Mass girls Samantha Shepard & Molly Lederman go 1-2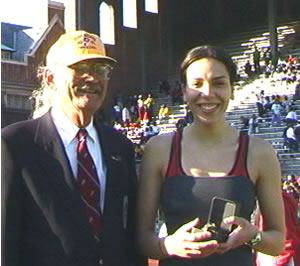 Shepard gets gold watch from Penn Relays secondary schools chairman Bob Burdette
1 3.83 12-06.75 Samantha Shepard Weston / MA
2 3.73 12-02.75 Molly Lederman New Jewish / MA
3 3.63 11-10.75 Jamie Kolar Long Beach Poly / CA
4 3.53 11-07.00 Laura Camielewski South Brunswick / NJ
5 3.43 11-03.00 Kim Stuyvesant Fairview / PA
6 3.43 11-03.00 Anne Kolter Phoenixville / PA
7 3.18 10-05.25 Lauren Graff Urbana / MD
7 3.18 10-05.25 Michelle Ezzie Upper Darby / PA
7 3.18 10-05.25 Sara Monaco Lake Braddock / VA
7 3.18 10-05.25 Dana Gioia State College / PA
11 3.03 9-11.25 Lindsay Rosales Washingtonville / NY
11 3.03 9-11.25 Kathryn Pettine Westfield / VA
11 3.03 9-11.25 Jaime Stitt Shenendehowa / NY
11 3.03 9-11.25 Holly Stettner Hunterdon Central / NJ
15 2.88 9-05.25 Emily Kellner North Rockland / NY
15 2.88 9-05.25 Meredith Mante Warwick Valley / NY
15 2.88 9-05.25 Danette Holmes Bayside / VA
No Height: Alicia LaRoche Centreville / VA
Event 276, Thursday, 1:45 pm
HSG Long Jump Championship
1 5.62 18-05.25 Kedine Geddes Tacius Golding
2 5.58 18-03.75 Zolymer Febles Albergue Olimpico
3 5.57 18-03.25 Shauna Lee Williams Mount Vernon
4 5.50 18-00.50 Yolanda Malcolm Brentwood
5 5.44 17-10.25 Juliette Poussot Agnes Irwin
6 5.42 17-09.25 Kara Dickman Westborough
7 5.39 17-08.25 Collette DeBenedetto Mountain Lakes
8 5.31 17-05.00 Alexandra Van Heusen Lake Braddock
9 5.28 17-03.75 Chinela Davis North Rockland
10 5.27 17-03.50 Rolanda Howard Long Reach
11 5.17 16-11.50 Shameka Speed Bridgeton
12 5.15 16-10.75 Lorelle Diaz Albergue Olimpico
13 5.04 16-06.50 April Williams Elizabeth
14 5.01 16-05.25 Cheron Walker William Penn
15 4.81 15-09.25 Ashley McNeill North Penn
16 4.80 15-09.00 Sara Kirsch Pennsbury
No Height: Rosesann Hamilton St. Jago
Event 277, Thursday, 1:45 pm
HSG Triple Jump Championship
1 12.85 42-02.00 Candice Baucham Long Beach Poly
2 12.09 39-08.00 Kamiesha Nelson Vere Technical
3 12.05 39-06.50 Shayla Moore Long Reach
4 11.72 38-05.50 Na'Onka Mixon Long Beach Poly
5 11.67 38-03.50 Farren Benson Chester
6 11.33 37-02.25 Essence Jones Cheyenne
7 11.30 37-01.00 Tatiana Warren Clara Barton
8 11.04 36-02.75 Jamie Gee Wissahickon
9 11.04 36-02.75 Angela Jones West Philadelphia
10 11.00 36-01.25 Melonie Neil St. Elizabeth Technical
11 10.95 35-11.25 Agila Hamilton Newburgh Free Academy
12 10.78 35-04.50 Sophia Bazile Nyack
13 10.72 35-02.00 Janine Smith Henderson
14 10.46 34-04.00 Taneisha Cantave Suffern
15 10.12 33-02.50 Shawnette Adams Lake Braddock
16 10.07 33-00.50 Brandi Drake Denbigh
Event 284, Thursday, 3:00 pm
HSG Shot Put Championship
1 14.46 47-05.25 Lindsay Neuberger Frank W. Cox / VA
2 14.03 46-00.50 Amanda Walker Bethel / VA
3 13.54 44-05.25 Jackie Hudgins Hightstown / NJ
4 13.10 42-11.75 Yania Bonafez Albergue Olimpico / PR
5 12.84 42-01.50 Enjoli Edwards Central / PA
6 12.83 42-01.25 Sultana Frizell Perth & Dist. / ONT
7 12.77 41-10.75 Ashley Horn Potomac / MD
8 12.65 41-06.00 Katie Pachuta Middletown South / NJ
9 12.30 40-04.25 Jessica Johnson North Penn / PA
10 12.06 39-06.75 Marina Liander Notre Dame Academy / NY
19 11.00 36-01.25 Katrina Hanson Tottenville / NY
12 11.82 38-09.50 Kelly Fazekas Northern Valley Regional / NJ
11 11.82 38-09.50 Kashiela Reid Vere Technical / JA
13 11.75 39-06.75 Toya Woods New Rochelle / NY
14 11.54 37-10.50 Ayasha Gregory Brandywine / DE
16 11.51 37-09.25 Joy Williams New Rochelle / NY
15 11.51 37-09.25 Nicola Wilson Trenton Central / NJ
17 11.09 36-04.75 Pam Kessler William Tennent / PA
18 11.07 36-04.00 Angie McFarland New Oxford / PA
Event 271, Thursday, Noon
HSG Javelin Throw Championship
1 44.72 146-09 Amy Krilla Red Bank Catholic
2 43.20 141-09 Annie Bobiak Villa Maria Academy
3 39.98 131-02 Kristen Eash Red Land
4 38.96 127-10 Jamie Stiger West Morris Mendham
5 36.20 118-09 Danielle Brown Clearview Regional
6 36.18 118-08 Megan Bauer Rahway
7 35.38 116-10 Alyssa Kilgore Cedar Crest
8 35.26 115-08 Connie LaBouff Haddon Township
9 34.40 112-10 Krystal Woods William Tennent
10 31.86 104-06 Rachael Gass South Western
11 30.68 100-08 Amanda Thompson Camden
12 29.66 97-04 Kelly Finamore Bloomfield
13 28.46 93-04 Paola Montoya Hewlett
14 27.40 89-11 Jen Marcella Jackson Memorial

Return to Penn Relays home page