Unlike last year's valiant but failed attempt to catch St. Malachy's of Ireland, Alan Webb and South Lakes VA had a relatively easy time this year. With his teammates staying in top contention through three legs, Webb got the baton with no serious catch-up to worry about. He bided his time until the third lap of the 1600-meter anchor leg and then took off and crusied home in a routine, for him, 4:04 split. The team time was 9:59.66, placing them 6th on the all-time US high school list.
Photos
South Lakes team shows off winners' gold watches. Asked why he seemed more happy today
than in some previous individual triumphs, Webb said, "Yeah, baby, I got one of these!"
From left: Kanda Karmo, Webb, Justin Smyser, and Richard Smith.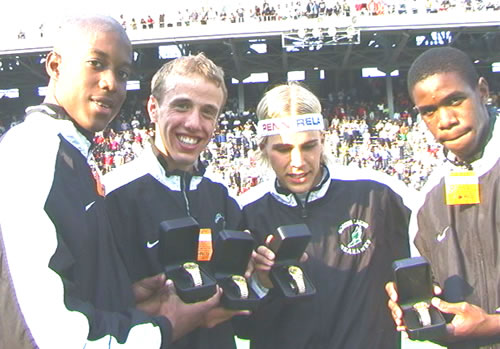 Coach Scott Raczko and team also claimed some serious hardware for the South Lakes
trophy case. Raczko said it was good that Webb could run relaxed today because they need him
fresh for the 4x800 relay Saturday. Goals for the 4x800? "Just win."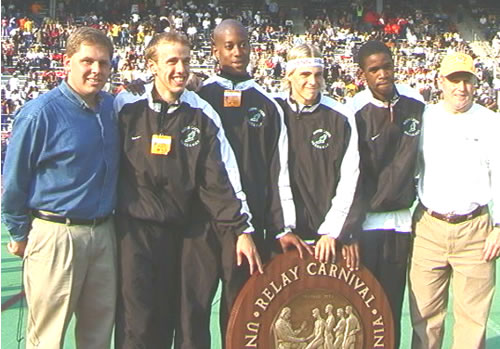 Below:

Lap 2- Albergue Olimpico, Puerto Rico (J) took the early lead, followed by St. George's, Bahamas (G) and Cherokee NJ (D)

Right:

1st exchange, Richard Smith gave South Lakes the lead with a 3:00 opening leg (1200 meters), handing off to Justin Smyser.

2nd exchange, Cherokee (D) got a slight lead after a 50-second 400 meter leg


Second lap of 800 meter leg -
After a 56 second lap, St. George's of the Bahamas (G) takes the lead over
South Lakes' Kanda Karmo (B), with
Christian Brothers Academy NJ (C) and Cherokee (D) in contention

Webb starts the anchor leg 5 meters behind CBA's Nat Glackin (below) and bides his time through start of 3rd lap (right)

After surging on the backstretch of 3rd lap, Webb starts bell lap with no one in sight.


Webb finishes with negative splits
of 2:04 and 2:00

Webb waves to crowd

Happy warriors march off the track
Results
1 9:59.66 South Lakes / VA
2 10:13.70 Christian Brothers Academy / NJ
3 10:16.11 Cherokee / NJ
4 10:28.65 St. George's / BA
5 10:29.27 Monsignor Farrell / NY
6 10:29.46 Toms River North / NJ
7 10:29.88 Coatesville / PA
8 10:34.95 Albergue Olimpico / PR
9 10:36.06 Saint Alban's / EN
10 10:37.05 Ridgefield / CT
11 10:37.06 Bayport-Bluepoint / NY
12 10:40.08 Central Bucks East / PA
13 10:46.22 Chaminade / NY
14 10:56.99 San Lorenzo Valley / CA
15 11:21.47 Tacius Golding / JA