Second gold for Alan Webb and South Lakes VA to go with their DMR win Friday. Holmwood Tech of Jamaica got the lead on a 1:54.5 second leg by Jermaine Myers, but Richard Smith of South Lakes passed a gang of runners on a PR 1:52.7 third leg to give Webb the lead starting the anchor leg. Webb finished it off with a 1:49.1 split, fastest ever run at the Penn Relays. South Lakes finished 5 seconds ahead of Holmwood Tech.

Richard Smith gets the lead
and Alan Webb finishes it off

Smith started way back in the pack and recalled, "I knew I had to get up to the leaders." He picked off runners one by one and reached 2nd behind Holmwood Tech with 200 meters to go. "I was tired, but I decided to forget it and go for it." By the top of the stretch (above), he was on top en route to a personal best split of 1:52.7

Webb's goal was to get out fast on the anchor, but he said he overdid it, and actually tied up a bit in the second lap. After one lap, he looked back and saw no one close. "But I knew I still had to go hard." He did, and entered the stretch (above) with the race well in hand.
Four hands, one baton. They kept the baton.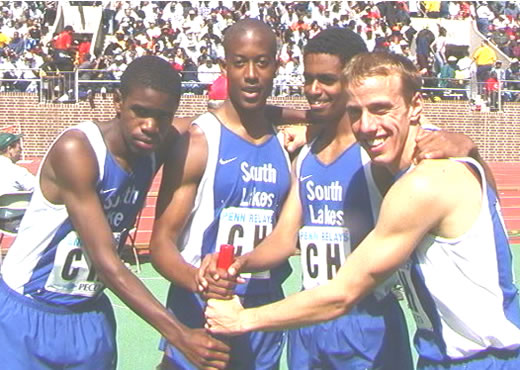 From left: Richard Smith, Kanda Karmo, Yonathan Kebede, and Alan Webb
In the press conference after, Webb was asked how the Penn Relays weekend felt. He said: "It couldn't have been better. We went 3 for 3. You can't beat 50,000 fans screaming for you to go." Webb's teammates were asked about having a superstar for a teammate; they each said in so many words, "He's great. He doesn't have a big head, and he's great to be around."
More Photos of the Race
Christiana JAM leads the field through the first lap, which ends in 56 seconds

Stretch, lap 2 - Transit Tech (CF) takes lead
before Butler PA ends 1st leg in 1:56.9


Lap 4 stretch - Jermaine Myers of Holmwood Tech JAM (BA) takes lead on 1:54.5 split, with Haverford PA (DJ), and Butler PA (CC) right there.
South Lakes is still back in the pack.

Lap 5 stretch - Holmwood Tech opens up larger lead;
Richard Smith of South Lakes (blue, far left) is starting to move up.


Smith is picking them off fast now.

Another big trophy for South Lakes. Team with Coach Raczko (left) and

Penn Relays secondary schools chairman Bob Burdette (righjt)
Results
1 7:41.75 South Lakes / VA
Kanda Karmo 2:00.8, Yonathan Kebede 1:59.2, Richard Smith 1:52.7, Alan Webb 1:49.1
2 7:46.90 Holmwood Technical / JA
Jason Russell 2:01.8, Jermaine Myers 1:54.5, Kenry Robinson 1:57.0, Kirk Wint 1:53.6
3 7:48.76 Butler / PA
Erinn Otterson 1:56.9, Adam Voll 1:59.1, Kregg Kozik 1:58.3, John McGee 1:54.5
4 7:50.83 Christiana / JA
Ricardo Chambers 1:58.6, Jason Salmon 1:59.6, Kadian Turner 1:58.6, Shaun Smith 1:54.0
5 7:50.99 Christian Brothers Academy / NJ
Tom Falvey 1:59.3, Erich Reulbach 1:59.7, Jeff Peterson 1:57.7, Nat Glackin 1:54.3
6 7:53.11 Cumberland Valley / PA
Andy Zang, Chas Taverna, Darrell Curtis, Justin Skaare
7 7:53.28 John Jay (HJ) / NY
Jeff Long, Dan Jordy, Travis vonStaden, Tim Walker
8 7:58.04 North Penn / PA
Dave Atkiss, Dan Michael, Brad Maier, Steve Craig
9 7:59.39 Haverford / PA
Steve Lang, Mike Lang, Andy Talarowski, Tim Konopka
10 8:09.98 South Shore / NY
Kevin Patrice, Alex Jeffrey, Dwayne Victory, Mark Lee
11 8:14.43 Transit Tech / NY
Allandro Pirrce, Marlon McIntosh, Milville Rogers, Michael Brown
12 8:14.43 Archbishop Ryan / PA
Matt Catinella, Todd Colistro, Kevin Fong, Dana Mueller