El Dorado wins a furious finish over Kyle Farmer and Oakland Mills MD as Farmer pulls up hurt at the end..
Photos
Start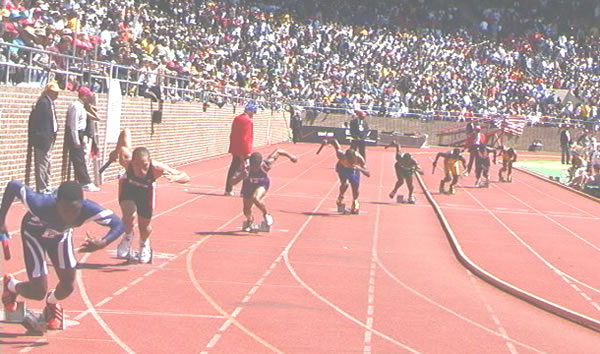 Underway: Oakland Mills (HT), Camden (PE)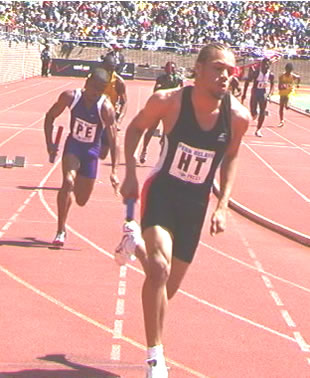 Finish - El Dorado (SB) wins as Oakland Mills anchor Kyle Farmer (HT) is pulling up in pain. Also shown:
Jamaica College (TH), Camden NJ (PE), and Calabar JAM (PC).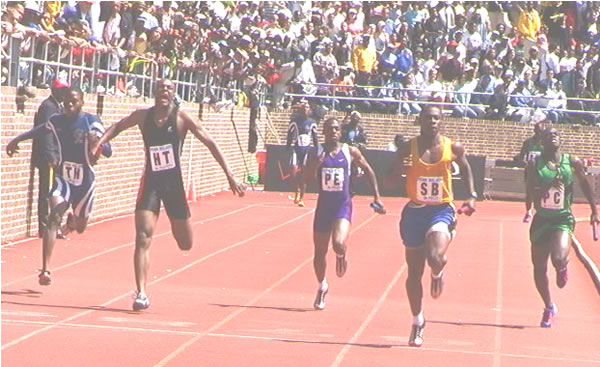 Farmer writhes in pain and grabs right thigh.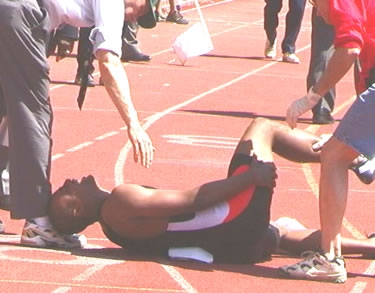 BOYS 4X100 LARGE SCHOOL CHAMPIONSHIP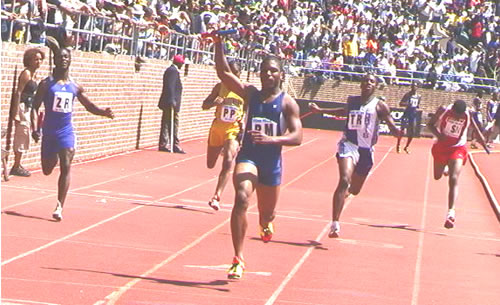 1 41.59 Deep Creek / VA (blue, center above)
2 42.44 Kingston College / JA
3 42.44 Willingboro / NJ
4 42.70 DeMatha Catholic / MD
5 42.82 Oxon Hill / MD
6 43.03 Cheltenham / PA
7 43.10 Holy Cross / NY
DQ: Simon Gratz / PA
BOYS 4X100 SMALL SCHOOL CHAMPIONSHIP


1 41.83 Vere Technical / JA (gold, green above)
2 41.93 Campus Magnet / NY
3 41.98 Herbert Morrison / JA
4 42.36 Strath Haven / PA
5 42.40 Albergue Olimpico / PR
6 42.46 Plainfield / NJ
7 43.15 Clifford J. Scott / NJ
8 43.35 Heritage / VA
Results
1 40.99 El Dorado / TR
Keiron Timothy, Marc Burns, Kevin Straker, Darrel Brown
2 41.42 Oakland Mills / MD
Chris Barksdale, Stefan Pastor, Nehemiah Spence, Kyle Farmer
3 41.60 Jamaica College / JA
Trevado Lobban, Jermaine Allen, Patrick Lee, Sekou Clarke
4 41.62 Calabar / JA
Johann Nelson, Winston Reid, Leonard McLean, Leroy McLean
5 41.65 Camden / NJ
Maurice Young, Dwight Ruff, John Morris, Jade Smith
6 41.77 Long Beach Poly / CA
David Hill, Vince Miller, Chreston Anderson, Vedell Lewis
7 42.39 Bridgeport Comprehensive / JA
Decosma Wright, Icoll Allen, Paul Harris, Iunda Dawkins
DNF: St. Jago / JA
Leon Stephens, Marvin Anderson, Davaon Spencer, Dwight Williams
QUALIFIERS
VB Long Beach Poly / CA - 42.38
OZ Bridgeport Comprehensive / JA - 42.23
KS St. Jago / JA - 42.23
PC Calabar / JA - 42.08
SB El Dorado / TR - 41.85
PE Camden / NJ - 41.92
HT Oakland Mills / MD - 41.94
TH Jamaica College / JA - 42.08