by John Dye
PHILADELPHIA 4/27/01 - Rockford MI sr Dathan Ritzenhein finished second against older runners in the Olympic Development race under lights Friday night and also moved into 2nd on the all time HS list behind the record 13:44 by Gerry Lindgren in 1964. He went ahead of Steve Prefontaine (13:52.8 in 1969), John Zishka (13:55.65 1980), and Craig Virgin (13:58.25 1973) as he expanded the number of prep sub-14 5k runners to five. His en route times were the fastest so far this season for 3000 meters (8:19) and 3200 meters (8:53). Ritz' time was an oh-so-frustrating 0.19 off the qualifying standard for the USATF Outdoor Championships June 21-24 at Eugene OR. Ritzenhein's next race is a 2-mile next Friday at the Roosevelt Memorial meet in Dayton OH. The Roosevelt meet management changed the distance from 3200 meters to give Ritzenhein a shot at the HS 2-mile record (8:36.3 Jim Nelson 1979)
Ritz & adidas runner Anthony Famiglietti are neck and neck for the lead with a lap to go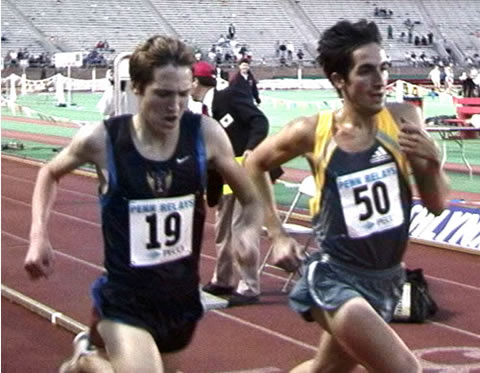 Famig opened up daylight on backstretch and won by 4 seconds
Finish: Ritz is second, 1.5 seconds ahead
of New York AC runner Peter Sherry



Ritz kneels to the track

Ritz does his customary flop and then hears
DyeStat announce the time to the chat room
"51.69? Ugh. . . O-h-h-h-h.. . .N-O-O-O. . . "
His time was only 0.19 second over the qualifying standard for the USATF national championship 5000 meters



Somewhat dejected, Ritz gets up and walks down the track, but the crowd is still applauding and shouting, "Way to go, Ritz"
"Great job," says Coach Prins to Ritz.
"They (USATF) still might let you in, Dathan."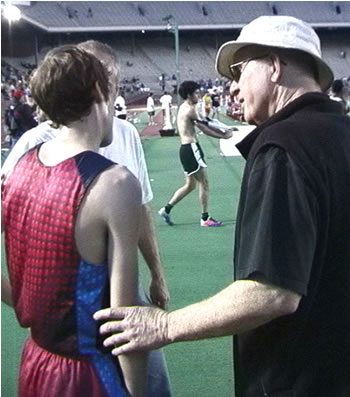 Results
1 13:47.64 Anthony Famiglietti adidas
2 13:51.69 Dathan Ritzenheim North Kent RC
3 13:53.23 Peter Sherry New York AC
4 14:03.66 Thomas Omwenga Team New Balance
5 14:08.63 Vinny Mulvey unattached
6 14:09.48 Scott Anderson unattached
7 14:10.20 Musa Gwanzura Aztecas
8 14:18.45 Ricardo Santos New York AC
9 14:22.03 Brian Clas New York AC
10 14:26.97 Chris Banks Georgetown Running Co.
11 14:27.18 Justin Niedzialek Boston Athletic Assoc.
12 14:28.24 Dan Wilson unattached
13 14:29.63 Ryan Demers unattached
14 14:30.15 Jose Zayas unattached
15 14:34.54 Eric Kweder Quantico Marines
16 14:35.70 Matthew Folk unattached
17 14:36.90 Drew Macaulay Atlanta TC
18 14:37.36 Carleton Jones Club Northwest
19 14:38.15 Terrance Armstrong The Enclave
20 14:38.75 Aaron Curry Hopkins TC
21 14:40.32 Brad Hunt Black Squirrel TC
22 14:45.16 Darrell General D.C. Capitol TC
23 14:53.80 Daniel Johnson Boston Athletic Assoc.
24 14:57.95 Eric Bonnette unattached
25 15:03.43 Brian Gallagher Surekill TC
26 15:06.14 Chris Naimoli Bryn Mawr Running Co.
27 15:20.71 Rich Byrne Ridgewood/Princeton RC
28 15:30.11 Chris Farley unattached