Charles Millioen of St. Anthony NY continued his fine senior season that started with a strong 4th at Foot Locker Cross Country nationals in December behind the prep Big 3 of Dathan Ritzenhein, Alan Webb, and Ryan Hall. Millioen surged last to win a see-saw duel with Stephen Haas NC. His coaches were a little worried by the pace (4:28 through 1600 meters), but said the key was when Millioen matched Haas' late race surge. After two more lead changes, Millioen prevailed.
Photos
Brendan Sullivan NY (18) leads the pack
through the first half lap. (below)



For the next 3 laps, Haas NC (4) moved to the front along with Millioen, with Kendall Simon GR (9) third. (right) After the first 200 meters, the next three full laps were run in 67-65-68.

4.5 laps: Haas and Millioen settle into 2-man race after a 67-second lap.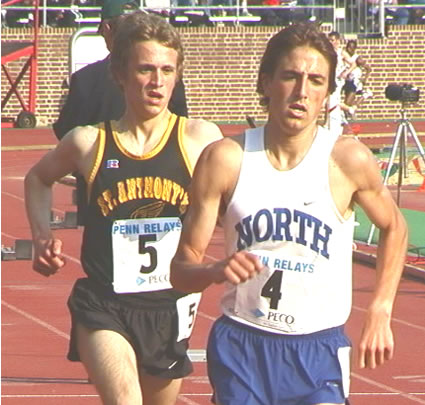 Bell Lap - Millioen moves ahead, but the lead changed twice more before it was over. Haas re-took the lead on the backstretch, and then Millioen returned the favor on the far turn to win, with William Christian MD moving up late to claim third place.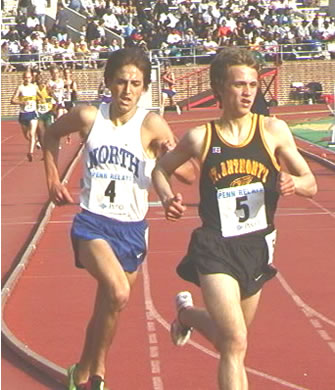 Awards - (From left) assistant coach Tim Russo, Millioen, head coach Sid Martin,
assistant coach Pat Slevin, and Penn Relays secondary schools chairman Bob Burdette.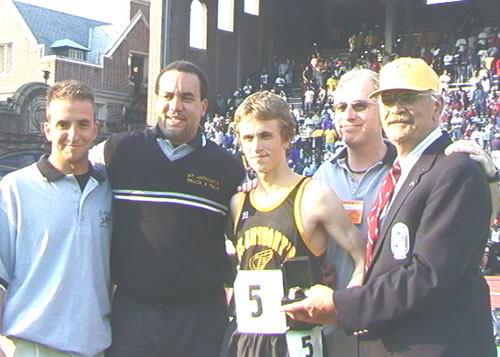 Results
1 8:21.04 Charles Millioen St. Anthony's / NY
2 8:22.83 Stephen Haas North Mecklenburg / NC
3 8:31.65 William Christian Great Mills / MD
4 8:32.89 Brian Dalpiaz Sayville / NY
5 8:36.67 Ben Stern Georgetown Day School / DC
6 8:37.70 Chris Elder Cardinal Gibbons / NC
7 8:39.02 Ramon Laboy Danbury / CT
8 8:41.03 Pater Meindl Orchard Park / NY
9 8:45.79 Pat Bailey C. Milton Wright / MD
10 8:47.06 Adam Ambrus Shawnee / NJ
11 8:48.21 Kalib Williamson North Mecklenburg / NC
12 8:48.82 Patrick Moulton Pelham / NH
13 8:50.19 Brandan Sullivan Port Jefferson / NY
14 8:52.37 Oswaldo Pina Long Beach Poly / CA
15 8:56.12 Dan Treglia McKee/Staten Island Tech / NY
16 8:56.23 Mark Mullelly Upper Moreland / PA
17 8:58.86 Tom McQuade Saint Josephs / ONT
18 8:59.19 Mike Myers Eastern Regional / NJ
19 9:00.78 Chris Wright Mount St. Joseph / MD
20 9:05.82 Kyle Pawlaczyk Hamburg / NY
21 9:09.25 Zach Habtimichael Rindge & Latin / MA
22 9:32.66 Joe Jacobs Butler / NJ
23 9:40.34 Bruce Buechel Upper St. Clair / PA
DNF: Kendell Simon St. Andrew's Anglican / GR