Virginia's "other" distance star, Bobby Lockhart of Handley Winchester, won his second straight major meet win (Arcadia 3200 meters 2 weeks ago). Opening up a big lead on the third lap, Lockhart did not give Bobby Curtis KY a chance to duplicate the stretch run that beat Lockhart by a split second in the Nike Indoor Classic. Lockhart cruised home in 4:11.45, while Shane Stroup MD 4:13.51 got by Curtis 4:14.51 in the stretch.
Photos
Anibal Hernandez of Puerto Rico carried the group through a first lap in 61 seconds (below), followed by Adam Leive PA (16), Bobby Lockhart VA (4), and Nike Indoor Classic champion Bobby Curtis KY (3)

After 800 meters in 2:07, Lockhart goes to the
front (right), and Ricardo Iracks DC (17) matches
his move, with Curtis right behind Lockhart.


Lockhart opened up a solid lead on the third lap, which he finished in 61 seconds.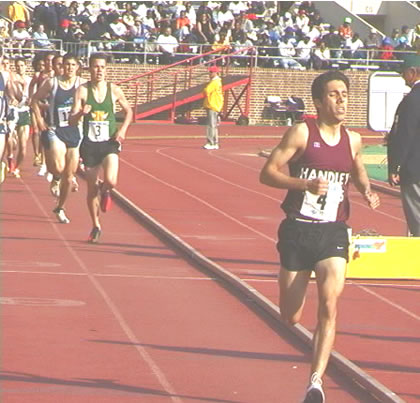 Lockhart stretched the lead on the back stretch before Curtis' kick closed the gap some,
but a stronger kick by Shane Stroup MD (6) carried him past Curtis (3)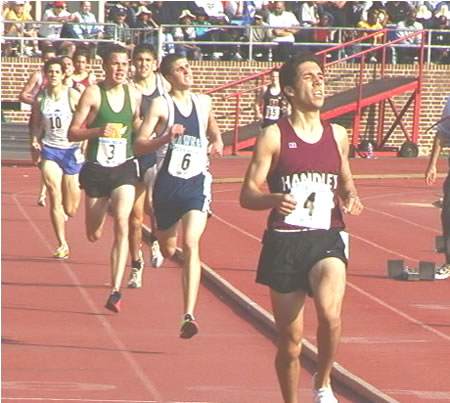 Results
1 4:11.45 Bobby Lockhart John Handley / VA
2 4:13.51 Shane Stroup River Hill / MD
3 4:14.51 Bobby Curtis Saint Xavier / KY
4 4:15.19 Trevor Cable Frewsburg / NY
5 4:16.35 L.A. Snead Robinson / VA
6 4:16.65 Steven Hayes Winston Churchill / MD
7 4:19.68 Justin Romaniuk Suffern / NY
8 4:20.83 Matt Maline Oakton / VA
9 4:21.89 Adam Leive Radnor / PA
10 4:24.12 Chris Platt Haddonfield Memorial / NJ
11 4:25.80 Ryan McConnell Bishop Hendricken / RI
12 4:26.27 Jeff Gosselin North Mecklenburg / NC
13 4:26.92 Brad Schmidt Dover / NJ
14 4:28.97 Chris Johnson Redwood / CA
15 4:29.77 Haille Nemariam Saint Alban's / EN
16 4:30.39 Ricardo Iracks Frank W. Ballou / DC
17 4:31.38 Anibal Hernandez Ramon Power / PR