Donna on the Side in Albuquerque - 4 pages of pictures
COMPLETE RESULTS: BOYS

-

GIRLS Donita Harmon

NM 12.00 and 24.33.

Felicia Guliford

NM 4:43.99 1500.

Mindy Sullivan

TX 2:12.49.

Amy Menlove

UT 19-5.5.

Kelli Burton

UT 45-7 and 146-1.

Antoine Echols

NM 10.43.

Russell Dennison

OK 48.14.

Dustin Vetica

UT 14.10 and 36.86.

Hank Basket

NM 7-0.25.

Aarik Wilson

NV 49-10.5

Lauren Reimer TX (left) wins heptathlon with record 5,357, winning all 7 events. Donovan Kilmartin ID (right) dominates decathlon with 7,316 points.

Collision of the muscle men:
Kevin Bookout 68-10 and 198-9
Johnathan Reeves 68-1.75 and 185-4
Nik Arrhenius 207-11


US#1 (17-0) Bobby Most wins pole vault at 16-6

DyeStat on-site at the 2000 Great Southwest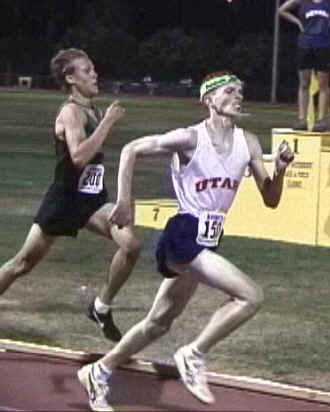 Golden Harper UT caught Jon Severy CO in the stretch of the
3200 meters, one of the most exciting races in the 2000 meet

Overview
Originally conceived as a post-season invitational for the states of Arizona, New Mexico, and Texas, the Southwest Classic debuted in 1930 and was conducted until the Depression caused the meet to close in 1933. An organization of coaches and track officials resurrected the meet in 1978 with 125 invited athletes from the states of Arizona, New Mexico, and Utah. The meet has grown to include over 300 invited athletes from the states of Arizona, Colorado, New Mexico, Nevada, Oklahoma, Texas, and Utah. Presently the Great Southwest Classic is recognized as one of the top 4 postseason regional/national track and field invitationals in the nation.
2001 will be the 26th edition of the Southwest Classic.
The major purpose of the Southwest Classic is to provide the outstanding boy and girl athletes in each state the opportunity to compete in regional invitational meet. Over the years the quality of the competition has resulted in national rankings and recognition for the athletes. Many of the participating athletes have received college scholarships as a result of their performances at the meet, in addition to being invited to national invitational meets. A number of Southwest Classic alums have gone on to compete in the Olympic Games, U.S. Olympic Trials, as well as NCAA Championships.
The format of the meet is a "go for broke" competition -- no heats, no trials, no team score pressures. The meet features 3 relay events (4 x 800, 4 x 400, 4 x 100) which the selection committee has the option of inviting the state's all-star relay members and/or a school team that represents their state.