May 4-5, 2001 at Welcome Stadium, Dayton OH
27th Roosevelt Memorial photo page
Marc Sylvester - warrior
Marc Sylvester was everywhere -- sprint medley, 4x400, and 800 meters -- as he led his St.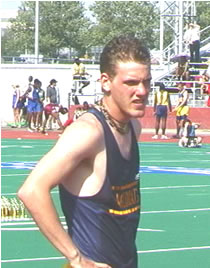 Ignatius Cleveland OH team to the boys team title.
In the 800 (below), Alan Webb of South Lakes VA was a no-show, but there was still a super race, maybe the best of the meet, between Sylvester and James Hatch of Colorado. Sylvester and Hatch both broke fast to get clear of a giant field of 20 or more runners, with Sylvester holding an edge through 200 meters in 24.5 and 400 in 54.2. On the back stretch of the second lap, Hatch pushed in front and looked a possible winner as he led through 600 meters in 1:22.7. But Sylvester lived up to his reputation as a warrior by fighting back on the turn, pulling even at mid-stretch, and easing off to a two-step victory at the end. Afterward, Hatch thought he might have made his move too early.
Later, with the team title on the line, Sylvester made the same move to win the 4x400 - losing the lead and getting it back in the last 200 meters.