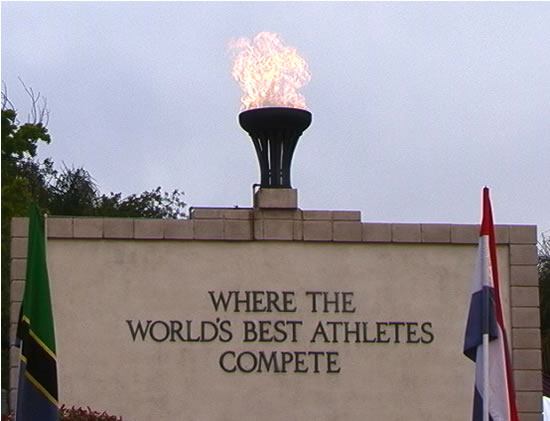 this stone plaque with olympic flame and international flags graces the first turn
The 4x800 relay teams opened the high school meet at 8 am Saturday after a cold, rainy night.
It was dry but unseasonably chilly, with 6 inches of snow on the mountain peaks in the distance.
Swirling breezes kept it cold most of the day.
Here, the flag shows a 3-4 mps tailwind for the girls long jumpers,
although Candice Baucham's winning jump was a legal +1.7.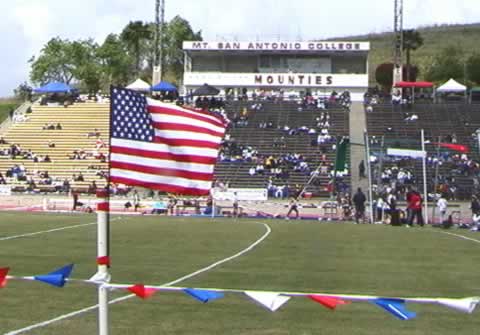 INTERNATIONAL FLAVOR
Foreign athletes were a strong factor in several events through the day with international athletes from China, Mexico, Great Britain, Canada and Australia. Chinese girls Zhao Yuan and Xu Min finished 1-2 in the 3000 meters.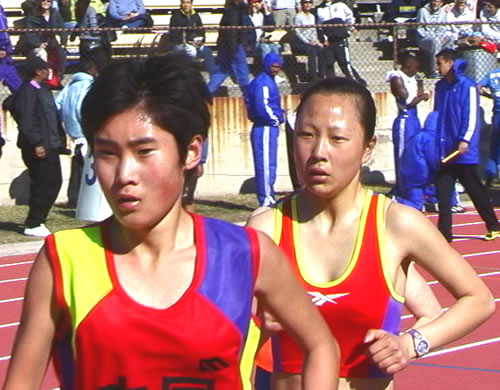 | | |
| --- | --- |
| Mt. SAC was a home away from home for Australian pole vaulter Jenny Lovell. She came to the meet because her coach Alan Launder is a friend of Steve Chappell of UCS Spirit, the pole maker. Jenny, 18, graduated from high school last December, and she trains 17 hours a week at the Australian national pole vault center in Adelaide. She has been vaulting 6 years, hit 12 feet as a 15-year-old, and already has international experience at the 1999 World Youth Games in Poland, where she placed 9th. | |
Olympic champions gave out autographs to eager youth: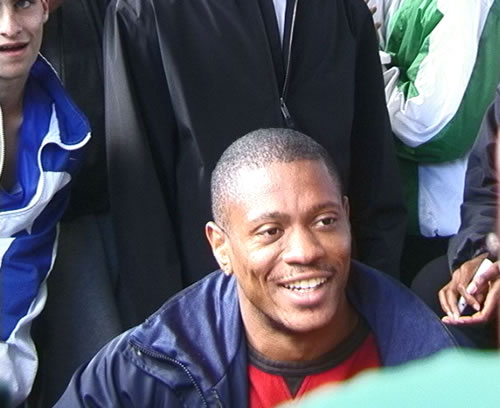 Maurice Greene
DyeStat message board regular "Lasse_Viren" after a race. What is his real name?