BY KEITH CONNING
[email protected]
http://hometown.aol.com/conning/myhomepage/index.html
October 26, 2001
Senior Brett Gotcher (pronounced go-cher with a long "o") (Aptos High School, Aptos, California) is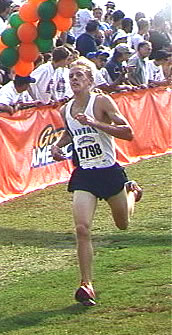 one of the top high school cross country runners in the United States. On September 29, 2001 he won the Stanford Invitational Division I 5,000 meters race on the Stanford Golf Course in Palo Alto, California in 15:35. He had the second fastest time of the day. Junior Yong-Sung Leal (Arroyo High School, San Lorenzo, California), the California State Meet 3,200 meter champion and the USATF Junior Olympic Young Men's 5,000 meter champion in 14:27.14, a new national Junior Olympic record and high school sophomore class record, won the Stanford Invitational Division II race in 15:34, just one second faster than Gotcher. Last year Gocher placed eighth in the 2000 Foot Locker Western Regional Cross Country Championships and 22nd in the 2000 Foot Locker Nationals.
Here's what Aptos coach Dan Gruber has to say about Brett Gotcher:
"From a coach's perspective he is a dream to coach. A quiet leader who leads by example. He is an excellent student and as polite as he is a good runner. He has good morals and a level head. I have never had a day of coaching him where I was disappointed in his performance or his behavior. He loves to race the big race and unlike very many runners who are fast, he has no fear of losing. He wants to be in the race. He loves running and works at it. He is what I call an intellectual runner, he can break down races and analyze them, as they are happening."
Name: Brett Gotcher
Event(s): 800, 1600, 3200
PRs: Event, mark, year 800-1:58, 1600-4:17, 3200-9:05, all junior year
Height: 5'10"
Weight: 128
Born: September 1, 1984
Where were you born? Watsonville, California
Current Residence: Watsonville
(Conning: Watsonville has a population of 31,100 and an elevation of 23 feet. "Watsonville's economy relies heavily on the growing of apples, strawberries and flowers. The main harvest time is celebrated in late September and early October." Source: AAA TourBook, 2001 Edition)
High School: Aptos High
Coach: Dan Gruber
Career Highlights: Place in major competitions
2001:4th great american, 1st stanford invite, 2nd clovis invite, 4th arcadia invite
2000: 5th state xc d1, 8th west regional, 22nd Nationals, 7th state track finals
1999:13th state xc d1, 10th ccs finals track
1998:14th ccs finals xc
Interview questions:
Why didn't you run at the Mt. SAC Invitational?
The reason I did not run Mt. SAC was because my coach really doesn't like all the chaos of many races going on at the same time and also because it is very close to our league finals which means a lot to our team.
Are you disappointed that www.dyestat.com has ranked you lower as a result?
As far as rankings go, I could care less. It is actually kind of nice going into the big races with maybe some people looking past me and I think that gives me a little advantage.
How did you get started in track and field?
I got started in track and field because I liked cross country my freshman year, so I decided to do track too.
Why do you participate in track?
I love track and xc. I love to compete in anything and track is a great way to compete.
What is your favorite training location?
Nisene Marks State Park in Aptos. There are miles of dirt and woodchip trails that are great for training.
[Conning: The epicenter for the 1989 Loma Prieta earthquake was in that park! Of course, Brett was only 5 years old at the time. "The Forest of Nisene Marks State Park offers 10,000 acres of rugged semi-wilderness, rising from sea level to steep coastal mountains of more than 2,600 feet." http://www.caohwy.com/t/thfonmsp.htm]
Do you remember the Loma Prieta earthquake of 1989?
I remember the '89 quake very well. I was at my cousin's house also in Watsonville and was scared out of my mind because I had no idea what was going on. My dad said he was on his bike and he said there were waves in the road.
Yeah, I run in Nisene quite a bit and I know the epicenter pretty well. It's about 4.5 miles out from the start, so we usually go a half mile past it to get in a good ten miler. The thing is, that last half mile is straight up hill and I think it keeps going up for another three miles. One of these days I'm gonna go far out there with my coach and check everything out.
What is your favorite track to compete at and why?
My favorite track to compete on is Los Gatos' because I've run there so much it feels like a home to me.
What kind of workouts do you do?
In cross country, one interval workout and the rest according to meets. In track, two interval workouts, and the rest according to meets, but not so much mileage in track.
How many workouts do you do per day?
Just one solid run a day.
When you compete, do you have a plan or strategy?
In competition, my main strategy is to hang with the leaders and take the lead only when I know I won't give it back.
Where were your parents born?
Both in Watsonville
What high schools and colleges did your parents attend?
My dad went to Cal Poly SLO.
What are your parents' occupations?
My dad is an architect and my mom is a secretary.
Where are your ancestors from?
Portugal and Norway
(Conning: Yong-Sung Leal's father is also part Portuguese. Portugal has produced some great distance runners. Fernando Mamede (Portugal) set the world record in the 10,000 meters in 1984.)
What is your GPA?
4.3
What community activities are you involved in?
Over the summer, I volunteered at the local YMCA once a week and helped out with their day camp.
What clubs do you belong to in school?
I am the vice president of the International Club at our school.
What college do you want to attend?
Right now I am looking at Stanford, Oregon, Arizona State, Wake Forest, and Duke.
What do you want to study in college?
I'm not positive yet, but most likely something in Math or Science.
What would you like to do for a career?
Keep running for as long as possible and then maybe something to do with business or engineering.
Do you plan to continue with track and field after high school?
Yes
What are your goals?
To try my hardest at all times and be the best runner I can be.
FAVORITE FOOD: Macaroni and Cheese
FAVORITE MUSIC ARTIST (S): many rappers, and also the classics
FAVORITE SPORTS TEAM: Giants Baby!
FAVORITE PLACE TO HANG OUT: At my friend's house
BEST BOOK YOU HAVE READ: Invisible Man
[Conning: "We rely, in this world, on the visual aspects of humanity as a means of learning who we are. This, Ralph Ellison argues convincingly, is a dangerous habit. A classic from the moment it first appeared in 1952, Invisible Man chronicles the travels of its narrator, a young, nameless black man, as he moves through the hellish levels of American intolerance and cultural blindness." (Source: Amazon.com)]
FAVORITE CLASS: Math
FAVORITE T.V. SHOW: Blue Torch
(Conning: Description: News, live events, athlete profiles, photos, and video. Featuring surfing, snowboarding, wakeboarding,... )

FAVORITE ATHLETE: Allen Iverson and Adam Goucher
[Conning: Allen Iverson is a guard for the Philadelphia 76ers professional basketball team and Adam Goucher (Doherty High School, Colorado Springs, CO 1994; Colorado 1998) won the 2000 U.S. Olympic Trials in the 5,000 meters run.]
FAVORITE NON-TRACK ACTIVITY: Surfing
(Conning: Watsonville is located near Santa Cruz, which is one of the finest surfing locations in the world.)
ONE WORD THAT DESCRIBES YOU: determined
IF YOU WERE GOING ON A ROAD TRIP AND COULD ONLY TAKE ONE CD, WHICH
ONE WOULD YOU TAKE: The Eagles greatest hits
[Conning: "The pre-Hotel California years were arguably the best for The Eagles (though there were, thanks to Joe Walsh, some stellar future moments). Their mix of country, folk, and rock had a harder, grittier edge, and helped define what would become known as the Southern California sound." Source: Amazon.com]
BEST VACATION OR TRIP YOU HAVE EVER TAKEN: My family used to go to Utah for a ski trip.
OPPONENT YOU WOULD MOST LIKE TO BEAT: whoever I am racing
HOW DO YOU PREPARE BEFORE A MEET? Eat right, stay focused, and relax
BEST PART ABOUT YOUR GAME: I try to run until I can't stand any longer.
WHAT IS THE BEST SPORTING EVENT YOU HAVE EVER ATTENDED AS A SPECTATOR? A Giants game on my birthday when Glen Allen Hill hit the game winning home run.
(Conning: Glen Allen Hill, New York Yankees; Babe Ruth League: Santa Cruz, CA BRL)
SOMEWHERE YOU HAVE NEVER BEEN THAT YOU WOULD MOST LIKE TO VISIT: Australia
IF YOU COULD HAVE DINNER WITH A FAMOUS PERSON, WHO WOULD IT BE: Tim Curran because he is great surfer
(Conning: Tim Curran has been a figure in the surf world since he was pegged as
a child surf prodigy at 14.)
WHAT DO YOU SEE DOING IN 10 YEARS? Definitely still running, and also having a strong career to fall back on.
WHAT HAS BEEN THE HIGHLIGHT OF YOUR ATHLETIC CAREER TO THIS POINT: Making to Footlocker Nationals
WHAT DO YOU LIKE TO DO IN YOUR SPARE TIME? Surf, take pictures, play basketball, and just chill
MOST INFLUENTIAL PERSON IN YOUR LIFE: My parents because they support me in everything I do, and without them I would be nowhere
WHAT IS SOMETHING ABOUT YOURSELF THAT FEW PEOPLE KNOW: I always sing in the car when I'm driving.
FAVORITE BREAKFAST CEREAL: Frosted Flakes
NOBODY KNOWS HOW MUCH I LIKE: Photography
EARLIEST TRACK MEMORY: my first race freshman year, I ran the JV 1600 and won
FAVORITE PRE-MEET MEAL: Stir-Fry
Additional comments: Thanks for the interview. Good luck to everyone for the rest of the season.