by Keith Conning
[email protected]
Yong-Sung Leal has just completed a very successful sophomore year of high school cross country and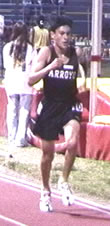 track at Arroyo High School in San Lorenzo, California. It culminated with his victory in the 3,200 meters at the California State Meet at Hughes Stadium in Sacramento. He also won the California State Cross Country Division II Championship last fall.
His name, Yong-Sung, was given to him by a Korean elder in his church. It means "Brave Castle."
His father is Portuguese and Irish and his mother is Japanese.
One of his coaches, Susan Guinee, is the wife of Larry Guinee, who won the California State Meet 1,600 meters in 1980 in 4:06.18.
Name: Yong-Sung Leal
Event(s): 3200 meters (in track) and 5000 meters (in cross country)
PRs: Event, mark, year 9:00.49 in 3200 meters at state championship June 2, 2001.
Height: 5' 9"
Weight: 140-145 lbs.
Born: 12/21/84
Where were you born? Houston, Texas
Current Residence: 15317 Inverness St., San Leandro, CA 94579
High School: Arroyo High School (in San Lorenzo, CA)
Coach: Ms. Susan Guinee, Mr. Jerry Metcalf, and Mike Exton
Track Club: Arroyo H.S. and Junior Aggies.

Career Highlights: Place in major competitions
2001:
C.I.F. State Champ Boys 3200 meters
NCS MOC Champ Boys 3200 meters
2000:
C.I.F. State Champ Cross Country, Div. 2 H.S.
NCS MOC Champ Cross Country, Div. 2 H.S.
NCS MOC Champ Boys 3200 meters (as a freshman)
Interview questions:
How did you get started in track and field?
Coach Mike Exton saw me running in 5th grade and asked if I'd like to run track in school.
Why do you participate in track?
At first I thought it would just be a fun thing to do, but eventually I got good enough at it to make it my career.
What is your favorite training location?
Joaquin Miller Park in Oakland, CA, because I like practicing on hills.
What is your favorite track to compete at and why?
James Logan High School in Union City, CA, because it just feels the best.
What kind of workouts do you do?
Endurance workouts (9 miles a day and 13 miles on Sunday) 6 days a week; speed work 1day a week.
How many workouts do you do per day?
One good workout.
When you compete, do you have a plan or strategy?
I just run hard from the start and do my best.
Where were your parents born?
My dad was born in Seattle, WA, and my mom in Japan (she's Japanese).
What high schools did your parents attend?
My dad went to St. Elizabeth's in Oakland, CA, and my mom in Japan.
What are your parents' occupations?
My dad is a consultant, and my mom works at a senior citizens home.
Where are your ancestors from?
My dad's lineage is Portuguese and Irish; my mom is 100% Japanese.
What is your GPA?
3.0 - 3.25
What community activities are you involved in?
I'm active in my church youth group.
What clubs do you belong to in school?
Only running.
What college do you want to attend?
I'm still thinking about it. I just completed my sophomore year.
What do you want to study in college?
Maybe something involved with English.
What would you like to do for a career?
Not sure.
Do you plan to continue with track and field after high school?
Yes.
What are your goals?
To be as good a person as I can be.
NICKNAME: none
FAVORITE FOOD: anything edible, except for squid.
FAVORITE MUSIC ARTIST (S): Green Day, Goldfinger, Rancid, Dropkick Murphy's, Misfits, Nerve Agents, A.F.I., Spishak (I could go on and on…)
FAVORITE SPORTS TEAM: Dallas Cowboys, Houston Rockets (I was born in Houston)
FAVORITE PLACE TO HANG OUT: anywhere with my friends.
BEST BOOK YOU HAVE READ: Where The Red Fern Grows
FAVORITE CLASS: P.E./Athletics
FAVORITE T.V. SHOW: Cartoon Network (when we had cable)
FAVORITE ATHLETE: Michael Jordan (he had class)
FAVORITE NON-TRACK ACTIVITY: Playing music on my guitars in my bands.
ONE WORD THAT DESCRIBES YOU: Friendly.
IF YOU WERE GOING ON A ROAD TRIP AND COULD ONLY TAKE ONE CD, WHICH
ONE WOULD YOU TAKE: "And Out Come The Wolves" by Rancid.
BEST VACATION OR TRIP YOU HAVE EVER TAKEN: Driving in a U-Haul truck with my dad from Dallas, TX, to San Lorenzo, CA, in 1993.
OPPONENT YOU WOULD MOST LIKE TO BEAT: I don't target an opponent in particular except on race day when I run against those other runners.
HOW DO YOU PREPARE BEFORE A MEET? I pray and just chill.
BEST PART ABOUT YOUR GAME: Running is very simple and straightfoward.
WHAT IS THE BEST SPORTING EVENT YOU HAVE EVER ATTENDED AS A SPECTATOR? My first baseball game in Texas which the Rangers won.
SOMEWHERE YOU HAVE NEVER BEEN THAT YOU WOULD MOST LIKE TO VISIT:
Korea. (My name, Yong-Sung, was given me by a Korean elder in my church. It means "Brave Castle").
IF YOU COULD HAVE DINNER WITH A FAMOUS PERSON, WHO WOULD IT BE:
Rev. Sun Myung Moon (the founder of my church).
WHAT DO YOU SEE DOING IN 10 YEARS?
I can't see that far ahead.
WHAT HAS BEEN THE HIGHLIGHT OF YOUR ATHLETIC CAREER TO THIS POINT:
Winning state championships in cross country and in track as a sophomore.
WHAT DO YOU LIKE TO DO IN YOUR SPARE TIME?
Play music on my guitars.
MOST INFLUENTIAL PERSON IN YOUR LIFE:
My parents.
WHAT IS SOMETHING ABOUT YOURSELF THAT FEW PEOPLE KNOW:
I don't know.
FAVORITE BREAKFAST CEREAL:
I like many.
NOBODY KNOWS HOW MUCH I LIKE:
Helping others.
EARLIEST TRACK MEMORY:
My first track meet in a middle school meet at Lorenzo Manor Grammar School as a fifth grader.
FAVORITE PRE-MEET MEAL:
A few slices of toast and coffee.
Additional comments:
I run for God and the talent He has given me.
Spishak Rules!