Foot Locker Finals
- a Family Affair
by Donna Dye
The Scene - The Stars, Dathan and Sara - The Girls and Families - The Boys and Families - The Supporters
As all cross country fans know, the Foot Locker is THE EVENT of the season. 32 boys and 32 girls earn their way to the Footlocker. This year was the 22nd Annual Foot Locker Cross Country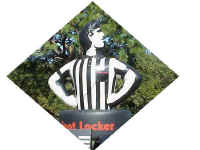 Championships. The Foot Locker started as a small event in San Diego, California in 1979 as the Kinney Cross Country Championship. It moved to Orlando in 1981-82 and then back to San Diego through 1996. In 1993 the sponsorship changed to Foot Locker, and in 1997 the championship moved to its present home in Orlando and Disney World.
The Foot Locker Finals is a family affair. Everywhere you look, you see proud parents, grandparents, aunts, and uncles who have come to Florida to follow one of the 64 elite runners. Not to mention their present coaches and hopeful future coaches (college recruiters). Although the races decide two national champions, there is a feeling that this gathering is a celebration of 64 boys and girls whose presence here shows they are all champions. And what better place to celebrate than at Disney World-The family place!
So in honor of these young peoples families, we present a photo album of the Foot Locker Cross Country Championship.
The Scene: Oak Trail Course at Shades of Green. Oak Trail is one of three golf courses within the Shades of Green community at Disney World.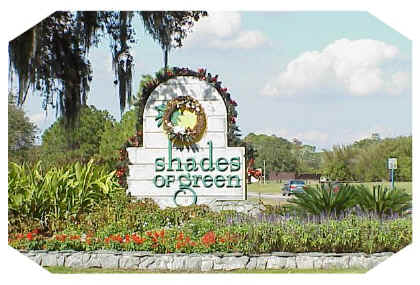 .
Anxious fans gather early on a sunny, warm Saturday morning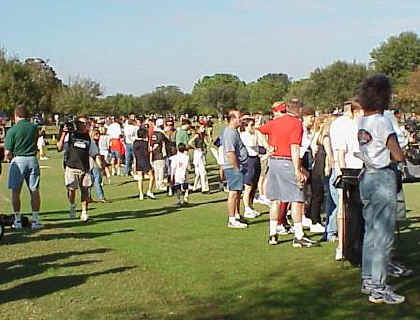 Rockford MI fans came in force to follow not one, but three runners: boys favorite Dathan Ritzenhein and two members of their US#1 girls team - Kalin Toedebusch and Linsey Blaisdell. Several of Ritzenhein's teammates drove 21 hours from Michigan for the races. They are the ones with the orange hair!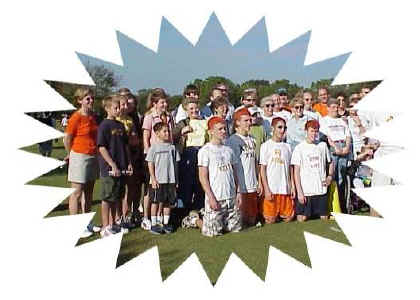 These are guys from Port Charlotte, Florida who call themselves "cross country fans." Thus, they supported home stater Mike Swope, but also the "Ritz kid" from Michigan. Oh, and by the way, there were real Ritz crackers on that poster. Yum!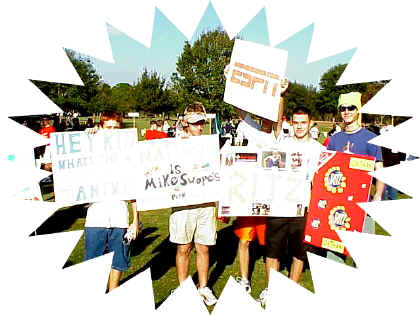 THE STARS: SARA BEI & DATHAN RITZENHEIN!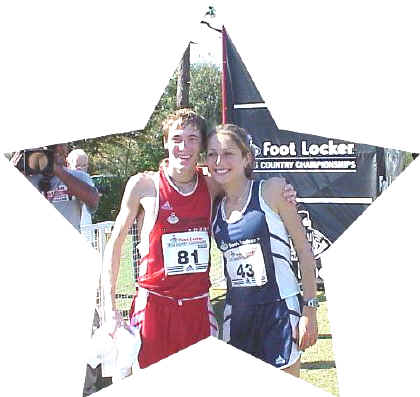 Sara has worked her way back to the top. After missing the Orlando trip last year with her only loss of the season in the West regional, Sara crept closer and closer to the leaders through the 2000 season. Today she passed them to be the national champion. Dathan repeats his spectacular 1999 win, becoming one of two boys to ever win the Foot Locker twice.
THE GIRLS AND THEIR FAMILIES !!!!
After her win, Sara Bei explains the race to reporters and family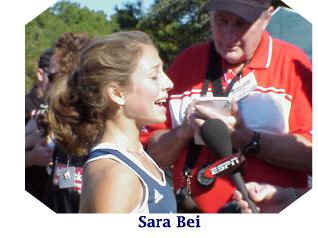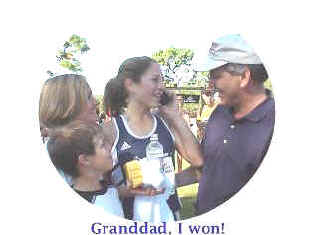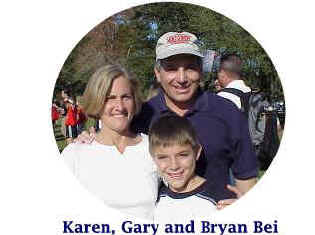 Sara's proud parents, Karen and Gary, with Sara's brother, Bryan. A third sibling, sister Amy, is a pole vaulter at Harvard. Bryan hasn't yet committed to any one sport. He's trying them all out. We'll see if he follows in his sister's cross country/track footsteps.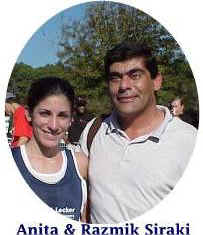 Anita Siraki has had a very successful cross country season. She and her proud Dad, Razmik, are both DyeStat fans. If one is not on the computer, the other is.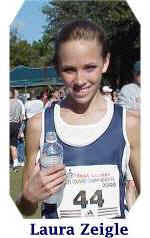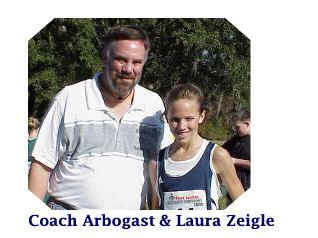 Laura came back from mid-season setbacks to qualify in the Foot Locker West region and then finish the season with a flourish with 3rd at the finals.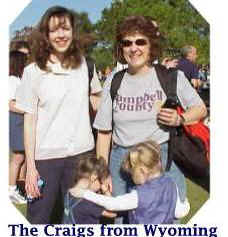 Some of Alicia Craig's family. Karina Craig; Mom Craig; and two camera shy nieces: Faith Craig (Karina's daughter) and Alexandra Tumminello.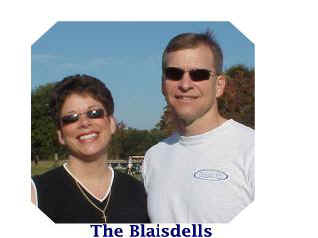 Diane and Scott are the proud parents of Linsey Blaisdell of Rockford, Michigan.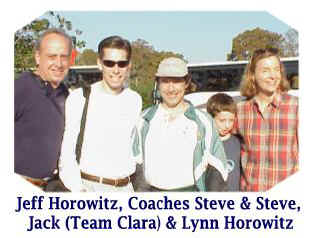 This group came to cheer and coach Clara Horowitz from California and the Western Region.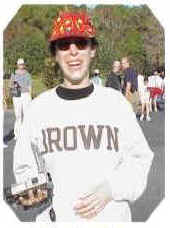 Helen Pudlin is getting her camera ready to focus in on daughter Julia from Pennsylvania and the Northeast Region. Daughter Julia has had a spectacular year, breaking course records all over Pennsylvania and Delaware and making her mark on the national scene in the Great American, the Manhattan, and Foot Locker.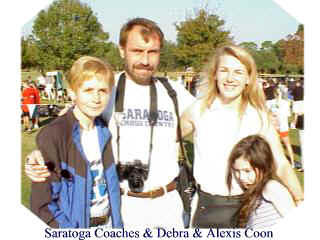 Danielle's Saratoga NY coaches, Art and Linda Kranick, with Danielle's mother Debra and sister Alexis. The Saratoga team was tied for Number 1 in the nation with Rockford in The Harrier rankings.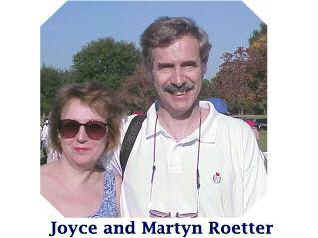 A newcomer to the national scene, the Northeast regional champion had a great race to finish 4th. There to cheer her on were her parents, Joyce and Martyn Roetter.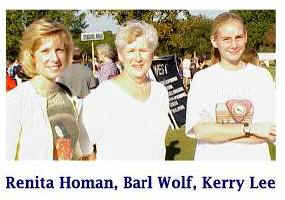 Renita Homan and coaches were there to cheer for Chelsea and the Midwest Region.
THE BOYS AND THEIR FAMILIES !!!!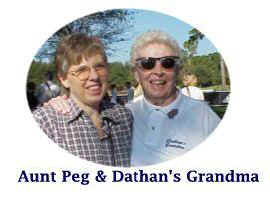 Dathan had the Ritzenhein extended family out to cheer and holler. Here's grandma and Aunt Peg.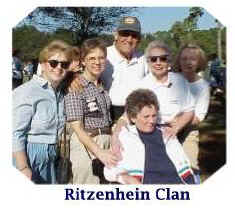 And Grandma along with other clan members: Aunt Barb, Aunt Peg, Ray Cruset, (Aunt Sharon's Husband) Grandma Mary Lou, Aunt Sharon and Great Aunt (seated).

a big hug from Grandma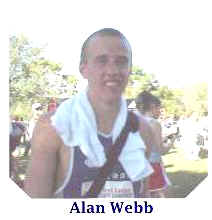 Alan after cooling down and looking to the next race.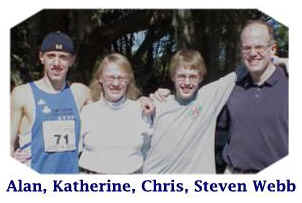 His family was there to support and cheer. A delightful group of people: Alan; Mother, Katherine; brother, Chris; and Father Steven. Alan is one of three children all boys. Alan will be going to the University of Michigan next year. That means full circle for Alan who was born in Ann Arbor when his dad was teaching at UM.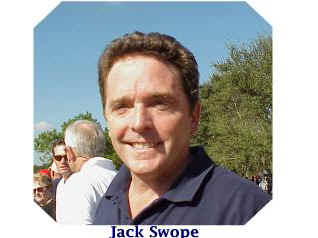 Jack is the proud father of Mike Swope. They come from the South Region and Florida.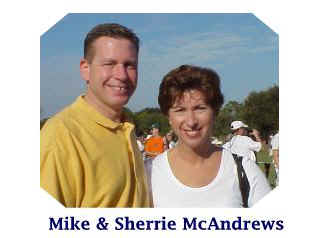 Mike and Sherrie were there to cheer their son, Seton, who was this year's Northeast champion. They come from Queensbury, New York.

Margaret Wyman is Peter Meindl's mother. They are from the Northeast region and New York State.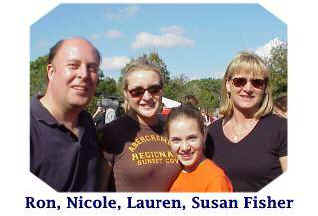 Susan and Ron Fisher came from Indiana and the Midwest Region to watch their son, Aaron. Aaron is a 3 time Indiana State Champion.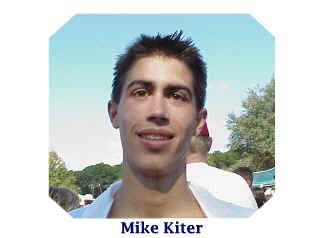 Mike Kiter comes from the State of Washington. He won the Oregon-Washington Border clash and came in 6th at the Western Regions.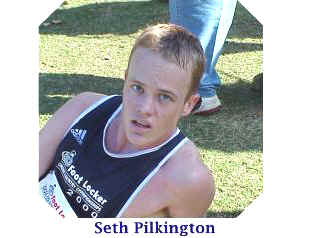 Seth Pilkington is from Utah. He improved on his 7th at the Western Regional to finish 6th here.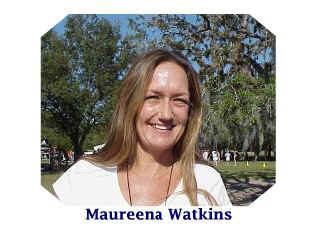 Maureena Watkins came from Montana to cheer for her son Seth, who was Montana's AA Champion and the West Regional winner.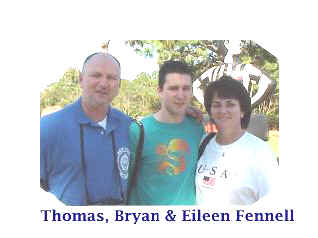 Thomas and Eileen and brother Byron came to support Brendan, who made the national finals as a sophomore. Brendan is from Pearl River, New York, and finished 5th at the NorthEast Region.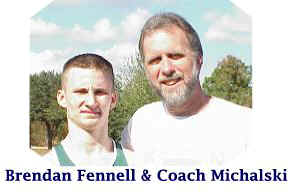 THE SUPPORTERS !!!!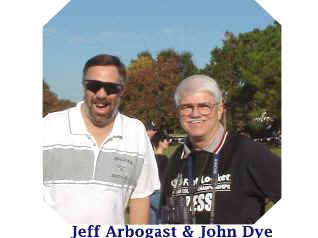 Bingham UT coach and DyeStat publisher
exchange views before the races.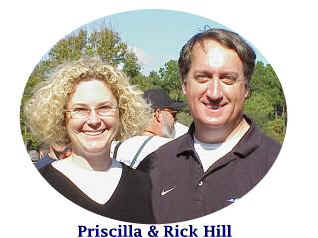 Rick is the businessman and running fan who invented the hugely popular Great American Cross Country Festival in Charlotte NC. Now he is thinking of taking the show on the road to several regional venues around the country.
Return to Donna on the Side home page