National Finals
12/9/00
Disney World
Orlando FL
Pearl's Report
Step by step analysis, with all the splits
By Pearl Watts
Rockford, Michigan's Dathan Ritzenhein was impressive once again as he easily defended his boys title, while in a battle of California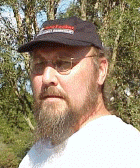 seniors, Sara Bei held off Anita Siraki down the homestretch to win the girls crown at the 22nd Annual Foot Locker National Championships in Orlando, Florida.
Ritzenhein, undefeated in cross country competition the past two years, came in as the favorite but was expected to face serious challenges from Alan Webb of South Lakes and Ryan Hall of California. As many expected, they were the top three finishers but Ritzenhein's continual surge from the one mile mark to the two mile mark keyed him to a huge margin of victory.
Ritzenhein won in 14 minutes and 35 seconds over the fairly flat 5,000 meter course after winning the previous year in a course record time of 14:29 with Webb second in 14:55 and Hall third at 14:59. The race had been expected to be fast from the start, but the entire field went out slow through the early stages before Ritzehein took over the lead at the three quarter mile mark. The Michigan senior led the field through the first mile in a relatively slow time of 4:45 with Webb just a couple of strides behind, as the entire 32 runner group was at 4:52 or better.
Ritzenhein then continued to push the pace and the field broke up quickly. At 1.5 miles Webb was on Ritzenhein's heels with Hall in third at seven seconds behind the lead and the following pack having fallen to 13 seconds off Ritz's pacesetting.
After a mile and three quarters it still looked like Webb and Ritzenhein would possibly match strides until the end but Ritz's constant picking up of the pace put too much pressure on everyone else. Ritzenhein hit the two mile mark at 9:21 (4:36 split) with Webb at 9:25 but the South Lakes senior was starting to struggle. Hall had fallen off the pace to 9:37 at two miles with the chase pack at 9:43 in the sunny, 75 degree weather.
Ritzenhein continued to build on his lead on the back portion of the course and was at 12:12 (2.6 miles) with a half mile to go. Webb was at 12:31 with a half mile to go and with first place out of the question had more concerns with Hall, who came through in 12:38. Ritz then just seemed to merely maintain his pace through the end with a 72 second penultimate quarter and 71 second final quarter for his final time of 14:35. Webb, who saw his lead over Hall shrink to four seconds with a quarter mile to go; had enough left to maintain that same edge to the finish.
Ritzenhein said afterwards that he went into the race thinking, "if it went slow I would push the pace. I was thinking (going in) the first mile would be faster than the second but I'm a strength runner and usually work the middle of the race. We do a lot of speed workouts in sets of one easy, a couple hard; one easy, a couple hard; which helped today. I was ready to push it where the course makes a split (approximately 1,000 meters from the end) but didn't have to today. I didn't know I had it won until I crossed the finish line. On the final stretch I was thinking, God, this hurts."
Webb said, "My goal was first place but I have to deal with this and move on. I feel like I got stronger this year by leaps and bounds and that has me excited about track. The race didn't go at all like I thought it would. I didn't know what the splits were at the beginning to know how slow the pace was but I felt comfortable and also felt like I was in good position. Ritzenhein just kept picking it up and consistently pulled away. I got within a stride of him near the two mile mark but then he made another move. With a half mile to go I told myself to hold on and not lose positions at the end like I did last year. It would have been nice to win, but I'm a miler."
South Lakes coach Scott Raczko said, "it was not a good race for Alan. He ran 14:43 in Charlotte two weeks ago in much worse conditions, but only 14:55 today."
The girls race went much differently than the boys race with strong pacesetting from the outset by Midwest Region champ Penny Splichal of North Dakota and Pennsylvnia junior Julia Pudlin. Thirty of the thirty two girls were tightly bunched after the first quarter mile with eventual winner Sara Bei of California content to be ten meters behind the group.
Splichal, Pudlin and Northeast Region champ Natasha Roetter of Massachusetts led at the three quarter mile mark and were joined by Maria Cicero of Illinois at the mile mark, which they covered in 5:20.
The West Region then made a big push to the front heading to the 1.5 mile mark with West Region champ Alicia Craig of Wyoming, West Region runnerup Anita Siraki and Utah's Laura Zeigle while Bei had moved up to about the fifteenth spot. Bei then pulled up to 12th at the mile and three quarter mark and at two miles it was the West Region quartet of Craig, Siraki, Zeigle and Bei as the lead group at 11:00.
Siraki and Bei then broke away on the back loop and with a half mile to go Siraki was at 14:25 with Bei just a stride behind and with Zeigle now a distant third and Craig continually losing ground. Siraki still held a slight lead over Bei with a quarter mile to go but Bei had enough in reserve down the final stretch to come out the winner as her 2:30 final half mile carried her to the victory in 16:55 with Siraki second at 16:56. Zeigle held on to third at 17:21 with fellow junior Roetter fourth in 17:29, with Rockford, Michigan senior Kalin Toedebusch fifth in 17:32, and Elizabeth Pasciuto, a freshman from Murietta Valley, California who ran 5:21 for 1,600 meters last year in middle school, sixth at 17:35.
Return to Foot Locker Finals page