Part 4
The Athletes
Megan Kaltenbach CO and Coach, Greg Weich. Megan, a Senior, ran in the Girls Race of Champions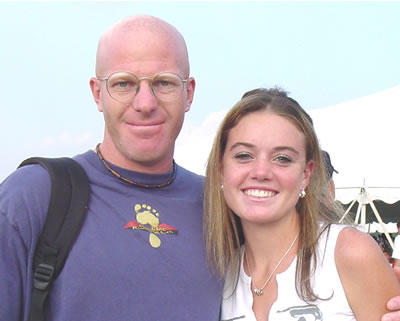 Our Lady of Lourdes, Miami FL--Ran in the JV, Girls Seeded and Race of Champions.Lourdes finished 8th in the overall team scoring.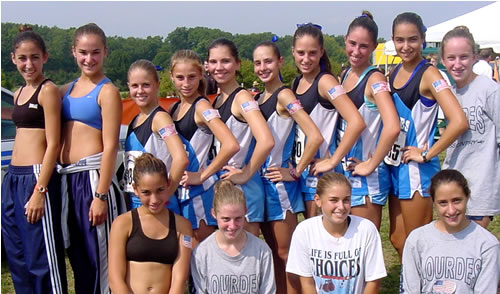 They are working hard to build a strong team and it shows. Coach Ary Montalvo is happy with their progress and performance at the Great American.
Houston, TN Girls: (From Left) Meg Guescette, 3901, Rachel, Anderson, Caroline Peyton, Shannon Chandler, Jenny Wottle, Lindsay Honea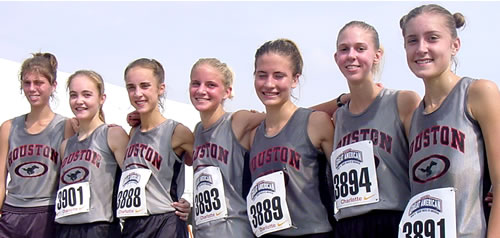 Jenny Wottle is following in her Dad's footsteps. Dave Wottle was a gold medal winner for the 800 at the 1972 Olympics.
Bolles Girls, FL Jennifer Kattman, Annie Adams, Reagan Treece, Cary MacRae, Charlye Leonard, Emily Bracken, Heather Marees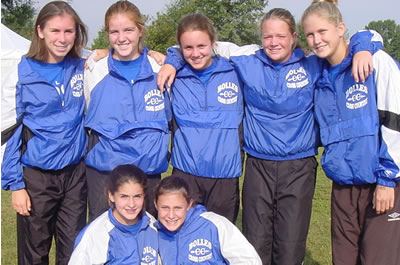 Marcus, TX Girls: Erin Bengtson, Kristi Cook, Jessica Semmelbeck, Alison Cook (front from left) Tara Gruber, Lindsay McKinney, Katrina Zielinski

Campbell County WY runners wore a big MO on their calf in memory of former Camel Morgan McLeland, (

right

) who was killed Sept. 16 in a van-car collision along with 7 other University of Wyoming athletes.

Morgan McLeland after winning the Wyoming state meet in 1998 for Campbell County.
Lexington, SC Girls: Jocelyn Veit, Elizabeth Williams, Erin Pickel, Amy Meldau

Chris Solinsky, Jr. WI finished 5th in combined varsity scoring with 15.18.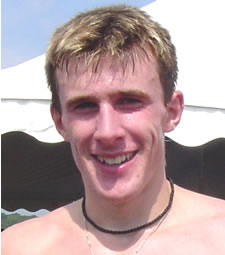 Londonderry, NH boys resting after dinner.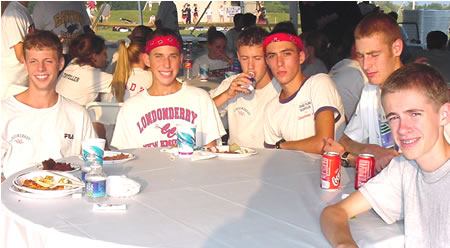 | | |
| --- | --- |
| Honeoye Falls, NY | Honeoye Falls, NY |
Workerbees
Javan and Dad, Doug Padilla, Scorers. Javan is a 15 year old high school freshman who's been working with computers and helping Dad for 4 years. They are based in Utah and travel around the country to meets.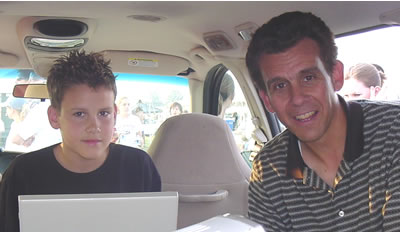 Doug moved into scoring following a career as an elite runner.
Donna on the Side at the 2001 Great American Festival
Part 1 - The Scene
Part 2 - Parents, Friends, and Fans
Part 3 - Winners
Part 4 - Athletes and Worker Bees