DONNA ON THE SIDE AT AOC RALEIGH
Part 1 - the Scene, Parents and Fans at Work, and Race Walk Way
Part 2 - Distance Lane
Part 3 - Relay Row
Part 4 - All kinds of sprints
Part 5 - Throwers Circle
Part 6 - Jumper Heights and Workerbees
Part 7 - Pole Vault Corner and Potpourri
Part 8 - Registration Night
The Scene
It's June, the end of the school year and track season, so it's time for the Adidas Outdoor Championships. Athletes from all over the country gather to test their strength, their skills and talents. The meet produces national and meet records and identifies the elite of the elite in outdoor track and field. Many of the athlethes competing in the AOC will be competing at the USA Junior Nationals and World Junior Championships in Jamaica.
Parents and Fans At Work
Aimee Dobrowski's Dad, Dr. David (Cleveland Beaumont) waits for that right moment.


A parent working hard at getting
that right pic.
Race Walking Way
| | |
| --- | --- |
| | Adam Staier ME. Adam won the race walk at 6:14.40. Adam will be attending Mansfield University in Pennsylvania, where he will continue to race walk. Among the various things that attracted Adam to Mansfield were Mike and Michelle Rohl a race walk couple now coaching. Michelle is a 3 time Olympian Race Walker still competing but also coaching. |
(From left)
Erica Aclams SC 3rd, Olga Beschastnykh NY 6th, Jasmine Brooks ME 4th, Maria Michta NY 1st, Lauren Oliveri NY 2nd,
Nadine Varro NY 5th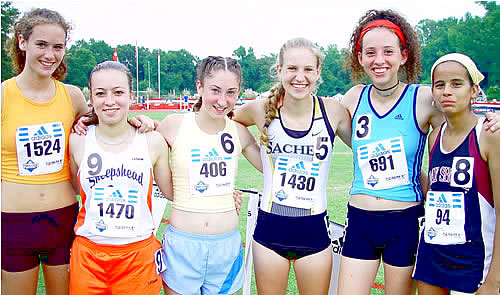 , Mich
DONNA ON THE SIDE AT AOC RALEIGH
Part 1 - the Scene, Parents and Fans at Work, and Race Walk Way
Part 2 - Distance Lane
Part 3 - Relay Row
Part 4 - All kinds of sprints
Part 5 - Throwers Circle
Part 6 - Jumper Heights and Workerbees
Part 7 - Pole Vault Corner and Potpourri
Part 8 - Registration Night