December 9, 2000 - DisneyWorld, Orlando FL - Foot Locker Finals





Dathan Ritzenhein Repeats


Ritz reduces Big 3 to one in cross country,
leaving Alan Webb and Ryan Hall to look forward to track season.

by John Dye

ORLANDO 12/9/2000 -- After starting slowly, defending champion Dathan Ritzenhein moved to the front by the end of the first mile and gradually pulled off to win comfortably in 14:35. The race was over when he entered the home stretch (200 meters to go), and Ritz didn't pound it home as hard as last year.

Form followed with Alan Webb 14:55 and Ryan Hall 14:59 taking the next two spots. Ritzenhein is only the second boys double winner in the 22-year history of the Foot Locker (Kinney before 1993) cross country championship (Abdirizak Mohamud of MA, 1996-97). Ritzenhein, signed to run for Colorado next year, is now undefeated in any high school race since he won the Foot Locker national outdoor 2-mile championship as a sophomore.

Ritz in the homestretch is alone with the pace car.




Halfway -- Ritz has 5 meters on Webb and they have gapped the field.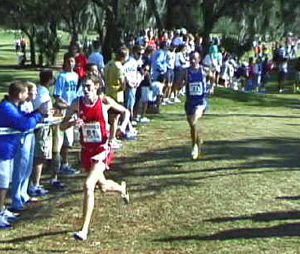 Links





DyeStat coverage of 2000 Foot Locker finals

http://www.dyestat.com/rivals/7993491.html



Donna on the Side, a Family Affair

http://www.dyestat.com/rivals/8073346.html



John Dye photo story

http://www.dyestat.com/rivals/8072615.html



Pearl Watts report

http://www.dyestat.com/rivals/8072614.html
Ritz: I didn't know I had it won until I crossed the finish line. On the final stretch I was thinking, God, this hurts."
Webb: My goal was first place but I have to deal with this and move on. . . . It would have been nice to win, but I'm a miler."



SteveU report

http://www.dyestat.com/rivals/8072609.html
Dathan Burns it to the Wick in the Florida Heat



TOMORROW:

January 20, 2001 - Secret mission to New York makes Alan Webb the fifth member of the prep sub-4:00 club, first in more than 30 years.




Magic Moments index