April 14, 2001 Arcadia's Dream Mile




Alan Webb, Ryan Hall, and the Jeffersons



Webb's afterburner toasts field in last 200 meters

by John Dye

This meet had two Magic Moments. A couple of hours after Nik Arrhenius set a national record in the discus throw, attention turned to the main track for a dream mile -- Alan Webb v. Ryan Hall, plus the Jefferson twins.

This was our report after the race:



"This was the long awaited matchup of the two milers of the big 3 of US prep distance running: South Lakes Reston VA sr Alan Webb and Big Bear Lake CA sr Ryan Hall.



"It was a terrific 2-man race for 7/8 of a mile. The two circled the track three times with Webb ahead and Hall just off his shoulder as the crowd rose in expectation of a furious finish. (left, at the bell, Webb looked back to check on Hall) But on the far turn of the last lap, Webb ended the contest in shockingly short order, accelerating away from Hall as if he were standing still. Broken by the surge, Hall faltered in the last 200 meters and was passed by John and Sean Jefferson of Atlantic Community HS, Delray Beach FL.

"Arcadia announcer Doug Speck had to go back to Jim Ryun to find such an explosion by a high school miler. "He's the real deal," said Speck.


This race marked DyeStat's first use of Derek Dye's live chat room. It was filled to capacity and TrackTalk burst at the seams too, causing server interruptions during the evening.

Webb won in 4:01.81, followed by John Jefferson 4:05.54, Sean Jefferson 4:07.25, and Ryan Hall 4:08.37. The next four were all good enough to lead the country in some years: Dustin Bybee UT 4:09.19, Aaron Fisher IN 4:10.51, David Vidal MT 4:10.56, and Seth Pilkington UT 4:12.05.

Webb's splits by Jack Shepard of Track and Field News:
58.4
1:59.3
3:03.3
4:01.81




A note by Rich Gonzalez


Webb also split 3:59.51 en route for 1600 meters, which remains the National Federation record. A FAT camera was set up at 1600m in anticipation of such a feat. Alan's planned participation in the meet was not revealed until one week out as Scott Raczko had asked to keep the news quiet to stave off any excessive media hype. Before then, the only opponents that knew Alan would be in the race were Ryan Hall and the Jefferson Twins. Scott agreed with my view that it would be fair for the Hall camp to be made aware beforehand of the challenge. Ryan's coach at the time (Irv Ray) balked when learning Alan would be in the mile at Arcadia and indicated he might pull Ryan out, but Ryan's dad and eventual coach (Mickey) was thrilled at the matchup and eventually Coach Ray agreed to it. The Jefferson camp became aware of Webb's participation thanks to a leak on the East Coast, but their interest was then leveraged to also create a matchup in an eventual sizzling distance medley relay at Arcadia that night.




preview by John Dye



ARCADIA CA 4/13/01 -- Hall vs. Webb, need we say more? YES! There is a whole lot more to the Arcadia Invitational at Arcadia High School tomorrow night.

This is the 34th Arcadia Invitational, and it may be the best ever, certainly "the premier in-season meet" of 2001, to go by the Arcadia meet managers' motto for the meet.

First things first: sub-4 Alan Webb against Ryan Hall in an added elite section of the boys mile. Just when fans were worrying that the big 3 of prep distance running (add Dathan Ritzenhein of Michigan to this pair) might not meet on the track in their senior years, and just as message board arguments raged as to whether there really is a "big 3", with Hall's credentials being called into question, this race materialized. Virginian Webb decided to travel across the continent to take on Hall in his own back yard.

Hall lives and trains at elevation in Big Bear Lake CA. It was a few miles south of Arcadia at Walnut CA that Hall broke the record for the fabled Mt. SAC cross country course (a record held by HS 2-mile record holder Jeff Nelson). A few miles east is Azusa Pacific college, where Hall opened his 2001 outdoor campaign with a workout style 8:58.70 2-mile, running virtually alone the entire race.

But on a track, there is no home court advantage. Webb's reputation precedes him as he journeys the country in search of competition. At the New Balance Games in the New York Armory January 20, Webb ran a 3:59.86 mile -- fastest ever indoors, first sub-4 by a prep since 1968, and only the fourth sub-4 HS boy ever. Webb followed that up by breaking the high school indoor record for 1000 meters with a 2:23.68 at the Virginia AAA state meet. And then, when Ritzenhein skipped the Nike Indoor Classic March 11 to train for the World Cross Country championships, Webb took aim on the indoor 2-mile record by himself. He didn't get it, but his 8:45.19 was an eye popper as he took control from the start against Canadian Nate Brannen, an experienced international star and future teammate of Webb at the University of Michigan. Webb has been lightly raced since then but his relay splits and workouts show he is in great shape.

One question is the relative phase of training for the two runners. Webb appears dead fit and aggressive (he is reported planning to invade the Midwest in hopes of meeting Ritzenhein at 2 miles in the Roosevelt Memorial meet in Dayton OH May 4-5). Hall, who rarely runs for his high school team, has a record of peaking late. Last year, he ran off three great races in June: California state 3200 (1st, 8:55.12), Foot Locker Outdoor championship mile at Raleigh NC (1st, 4:06.15), and a 3:46.51 1500 meters against older runners in the Can Am series in Massachusetts. The latter is equivalent to about a 4:03 mile, which was Webb's PR before his New York stunner.

Webb and Hall ran 2-3 behind Ritzenhein in the Foot Locker Cross Country national finals at Disney World in December.

Few people besides Webb and coach Scott Raczko know the Webbmaster's goals for this campaign, but two that have been mentioned could be in their sights tomorrow night: the HS mile record of 3:55.3 (Jim Ryun 1965) and sub-4 in a HS-only race. The latter has been done only once before, by Ryun as a senior in Kansas.

The Webb-Hall clash is scheduled for 6:40 pm, as afternoon heat turns to cool California evening, bringing to life another Arcadia Invitational slogan: "when the lights go on, the stars come out." The temperature will be falling from a predicted afternoon high of 71 toward a predicted low of 50 later at night, so race time temperature should be in the low 60s. The smallish stands will be packed as the meet returns to its high school home after a 1-year tour at Cerritos College.

This is not the only race of the evening for Webb. Three hours later he will lead his South Lakes Reston VA team in a distance medley rematch with Atlantic Community High School of Delray Beach FL. At the Nike Indoor Classic last month, Atlantic seized a big early lead on Sean Jefferson's 3:03 1200 meter split and not even Webb could catch them with a 4:03 split for the 1600 meter anchor. Twin John Jefferson held off Webb with a 4:06 split and said later he got a PR "running scared." The teams ran the 2nd and 3rd fastest indoor DMRs ever: 10:03.70 and 10:05.72. We could see sub-10 minutes, an area that only six teams have ever seen. The outdoor record is 9:53:31 (McCullough, The Woodlands TX, 1987).


| | |
| --- | --- |
| | |
| The ultimate 1-2-3 (Webb and the Jeffersons with "A" singlets) break on top and Webb took the lead on the first turn. | Who's that rabbit in red? It is Jacob Gustaffson, of Mission Viejo CA, who was not even on the entry list. At end of lap 1, it was Gustaffson, Webb, and Hall. It wasn't clear how Gustaffson came to play the rabbit's role. |
Alan Webb's account of the Arcadia mile as told to Pearl Watts
Webb had butterflies before the Arcadia mile because of all the pre-race hype - the rabbit was a wind breaker - this was not Hall's best race, but "he is not to be underestimated" - plans for Penn Relays: 4x8 and DMR - Alan is "psyched" about the Prefontaine Classic (May 27) - Coach Raczko says Webb's personal best may come at Pre
Webb: "I wasn't concentrating on the pace (sub 4:00 predicted by many) but instead wanted to make sure I won the race. I was kind of nervous before the race because of all the Webb versus Hall talk. I had some butterflies before the race and made some casual talk about my stomach being uncomfortable, but I wasn't feeling sick or anything like it was
reported by some people. Once I was on the line I felt fine.
"The pacesetter did a real good job of hitting the splits for the first two laps. The weather was perfect except for it being a little windy on the homestretch and I felt that the first two laps so I just tucked in behind the leader and let him block the wind. He (Hall) pulled up beside me on the third lap but never made a convincing move to get by me. I felt pretty comfortable with one lap to go and told myself to work the lap hard.
"I was waiting for someone to make a move with a half lap to go but no one did so I decided to close pretty hard on my own with about 160 yards to go. I know that was not Hall's best race, but he is not to be underestimated. The outdoor season still has quite a way to go."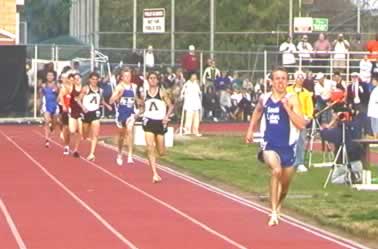 After putting Hall away on the turn, Webb is alone in home stretch, with the Jeffersons now straddling Hall.


More from Pearl Watts:

In the possible future is the Prefontaine Classic in Oregon the last weekend in May where Webb may have his best shot at running his fastest mile time of the year. The Pre Classic annually attracts many of the top U.S. distance runners in the country both collegiately and post collegiately with anywhere from a half dozen runners or more dipping under four minutes.

Webb said, "I'm psyched for the Prefontaine Classic. One of the plusses of the distance medley on Saturday was that I was able to get the experience of going out real fast. It was something I wanted early in the outdoor season; almost like a fast time trial for 1,200 meters and then trying to hold on for the last lap. Maybe I'm not ready now to go out below 3 minutes for the first three laps and then finish strong but by Pre I will be going against some very experienced runners who will be in rhythm and also blocking any wind."

South Lakes coach Scott Raczko said of Webb's mile performance, "Even though Alan didn't run below four minutes, I thought he ran really well. I think he was taken out of his rhythm a little bit in trying to race against Ryan Hall but it is easy for a young person to get caught in the hype. The distance medley race was good for his development both mentally and physically since you don't want to have to wait to go beyond the unknown in an open race."

Raczko said, "The Pre Classic may be the opportunity for Alan to run his personal best of the season, but we still have to wait and see how the next few races play out. This past weekend was a big challenge for him to stay on task. There were so many West Coast people who wanted his autograph and to have their pictures taken with him. After his race we had to go hide for a minute so he could get his warmup uniform back on before he started signing autographs again. It's a great thing to see high school kids getting excited
about another high schooler. It's also neat thing for the sport to see Alan at eighteen years old turn things around and ask those people how their races went after they talk to him about his race."

[Editor's Note -- The Pre Classic in May 2001 was, of course, Webb's chance to run his high school best, as he broke Jim Ryun's mile record in 3:53.43 in a race won by the great Hicham El Gherrouj. See DyeStat coverage of the Pre Classic. It's not in the Magic Moments series because we weren't there.]




3 hours later, the DMR - Atlantic vs. South Lakes, Part 2




the sequel has the same plot and same ending



by John Dye

A sub plot of the journey to California by Alan Webb and his South Lakes Reston VA squad was a chance to avenge their loss to the Jefferson twins and Atlantic Del Ray Beach FL in the distance medley relay at the Nike Indoor Classic last month. At NIC, Sean Jefferson staked Atlantic to a 6 second lead in the opening 1200 meter leg and all of Webb's greatness could not make up 6 seconds on John Jefferson in the 1600 meter anchor leg. The two teams ended with the second and third fastest indoor DMR times ever, Atlantic 10:03.70 and South Lakes 10:05.72.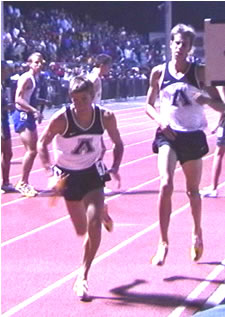 Tonight was almost a carbon copy of the NIC race, but Atlantic was even further ahead (10 seconds) before Webb could get the stick. Webb blazed a 1:57 half to close within 2 seconds of John Jefferson, but paid for it later as John Jefferson (left, getting the baton on anchor exchange as Webb waits) ran negative splilts (2:05 and 2:02) to seal a 7-second victory for Atlantic in 9:57.88, third fastest team all time outdoors. Webb's 4:04 split added to his 4:01.81 victory over Ryan Hall 3 hours earlier surely added up to one of the greatest meets ever for a prep middle distance runner. And John Jefferson's 4:05.54 mile (2nd to Webb) and 4:07 DMR anchor combination would also have to rank on any all-time list of such things.

Pearl Watts' account -- Webb then came back about three hours later to anchor the South Lakes distance medley team which included Richard Smith (3:09.5; 1,200 leg), Justin Smyser (50.8; 400) and Yonathan Kebede (1:59.5) to second place in 10:04.55 with his 1,600 split of 4:04.7.

Atlantic Community, with Sean Jefferson opening up a lead on the rest of the field on his 1,200 leg and with John Jefferson anchoring in 4:07, won the race in 9:57.88 to move to number three all time for the event.

Webb, who trailed John Jefferson by ten seconds into the anchor leg and went out in 1:57 for the first 800 meters said, "I went out way too fast and got excited that I was catching him (Jefferson). I was trying to get in contact by the third lap and try to save enough for the end but I felt flat in the second half of the race after using too much up in the first half of the race."










Links





2001 Arcadia

http://www.dyestat.com/us/1out/Arcadia/index.htm



Boys Mile

http://www.dyestat.com/us/1out/Arcadia/results/027.htm



Preview

http://www.dyestat.com/us/1out/Arcadia/preview.htm



Alan Webb's account as told to Pearl Watts

http://www.dyestat.com/us/1out/Arcadia/results/webb-by-pearl-watts.htm



Boys DMR

http://www.dyestat.com/us/1out/Arcadia/results/092.htm



NEXT: 2003 Golden West -- Tommy Skipper sets PV record in honor of brother Art, who died in plane crash a few months before.

Magic Moments index