Week Six:

Coaches Chris Hanson and
Ryan Stanley


Desert Vista HS, Phoenix AZ


Throughout the track season, the editors of DyeStat.com will choose an Eastbay National Coach of the Week to recognize coaches around the country for outstanding recent achievements in guiding prep athletes.
Coach of the Week Archive

Balance is the Key for NWN contender Desert Vista AZ

By Sal Gonzales

Chris Hanson and Ryan Stanley are the Boys Co-Head Coaches at Desert Vista High School in Phoenix, Arizona. The Desert High Boys team has been the team to beat in the Phoenix area and looks to cap off its season with a state championship. The team has pulled off big wins this year at the Chandler Rotary and Tribune Invitationals.

Chris Hanson was born in Marshalltown, Iowa and graduated from the University of Northern Iowa. He has participated in track and rugby throughout his athletic career, and was a walk-on in track at the University of Northern Iowa until injuries ended his career. Chris teaches Physical Education at Akmel A-al Middle School. Akmel A-al is a feeder school for Desert Vista. Chris has coached at Desert Vista for the last 11 Years.

Ryan Stanley was born in Marriam, Kansas and attended Shawnee Mission South High School in Overland Park, Kansas. He was a Kansas state champion in the 200m dash in 1995, and ran for one year at Johnson County Community College. He then moved on for 3 years at the University of Arkansas. He was a member of 3 indoor national championship and 2 outdoor national championship teams (1998-2000). He was also a 4 time NCAA All-American and once an Academic all-American. It was at JCC where he began his coaching career. Currently Stanley is in his 4th year at Desert Vista. He is also a social studies teacher..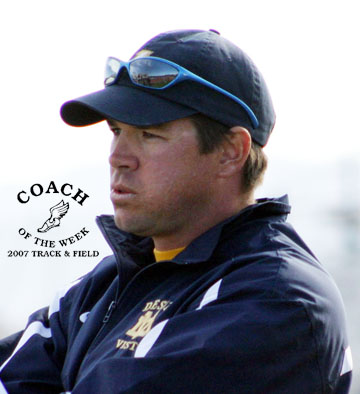 (above) Coach Chris Hanson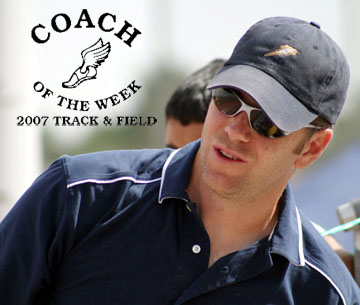 Coach Ryan Stanley

Coach Hanson and Stanley Q&A:


DyeStat: What are your strengths as a coach?

Coach Hanson: The ability to surround myself with other quality coaches, recruiting, and not taking the sport for granted.



DyeStat: How does Desert Vista stack up against the Phoenix Area competition?

Coach Hanson: The competition in Phoenix is steadily improving, as well as in the rest of the state of Arizona. Our major rival is a sister school named Mountain Pointe just 2 miles from here. We respect any and all teams but we always have an eye on Chandler and Mountain View.

Coach Stanley: I have been very fortunate to learn under some of the best coaches in the world. John McDonnell, Lance Brauman, and Andreas Hediger have been particularly influential. T he experiences I gained as an athlete and a coach under their guidance have given me tremendous insight in how to train and inspire my athletes to achieve things they themselves did not believe they could. I have a close relationship with my athletes based on tremendous respect and trust in each other.



DyeStat: What is the strength of your team?

Coach Hanson: Balance! We have great administration, great coaches and great kids.

Coach Stanley: The strength of our team is in our balance. We have individuals and relays that should compete for a spot in top 3 in 15 of 17 events at the state meet. We also have depth across the board and should place 2 or more athletes in almost every event. Our goal is to win a state championship. We also hope to remain very competitive in the Nike Web national rankings.



DyeStat: What do you like about coaching?

Coach Hanson: The relationship to everyday life! I love to see the work and the payoff!

Coach Stanley: I love the life lessons learned through sport and through track and field. It is such a great feeling when you set a goal at the outset of the season with an athlete, and see the athlete dedicate themselves to working towards that and finally reaching that goal. There is a real sense of accomplishment.



DyeStat: How do you personally connect with individuals on a large track team?

Coach Hanson: We have the team divided by event discipline and make an effort to connect with each and every kid. To improve the character of the athletes, I use everyday examples in training and their relationship to performance, and how the same principles apply to everyday life. I stress that winning isn't everything; it's the passion and the effort!

Coach Stanley: With such a large team (262 athletes came out for track this year), it is difficult to give as much individual attention as you would like. We have very high expectations of all of our athletes in terms of what they do in the classroom, at practice and their character. We stress that they are representatives of the team on and off the track and they are held to a very high standard in all of these areas. It takes a long time to establish a tradition of these expectations and it requires training leaders among the athletes to model these behaviors and expectations.

Congratulations to Coaches Hanson and Stanley, the sixth and seventh Eastbay National Coaches of the Week! Eastbay Coach of the Week Coaches will receive a Eastbay Reward Card as well as a team color Eastbay jacket.