Week Four:

Coach Bill Sumner

Corona del Mar HS, Newport Beach CA

Throughout the track season, the editors of DyeStat.com will choose an Eastbay National Coach of the Week to recognize coaches around the country for outstanding recent achievements in guiding prep athletes.
Coach of the Week Archive

Arcadia Aces: Coach Bill Sumner's Distance Crew Shines Again At Invitational

By Steve Underwood

Despite the graduation of distance gem Annie St. Geme, the Corona del Mar powerhouse continued to roll during most of the fall cross-country season, ranking as high as #1 in the country, winning their second straight D3 state title, and earning another bid to Nike Team Nationals, where they matched their 6th-place finish of 2005.

They're only getting better this spring. At last week's Arcadia Invitational, where they always seem to perform well, the CdM distance crew authored some more masterpieces on the oval. The DMR squad of Alison Damon, Claire Schmidt, Hilary May and Shelby Buckley ran to a US#1 (in and out) 11:41.28, just 7 seconds off their near-national record 11:34.65 from last spring. Buckley's 1600 anchor was 4:50, which came after a 4:51.54 in the invitational mile earlier in the evening (5th), while Damon was also 6th in 4:54.85. Long distance ace Sarah Cummings also ripped a 10:28.82 in the 2-mile for 4th – and those were just the leading highlights!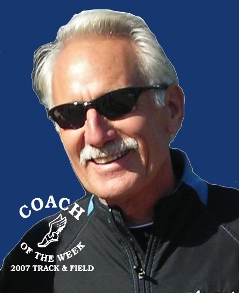 Much of the credit goes to the mentoring of veteran Head Coach Bill Sumner. He has coached more than 20 years, guiding the Sea Kings to six D3 state titles in XC, and numerous championships at the Section level and beyond.

Coach Sumner does not work in the school system, but he impacts the lives of runners young and old through the Cal Coast Track Club, which in about 25 years has grown to more than 2,700. He also is the director of the Orange County Marathon. Coach Sumner grew up in a rough neighborhood and giving back is always on his mind. A "Magic Shoe Program" gave away 4,000 donated pairs of shoes to schools and clubs last year.
Coach Sumner Q&A:

DyeStat: You've now had three consecutive DMR wins at Arcadia and some fine individual performances in each as well. What importance does Arcadia have in your seasonal plan and how excited did your girls feel about defending the distance medley title?

Coach Sumner: The girls were very excited about the DMR. For Corona del Mar High School, we consider Arcadia arguably the best high school meet in the country. We use this as our kick-off for the very important part of the track season. Here in California, the high school season ends in three weeks for kids not going to post season. The timing is always perfect for us.

(Coach Sumner referred us to a story in the Daily Pilot, a local newspaper that covers CdM. The Sea Kings DMR team members from Arcadia were quoted in the story, including senior Hilary May, who ran the 800 leg. "I was so excited to run in the [distance medley relay], this crowd, the night, the lights," she told a reporter for the paper. "You can't pace too much. You can't go out too hard. I love running in traffic. Every decision counts.")


DyeStat: Anne St. Geme was an obvious team leader the last couple of seasons (and truly a pleasure for us to talk with and write about, I might add). Would you please comment on the team "chemistry" changes as she departed and how did the team "personality" develop for the current year's crew?

Coach Sumner: Anne was the best team leader I have had in 25 years. That void is tough to fill. However, what has happened is that the seniors have each picked up a piece of the leadership. Almost all of them have been with the program for four years and they know and understand the drill.


DyeStat: Your distance athletes seem to all have the ability to run fast from 800 through 3200 meters. What is it in your training that you think provides this balance of speed and endurance?

Coach Sumner: During cross country, the kids all run the same distance. In track they really like to try the different distances. The shorter distances help with speed and the longer ones work on strength and endurance. We transition out of cross country and into the track season and they try the other distances. The kids each pick one they like and train specifically for that one event. If they do a good job, that compliments other events.


DyeStat: Would you be willing to share what you generally had your group of distance medley athletes (800-1200-1600 legs) do in training this week leading up to the meet on Monday-Friday (how did you approach the Thursday dual or was this a vacation week?)

Coach Sumner: Vacation week is actually this week. Last Thursday we had a dual meet and the girls ran their events with less intensity and jogged just 20 minutes on Friday. For example, take Allison Damon, who ran the 1200 leg. At the dual meet, she ran the 400 and the 1600 when normally she would run the 800 and the 1600.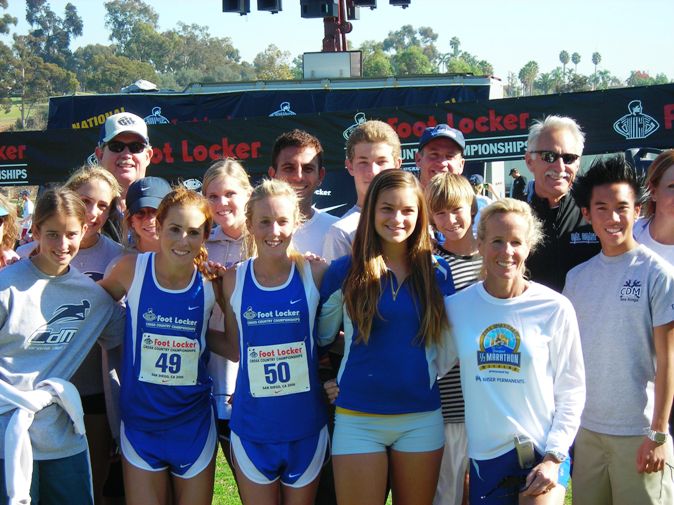 DyeStat: We know that the distance runners at Corona del Mar are not your only coaching responsibility. Please talk about the others you work with as coach and how that all developed.

Coach Sumner: I had a group of runners that I used to run with 35 years ago. We called ourselves Active 5 and ran track meets and road races together. The four others tricked me into being the coach. The group grew and grew and is now called Cal Coast Track Club. Out of this group we have had 27 Olympic Trials qualifiers. Cal Coast now has 2000 members.

None of this would have been possible without help from a lot of other runners, almost all of whom are volunteers. Every Saturday morning we meet and prepare for marathons, half marathons and 5k runs. We have groups who run at different paces, and also walkers, so there is something for everyone. There are other meeting times during the week where members get together and continue to work on speed and conditioning.

Congratulations to Coach Bill Sumner, the fourth Eastbay National Coach of the Week! Eastbay Coach of the Week Coaches will receive a Eastbay Reward Card as well as a team color Eastbay jacket.