Week Four:

Coach Tamra Strano


Leavenworth HS, Leavenworth KS


Throughout the track season, the editors of DyeStat.com will choose an Eastbay National Coach of the Week to recognize coaches around the country for outstanding recent achievements in guiding prep athletes.
Coach of the Week Archive

"To prepare our kids for their best performance ... in the future."

By Tony Bozarth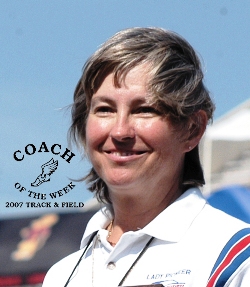 Coach Tamra Strano. Photo (sans logo) Courtesy of Leavenworth Times
Tamra Strano has been at Leavenworth High School KS, on the banks of the Missouri River, for the past 34 years – the last 33 serving as the head girls track coach. During that time period, her teams have won 9 Kansas 6A state track titles. While Coach Strano's teams are well known for their sprint prowess, Leavenworth has also been noted for an all-around program. Perhaps the program's most famous graduate is Amy Hastings, the NCAA distance champion now at Arizona State.

Coach Strano is retiring at season's end and last weekend her former athletes let her know the impact she had on their lives. More than 200 of them returned to Leavenworth for a reception in their mentor's honor.


DyeStat: What is the most rewarding aspect of being a coach to you?

Coach Strano: Working with the kids. It doesn't matter what type of day you've had, just going out to the track makes it a great day. The kids are all so enthusiastic, and they offer you unqualified love. It makes you glad to be alive.


DyeStat: What is the most challenging aspect of being a coach now?

Coach Strano: Probably the number of kids who feel they have to work, and the number who are being told that they have to specialize in one sport year round to be successful. The main challenge in coaching now has become recruiting the team. I feel one of the most important aspects to what we do is getting the best athletes in the school to come out for track.


DyeStat: Leavenworth is home to Fort Leavenworth. Are their any special challenges to coaching in a school where many of the kids have parents in the military?

Coach Strano: Well, the military giveth to us, and the military taketh away. We really have to base our program on the local kids, and consider the military as a bonus. The downside is the uncertainty of what is going to happen to them and their parents in the future.

The first state title we ever won was keyed by a Patton Junior High freshman. She won events for us at the Kansas State meet and literally, after her last event, her parents took her from track-side to the car and had to drive off; they had been deployed. It has gotten a little better as the military has adjusted rotation schedules so the kids can finish the school year. But you lose track of those kids in many cases and always wonder how they turned out. I wonder about this girl still.


DyeStat: How did you get involved in coaching track at Leavenworth?

Coach Strano: When they hired me, they said, "You will coach girls volleyball, basketball and track." That pretty well did it.


Bill Geiger of the Leavenworth Public Schools Foundation presents a framed listing of accomplishments to Leavenworth High School girls track-and-field coach Tamra Strano during a ceremony on last Saturday night at the Riverfront Community Center. Photo courtesty of the Leavenworth Times.
DyeStat: What background did you have? Any high school track experience?

Coach Strano: No, when I went to Beloit (KS) high school there were no girls' sports. It was too long ago! My senior year, we experimented with girls on the boys track team, but that was all. I whacked my knee pretty bad on the hurdles, and threw the discus. I did play two years of college basketball.


DyeStat: Where did you learn your track, then?

Coach Strano: I went to Fort Hays State University, and took coaching classes from Alex Francis! (Ed. Note: Francis was the legendary Hall of Fame track and cross country coach of Fort Hays for more than 40 years, winning numerous NAIA championships). He was an amazing person, very intense, yet very laid back. I remember him standing in the stadium at Hays, just throwing a disc back and forth and saying, "Do you ever notice you can throw a discus all day; you just never get tired of it."


DyeStat: What was the most important thing you learned from him?

Coach Strano: Don't ever be so vain and full of yourself that you don't think you can learn a better way. He said one time, "If you see a coach who year-in and year-out has great hurdlers, go ask them what they are doing. If they really are worth anything, they'll share with you what they do." I've tried to follow this ever since.

And go to clinics. If I learn one thing at a clinic, it was worth going to. We re-vamped our whole sprint program a few years ago after hearing Mike Holloway (Ed. note: University of Florida head coach) speak at the Kansas High School Track Coaches Clinic. Fifteen years ago, we re-vamped our entire track program after hearing Kevin Donnelly speak on Sprint Dynamics at the University of Kansas track clinic. Today most of our sprint work consists of drills and flexibility work. We spend an hour a day on that.
We also learn from our athletes who've gone on to college and come back. Much of our stretching routine came from our athletes who went to Barton County Community College.


DyeStat: What is your goal as a high school coach?

Coach Strano: To prepare our kids for their best performance in the future. It's much the same as our goal as educators. We are preparing them for the future. They should leave our program with the basics in place and their technique sound. We should never see their best races in high school; we should see them occur later in their lives.

When Amy Hastings (NCAA track champion) was here, do you know what her off-season program was when she was a freshman and sophomore? Nothing. We could not get her interested. It wasn't till she matured that she really became motivated to run. And that was not a bad thing. She is running great now, and is an NCAA champion.
We should be working on technique, and if that means slowing down, being patient and getting the basics right, so be it. Remember what we are here for.

Congratulations to Coach Tamra Strano, the fifth Eastbay National Coach of the Week! Eastbay Coach of the Week Coaches will receive a Eastbay Reward Card as well as a team color Eastbay jacket.