Week Seven:

Coach Carl Smith


Coatesville HS, Coatesville PA


Throughout the track season, the editors of DyeStat.com will choose an Eastbay National Coach of the Week to recognize coaches around the country for outstanding recent achievements in guiding prep athletes.
Coach of the Week Archive

Penn DMR a Peak Experience for Coach Smith, His Coaches, His Kids

By Steve Underwood

Coatesville PA head track and field coach Carl Smith has coached at the school for 29 years – three as freshman coach, 20 as an assistant to his mentor Harry Lewis, and the past six as head coach. He has taught in the Coatesville school district for all of his 31 years in education and served the past four years as the president of the Greater Philadelphia Track and Field Coaches Association.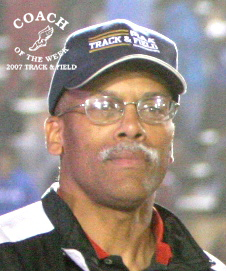 Coach Smith's teams have won their league championship the past four seasons, and have not lost a league meet since 2002. Having advanced numerous athletes to the district competition, his school has had a combined 28 outdoor or indoor state medalists during his tenure.

Coach Smith says the highlight to this point, however, would have to be winning the prestigious Championship of America Distance Medley Relay at the Penn Relays last weekend. This is clearly not just because of the prestige of the event, but the fact that Smith himself is a Penn alum. "What an amazing night the athletes provided for myself and those in attendance at venerable Franklin Field!" he says.

Coatesville won that DMR in a school record and US#1 10:08.51, as anchor Kyle Dawson (whose brother Owen ran the 1200 leg) held off the 4:04.4 anchor of Craig Forys of Colts Neck. That crew included Sean Ward, Chris Cline, and then Owen preceding Kyle. This, combined with the 17:24.48 4x1600 from a week earlier in another meet, confirms that the status Coatesville achieved in XC – an NTN bid and a tag of the best team ever in PA – was no fluke.

Coach Smith Q&A

DyeStat: Please talk about some of the emotions you had during and after that DMR last Friday.

Coach Smith: As the young men raced last Friday night, I could only think about all the work that each of them had put in and how well Dave Lapp, my distance coach, had prepared them for virtually every situation that they would encounter during the course of the race. When the victory was secured, the emotions overflowed. I don't think my eyes were dry, but I'm not sure!

I was so excited for the kids because they work so hard and are such a "classy" group of young men. They truly are a lot of fun to be around. When they were freshmen I called them my "young lions." Standing on the winners platform and hearing the announcer say "COATESVILLE HIGH SCHOOL" and hearing all of the fans who came from our hometown to watch was a moment that I don't believe I ever will forget.



DyeStat: You mentioned to me the confidence you had in Kyle with 150 meters to go - Talk about the virtues that you guys instill in your kids, and how you do it, and what that gives them to respond in tough situations like they did the other night.

Coach Smith: Watching Kyle Dawson fight to hold off the great young runner from Colts Neck, I never doubted for one second that he wouldn't get the job done. He is such a courageous runner who doesn't know the meaning of the word quit. Kyle ran XC in the fall, swam during the winter (but always got his runs in), and climbed out of the pool and hasn't looked back.

As mentioned earlier, Dave Lapp does a wonderful job (along with Keith Andrew, their XC head coach) making sure that each and every one of his runners knows exactly what they need to do whenever they go "to the line."



DyeStat: Please talk about Coach Lapp and Coach Andrew, and what they bring to the program. How do all of you work together to give the kids a complete program?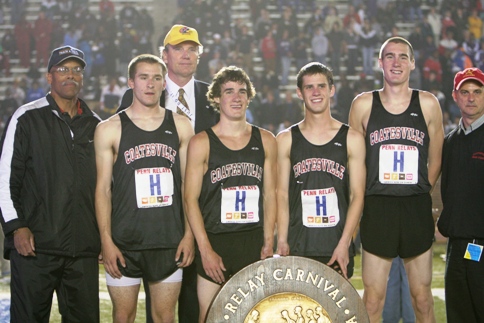 Coach Smith (left) and Coach Lapp (right) with their DMR champions at Penn (and a Penn official in the yellow hat). Photo The Track Junkie

Coach Smith: The coaching staff, Dave and Keith in particular, work tirelessly to prepare these young men and make sure that they pay close attention to the minute details which enable these young men to go to the track with the utmost confidence in their individual and collective abilties. From 6:15 a.m. workouts to pasta dinners at Coach Lapp's home, these kids know that they are cared for, respected and appreciated.



DyeStat: With the Dawsons swimming, it was kind of a low key winter for you and a lot of people kind of forgot about the men of Coatesville as the showed themselves to be last fall. Now with these two great relay performances, you're firmly back on the map!! Talk about some of the advantages of not having an arduous indoor track schedule and how that might help at this time of year, as well as how swimming may help the Dawsons.

Coach Smith: Not having the Dawsons for the winter season allowed us to develop several other runners that might otherwise have not gotten an opportunity. I am a firm believer that all things happen for a reason, and not having them made us work even harder to be competitive in a very tough area (in which we compete). I firmly believe that the swimming allowed the "Dawson boys" to recharge mentally, and for this I am truly thankful.



DyeStat: When you look back at 27 years of coaching, how does this group fit in historically? Talk about what makes you feel passionate about the sport and how this group has moved you.

Coach Smith: They are the greatest group that we have ever been blessed to work with. Having had the opportunity to watch these guys develop has helped myself and my other athletes understand and appreciate/respect that hard work can accomplish when it's mixed with talent. What I so enjoy about track and field (and these young men in particular) is that you can always have a goal to work toward that can be measured weekly, even daily!

Track and Field is the greatest and I enjoy the opportunity to assist young men and young ladies of all ability levels in reaching their individual and team goals.

Congratulations to Coach Smith, the eighth Eastbay National Coach of the Week! Eastbay Coach of the Week Coaches will receive a Eastbay Reward Card as well as a team color Eastbay jacket.