Week One:

Coach Jim Schlentz

Colts Neck HS, New Jersey

Throughout the track season, the editors of DyeStat.com will choose an Eastbay National Coach of the Week to recognize coaches around the country for outstanding recent achievements in guiding prep athletes.
Coach of the Week Archive

Double Deuces: Two national champs in different venues for Coach Jim Schlentz

By Steve Underwood

One team. One day. One event.

Two states. Two athletes. Two national titles and two US #1s.

Oh yes, and one coach.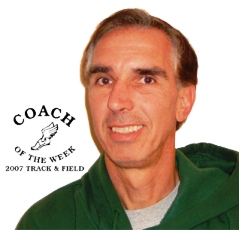 Sunday, March 11, 2007 was a special day for Colts Neck NJ track and cross-country coach Jim Schlentz. As he looked on at The Armory in New York City, his outstanding girls senior distance leader Ashley Higginson hammered a PR 10:16.75 2-mile en route to the NSIC title. Higginson and the rest of Coach Schlentz's 4x1 Mile crew had already claimed gold two days earlier, repeating the title they won last year.

Meanwhile, at NIN down the seaboard, his star senior distance leader on the boys side was taking a long-hoped-for national title in the 2-mile there. With a strong kick, Craig Forys took first in the deuce over Matt Centrowitz, clocking 9:01.57.

Coach Schlentz has guided athletes at Colts Neck since it opened in 1998, his latest stop during 30 years of coaching prep and college runners. He's the head coach for both during indoors and shares responsibilities in CC and outdoors. His athletes have now won five indoor national titles. In the three sports at Colts Neck, Coach Schlentz has led 13 athletes to a total of 35 All-American designations. Last fall, Higginson won individual honors at NTN as she led the Colts Neck girls. A week later, Forys was 2nd in the Foot Locker Finals.
Coach Schlentz Q&A:

DyeStat: Talk about what it was like to watch Ashley run and win such a great race … and have Craig had winning in Maryland at almost the same time.

Coach Schlentz: I had gone to Craig's race in Maryland last year, so I chose Ashley's this year. I was on the phone with a friend who was giving me lap by lap splits and race commentary from Craig's race down in Maryland. It was a tough way to listen to a race with all the crowd noise from both meets and the announcers.

After I heard Craig had won, I went down to the paddock to tell Ashley. They are great friends so I knew that would get her excited and she was. Our plan for Ashley was to have her sit for a 1000 to 1600 and then push a big second half of the race. They went out so slow and she really wanted to break the State record so she looked up and I said go after one lap. What helped was that Treece pushed her the whole way and forced her to run fast. It made the race that much more special.


DyeStat: What are some key principles in training that has elevated what Ashley and Craig have been able to do in their careers?

Coach Schlentz: They both have a great sense of what they can and can't do in practice. Neither of them overtrains and they are great at telling me when they are at the breaking point. I know if we are running 10x400 that if they say after 7 that they only have one left in them, that's all we'll do.

I've tried to teach them that practices are designed to learn the rhythm of the race, not to learn how to die. If you lose your form at the end of every practice, you will do it in the race because you've "practiced" doing that.


DyeStat: How do you take talents like Craig and Ashley and make them leaders of their teammates in ways that benefit everyone?

Coach Schlentz: They are totally different when it comes to leadership roles. Ashley is the ultimate leader, always coming up with something fun to do, games to play or planning a team dinner. The team is always first for her. She is selfless.

Craig leads by example, trash talks and wrestles with his teammates, and they all know that in a minute he'll pick a relay race over an individual race just to run with them. They know it without it having to be said.


DyeStat: With the way the three seasons run together like they do in Jersey and some other Eastern states, how do you create balance and necessary rest for the kids, as well as yourself as a coach?

Coach Schlentz: We do a big base period in the summer through early October. We go back to that base period in December, and then again in March through late April. What it forces us to do is pick and choose what we will focus on. We only sharpen up a little at the end of winter track.

Outdoors, we will run Penn Relays but we won't be sharp. Our focus will be on NON. The kids know that we'll take our lumps at early meets in XC, indoors and outdoors, but they have to trust that it all pays off at the end of the seasons. Between seasons they'll take off anywhere between a couple of days to a week, depending upon what they need. At the end of outdoors, everyone takes two weeks completely off.


DyeStat: What was the transition like from college coaching to Colts Neck, and what has it been like bringing a brand new school to national prominence?

Coach Schlentz: I coached college through 1995 when my job at the time (company manager for an athletic shoe chain) forced me to stop coaching. I continued to coach elite athletes on the side twice a week. One athlete, Kate Fonshell, won the Olympic Trials 10,000m race in Atlanta.

I missed the daily coaching and a new high school was about to open 4 miles from my house. I thought it would be exciting to start something from scratch. The school started with just freshman and sophomore,s but any sophomores that had earned a varsity letter the year before were allowed to stay at their school. Our first cross country season I had only one boy on the team. He was a freshman who ended the season with a XC best of 16:02 for 2 miles. In two years I had gone from coaching an Olympian to being the personal coach and warm up companion to a freshman boy.

We had 10 boys and no girls go out for winter track and we did a little better outdoors. I got a bunch of boys and girls from track to run cross country, we started our team website www.coltsnecktrack.com to create some excitement, and off we went. In our school's third year, we won the girls small school state championship and the boys finished 2nd, two points out of first in cross country. We've been trying to get even better since.

Through the website, our alumni stay in contact. We have videos of our first state champs, top ten lists, school records. It is our place to enjoy our present athletes and the ones that led us to where we are now. It's a family that I'm proud to be a part of and it has made it special to share it with the athletes from all 9 years.

Congratulations to Coach Jim Schlentz, the first Eastbay National Coach of the Week! Eastbay Coach of the Week Coaches will receive a Eastbay Reward Card as well as a team color Eastbay jacket.