Week Nine:

Coaches Charlotte Richardson and Forrest Sherman

Lincoln HS, Portland OR


Throughout the track season, the editors of DyeStat.com will choose an Eastbay National Coach of the Week to recognize coaches around the country for outstanding recent achievements in guiding prep athletes.
Coach of the Week Archive

Teamwork gets it done for Coaches Richardson and Sherman

By Dave Devine, Northwest Region Editor

Charlotte Richardson and Forrest Sherman are the co-head coaches of the Lincoln High School track team in Portland, Oregon. They took over the program 4 years ago, and have since turned both boys and girls teams into state title contenders by creating an impressive balance throughout events. With athletes like top-ranked jumper Elvis Akpla, brother and sister duo Nathan (mid-distance) and Bianca (hurdles) Mathabane, distance star Marsha Lampi, sprinter Jordan Polk and shot-putter Ethan Johnson, the two coaches have cultivated a wealth of talent in a relatively short period of time. After a heartbreaking 5-point loss at last year's XO Invite, Lincoln returned this year to take the co-ed team title, and last week swept the Portland Interscholastic League district titles en route to this weekend's state meet.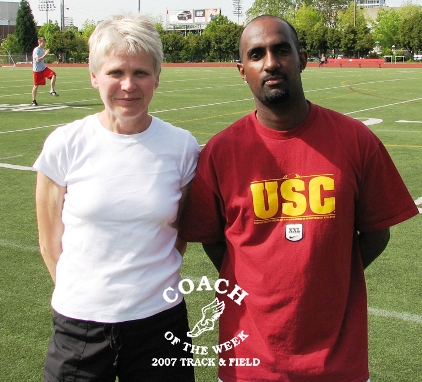 Charlotte Richardson began coaching more than 30 years ago at her alma mater, the University of Massachusetts, as an assistant for the newly-formed women' cross country team. She was a national-level mid-distance runner from 1971 until 1978, making the 1500 meter Olympic Trials in 1976. After retiring from competition, she worked for Nike in the women's track and field promotions program. She's currently a documentary filmmaker (most recent film: "Run Like A Girl", a documentary about 3 women distance runners of different generations) a mom (the job she's most proud of), and after stints at several schools around Portland, has been coaching at Lincoln for the last 4 years.

Forrest Sherman graduated from Lewis & Clark College in 1994. He was an accomplished collegiate athlete, competing in football (where he was all-conference), basketball and track. He continued with football beyond college with the CFL and the Arena League. He's a certified speed and conditioning specialist and has also spent the last 9 years coaching high school football (defensive backs and wide receivers) and track. This is his fourth year coaching track at Lincoln.

With the Oregon state meet looming, Coach Sherman was wrapped up preparing his athletes for the weekend, but we were able to catch up with Coach Richardson to ask a few questions before she boarded the team bus to Eugene.
Coach Richardson Q&A

DyeStat: When you took over the Lincoln team four years ago, what things did you stress right away to begin building a successful program?

Coach Richardson: Individual growth as an athlete and TEAM.


DyeStat: How do the two of you divide and balance coaching responsibilities?

Coach Richardson: Forrest and I are both Co-Head Coaches, but I coach the middle-distance and distance people and he coaches the sprinters. We divide up the administrative parts also, but I focus a lot on putting on our track meets.


DyeStat: How did it feel to win the XO Invite this year, after coming so close to winning last year?

Coach Richardson: Fantastic. It was so evident the day of the meet that all of the athletes had stepped up from last year and made the commitment to be champions. Everyone tried their hardest and worked as a team. A great benefit of the XO meet is that the score is combined men and women. The athletes really worked together as a team. Everyone did their jobs.


DyeStat: What is the most rewarding part of coaching the student-athletes at Lincoln?

Coach Richardson: The student/athletes! Coaching is the best. It is the only time in my day where I am not thinking about yesterday or tomorrow or anything except being there with the kids. I love it! Anyone who has never coached is missing so much. The interaction with the athletes is phenomenal.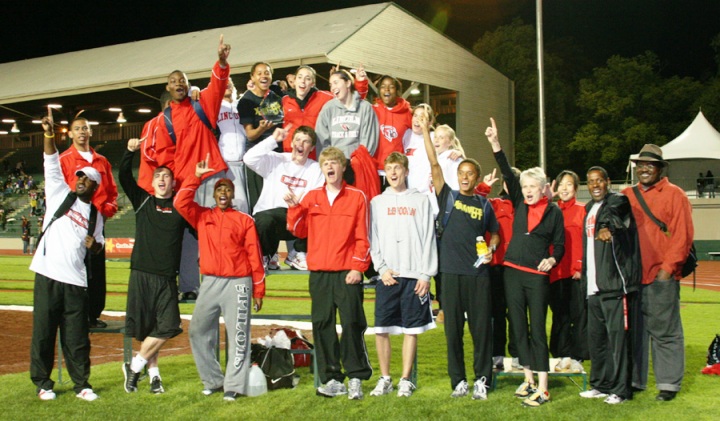 The Lincoln boys and girls celebrate their Team XO Invite championship.
DyeStat: You've coached some outstanding young people at Lincoln, who've produced some special performances. Does any race or effort stand out for you in the last four years?

Coach Richardson: A couple actually. Two years ago, we had an athlete who had always run cross country, but never track. His name is Duke Wasteney, and he runs for the U of O now. I talked him into coming out for track his senior year and he truly did not start until after spring break. We worked very hard to get him ready to race and, towards the end of the season, he began to look better and better.
At districts, probably his 3rd ever 1500, he made the state meet. At states, he listened to everything I told him and when I was done talking, he simply said, "Coach, I am going to break 4 minutes today."
He had never done that. And I believed him. He was so calm and so focused. I have never coached anyone who was so sure. And he did! An amazing athlete. An amazing person.
And secondly, any race Aaron Anderson has run over the last 4 years. Aaron has been an inspiration to all of us at LHS. He never races any thing less then "all out." He has provided for me the definition of "courageous." I will miss his commitment and enthusiasm.
Congratulations to Coaches Richardson and Sherman, the 10th and 11th Eastbay National Coaches of the Week (in 9 weeks)! Eastbay Coach of the Week Coaches will receive a Eastbay Reward Card as well as a team color Eastbay jacket.