Week Ten:

Coach Brent Jones

DeSoto HS, DeSoto TX


Throughout the track season, the editors of DyeStat.com will choose an Eastbay National Coach of the Week to recognize coaches around the country for outstanding recent achievements in guiding prep athletes.
Coach of the Week Archive

Going out on top - a dream come true for Coach Jones

By John Sullivan, South Regional Editor

DeSoto, TX lies just south of Dallas, in a hotbed of high school track and field. With nearby powerhouses Lancaster, Skyline and Cedar Hill, to a name a few, Coach Brent Jones has seen many great teams and performances in his 26 years as the girls head coach at DeSoto. And this year was no different - except that he'd announced his plans to retire at the end of the school year.

Jones grew up in Arkansas, running track for Fort Smith Southside HS before moving south to attend Baylor University in Waco, TX. There he ran track and cross country for the fabled Bears program under the direction of the legendary Clyde Hart. Upon graduation, he accepted an offer to be a PE instructor and coach at DeSoto. Since the track jobs were taken, he was asked to coach tennis, which he gladly did, waiting patiently for a spot to open up in his true passion. After 5 years, the girls track & field position became available, and he's been at the helm ever since.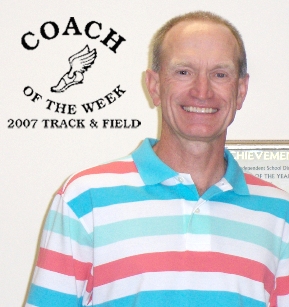 Last year the team placed 3rd at state, its highest finish ever. Though graduated state triple jump champ and 4x400 relay member Eunique Hamilton would be missed, Jones knew this year's team had a chance to be very good. And with his pending retirement, the season promised to be memorable.

Sure enough, the squad performed well throughout the season, displaying well-rounded strength as evidenced by its position at or near the top of the Nike Web National standings. At the state meet in Austin on May 12th, it all came together. With near-perfect execution, Jones' charges scored 56 of their 60 potential points, including a meet-ending 4x400 victory, which vaulted them 2 points ahead of the competition. So, after 26 years, Jones has seen it all and goes out with memories of standing atop the awards stand with his entire team. Congratulations Coach!
Coach Jones Q&A
DyeStat: What do you enjoy about coaching? And this season in particular?

Coach Jones: Just about everything. It's great to interact with the athletes. But most of all, I enjoy watching them improve. We work with them and then watch as they improve from freshman year all through their senior seasons. That's very satisfying.

This was a special group of student-athletes. There wasn't much need for pep talks, it was a very self-motivated group. They were very focused, and ready to work and compete. It was amazing, because we never had a "down" meet. They seemed to get better every meet. We had our best District meet ever, with lots of PRs. Then we improved at Regionals.


DyeStat: Tell us about the State Meet and how does it feel to win?

Coach Jones: We thought there was chance to win, but we were shooting for the top 3. It was exciting, but I was just concentrating on getting the athletes ready for each event. It was truly amazing, as each athlete PR'd and also won a medal (top 3) in each event. So I knew we were doing well, but wasn't certain where we stood going into the last event, the 4x400 relay. I just knew it would be close, and that we were behind Dallas Skyline, which had the top-seeded 4x400 squad.

I was busy getting splits, which kept my mind off the score, which I couldn't control anyway. The girls ran very well to win the relay and, as it turned out, we also needed one other team to beat Skyline, which happened with Cedar Hill running well for 2nd.

In Texas, it is so hard to win. I tell people all the time about athletes that don't even get out of District or Regionals who would be champions in most other states. I can't come up with a defense or trick play at the meet, so it's the athletes that do it and they deserve all the credit. For me, it's just a dream come true.


DyeStat: What about next year?

Coach Jones: The team will be strong again, although senior Gayla Cloud (silver in both hurdles) is moving on to SMU. I'm going ahead with my previously planned retirement from DeSoto, so my top assistant for the last 5 years is taking over. It's nice to know the cupboard isn't bare, so to speak.

It's great to go out on top, but it's with mixed emotions. Among other things, I'm going to miss all the returning athletes.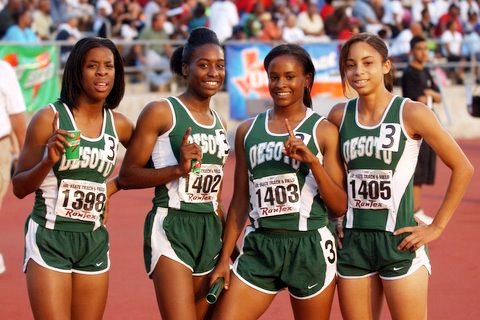 DeSoto's 4x4 team shows who is #1 after their meet-winning race at TX state.
Photo Bert Richardson
Congratulations to Coach Jones, the 12th Eastbay National Coach of the Week! Eastbay Coach of the Week Coaches will receive a Eastbay Reward Card as well as a team color Eastbay jacket.