Week Eight:

Coach Claude Holland

Cleveland Heights HS, Cleveland OH


Throughout the track season, the editors of DyeStat.com will choose an Eastbay National Coach of the Week to recognize coaches around the country for outstanding recent achievements in guiding prep athletes.
Coach of the Week Archive

Personal relationships, building "ambassadors" are priorities for Coach Holland

By Jeff Hollobaugh, Midwest Region Editor

We reached Coach Claude Holland for this interview just after his team competed in its conference meet. "Everything went well," he said. "We weren't running for records. We're gearing up for the districts and regionals later on." Holland's Cleveland Heights team is on a hot streak, with recent wins including the Mansfield Relays and the Dayton Roosevelt Relays. In the latter meet, his 4x800 crew of Dontave Cowsette, Matthew Love, Sylvester Watts and Jared Hall ran a US#1 7:42.15.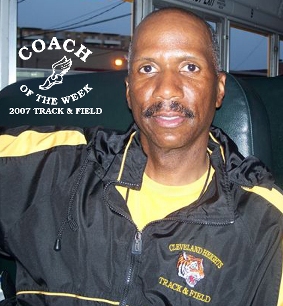 An 800-meter specialist himself as a young man, Holland was an NCAA Indoor qualifier for Cincinnati and eventually raced everything from the 100 to the half-marathon. He started coaching at John Adams High School straight out of college. He is bemused to tell the story of one of his arch-rival teams in those days. "In 1982, we tied this team for the state title," he said. "In 1991, we tied for runner-up honors. We had a pretty heated rivalry. At Adams we wanted very badly to beat them all the time. That team? Cleveland Heights. And never in my wildest imagination did I ever think I would end up coaching here. I am thankful."

Holland, a former health and physical education teacher, now coordinates a gifted and talented program for his district, in addition to his coaching duties..
Coach Holland Q&A


Dyestat: What was it like growing up in the sport of track & field?

Coach Holland: It became a bit more unique to me after the fact. I really didn't have the awareness at the time; we had two parents who loved their kids. Yet, at many of the tracks I visited later, I have this sense of seeing this place before. Déjà vu. It turns out those were places they took us. My mother [Bernice Robinson Holland] was on the 1948 Olympic team. We were exposed early to track, but we were never pushed. I tried all the other sports, and finally decided in ninth grade that track was going to be my sport.



Dyestat: What have you learned in 28 seasons of coaching track?

Coach Holland: It's corny-sounding, but this is what I feel: Winning is secondary to the relationships you build. Personal relationships. You need to be accessible, involved. You and your team will reap the benefits. Ultimately, that parlays into the team believing in you and knowing they can rely on you.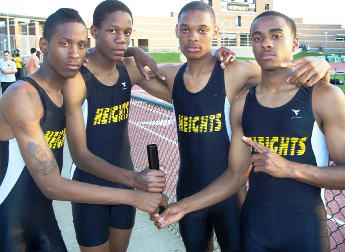 The Cleveland Heights 4x8 team includes Dontave Cowsette, Matthew Love, Sylvester Watts, and Jared Hall. They ran a US#1 7:42.15 at the Roosevelt Memorial meet
But it's not about me. They see that I have a love and passion for the sport. That helps me teach young boys how to become young men. And these are classy young men who carry themselves with dignity. I teach them to be ambassadors for their school, their community, and their families.

Dyestat: Do you do anything different from other coaches?

Coach Holland: There have been so many outstanding coaches, and most have stolen from other coaches: concepts, workouts—you tweak them to fit your team goals. I don't think there's any earthshaking scenario about what I do. I have a large summer track program that has an open door policy. We have about 250 athletes in the summer. I have never taken a summer off. We have a year-round training regimen that has made a major difference.

Some outstanding athletes have been a part of the program. Ted Ginn Jr. was with us from age 10 until he graduated. Jonathan Burrell was another.



Dyestat: As a former college cross country runner yourself, do you encourage your sprinters to run cross country?

Coach Holland: I like our kids to run cross country. Most of our sprinters play football in the fall, but those that don't usually run cross country. We've had a number of outstanding sprinters run cross country. You need to prepare the body to handle the workload that's necessary for success. There is no better way than to put them on the hills. We have two different workouts, a different one for our long distance specialists. But all of the kids get an overload, which is a tremendous benefit. Kids who run cross country put themselves into another dimension.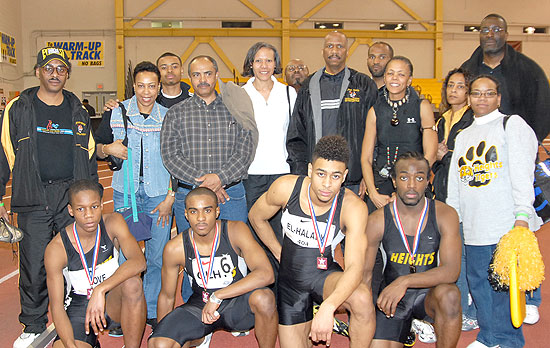 The Cleveland Heights SMR team at NIN poses with coaches, family, and friends after their race in Landover. Coach Holland is 6th from left in the back row. Photo from "Donna on the Side."

Dyestat: Already you've hit some great successes this year, with three major invitational wins in the last three weeks. What does the rest of the season look like for you?

Coach Holland: I take our season one meet at a time. We don't talk about winning state or nationals. Our dual meet with a crosstown rival is just as important as the state title. Glenville High has set the standard around here in track & field and football. Everybody, including us, is trying to meet that standard. We take it one week at a time and try to stay on an even keel.

Humility is one of the keys of success. If you're not humble and appreciative of the gifts you've been given, they can be taken away from you. I really believe that's one of the exciting components of our team..
Congratulations to Coach Holland, the ninth Eastbay National Coach of the Week! Eastbay Coach of the Week Coaches will receive a Eastbay Reward Card as well as a team color Eastbay jacket.