Week Two:

Coach Dan Green

The Woodlands HS, Texas

Throughout the track season, the editors of DyeStat.com will choose an Eastbay National Coach of the Week to recognize coaches around the country for outstanding recent achievements in guiding prep athletes.
Coach of the Week Archive

The Tradition - it's not just a motto at The Woodlands

By John Sullivan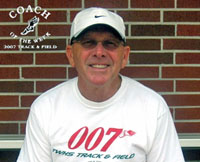 Dan Green's teams have long been a Texas powerhouse, and also had a national impact. His own athletic career started humbly at Pearland HS, a school without a track, where he focused on the 440 and the mile relay. Moving on to the local University of Houston, he evolved into a distance runner, and was a member of their national-caliber cross country teams. After graduation in 1971, he continued to compete and won the inaugural Houston Marathon in 1972.

His first teaching position was back at Pearland HS, and then at nearby Clear Lake HS. After leading Clear Lake to 2nd in the state cross country meet, he switched to a brand new school, McCullough, in the fall of 1976. McCullough was later renamed The Woodlands HS upon moving into a new building in 1996.

As the only track and cross country coach in The Woodlands/McCullough's history, he's seen his XC squads win a state record 13 Texas titles, receive 2 Nike Team National bids, and earn the most US boys Foot Locker appearances with 12. On the track, he and his staff have developed well-rounded teams, including a state championship in 1999. They've also set national records, in the DMR in 1987 (broken 14 years later by an Alan Webb-anchored South Lakes VA team) and the current 4x1600 in 1986. The 2007 edition is the early Nike Web National leader and expects to be in the hunt until the very end. And with sr Alex Neff clocking 9:03.33 for 3200 this season, Green has now coached 8 boys to 9:05 or better, out of only 25 in state history.


Coach Green Q&A:

Dyestat: Tell us about this year's track team.

Coach Green: There are about 190 boys on the team, with 40-45 competing at the varsity level. That includes a 15-6 and 15-0 vaulter, 9:03 and 9:24 for 3200, a 46-8 triple jumper, and long jumpers at 22-4, 21-10 and 21-5. Our 4x400 ran together for the 1st time recently and recorded a 3:20. It's a very strong team (as evidenced by its standing near or atop the Nike Web National leaderboard) that's done well. But I'm afraid this might be a team that we look back on and say, "Boy it had a lot of potential, but due to injury and sickness it never really ran what it was capable of." And that's been true all year. Our 22-4 long jumper hasn't been able to compete since then, a top sprinter has some leg problems which make relay duty too risky, and now Alex Neff is hampered by a throat infection. It's a really good group of kids that could still put it all together.

We practice before school with our distance crew, and then during class and after school with various groups.


Dyestat: Neff was a surprise with his early 9:03.33 for 3200 meters. Tell us about him.

Coach Green: He's been on a good roll, the 9:03 and then a 4:15. A hoped-for fast 3200 at A&M Consolidated last week was derailed by a strong wind, and he'll be in the 800 this week. He's just a hard-working athlete that does things to the best of his ability. He's courageous, works hard and is a real team leader.


Dyestat: You were the head coach of the US Junior Men at the World Cross Country meet in Japan last spring. What was that experience like?

Coach Green: That was a lot of fun. The team consisted of Kiel Uhl, Scott MacPherson, Chris Barnicle, Andrew Bumbalough, Jordan McDougal and Michael Eaton. Getting to talk with them, and the other coaches, was a great experience. And getting to meet and watch the older, elite runners perform. It was very interesting to find out that the big, strong, fast elite runners have some of the same problems that our high school guys have - the insecurities, lack of confidence and the need for reassurance. It's incredible. It's just at a higher plane, same stuff. Somehow you think these guys get close to walking on water, but you see they aren't.

We were there in Japan for a week. It was my first time there, so that was exciting. Just to go and know that you're representing the USA is a huge thing. It brings out a sense of patriotism, and pride in being part of this great nation.


Dyestat: What do you enjoy about coaching?

Coach Green: It's kind of sappy, but I like to see boys turn into young men. Whiny, making excuses being turned into "how much more can I do, Coach? I want to work harder". Neff is a good example, with his improvement. He was the 6th best freshman on our team 4 years ago. Socializing with the coaches, at our school and others, is a lot of fun. I also get a lot of satisfaction in watching our young men be successful in college, in the classroom as well as in athletics. In recent years, we've seen our athletes graduate from Stanford, Georgetown, West Point, Air Force, BYU and Rice, just to name a few. And every year several alums help out at meets and show up at the cross country banquet






Congratulations to Coach Dan Green, Eastbay National Coach of the Week! Eastbay Coach of the Week Coaches will receive a Eastbay Reward Card as well as a team color Eastbay jacket.