Week Two:

Coach Desmond Dunham

Eleanor Roosevelt HS, MD

Throughout the track season, the editors of DyeStat.com will choose an Eastbay National Coach of the Week to recognize coaches around the country for outstanding recent achievements in guiding prep athletes.
Coach of the Week Archive

Dunham's Way: Balance Both in Team Event Strengths and Life Priorities

By Brandon Miles

Desmond Dunham has been making name for himself and his Eleanor Roosevelt MD girls since joining the program as a head cross country coach and assistant track coach in the fall of 2002. A powerhouse in the sprints for years, they have become one of the more balanced teams in the country with great range to make themselves competitive nationally in cross country and virtually any relay they decide to compete in on the track. Dunham's has taken his ER harriers to two consecutive trips to Nike Team Nationals in Portland OR and have won countless relay titles at Nike Indoor Nationals and Nike Outdoor Nationals – including four wins earlier this month at NIN.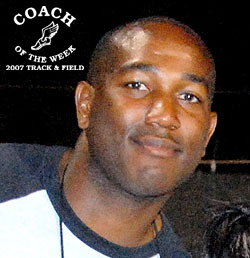 After being an assistant for three years, Dunham became head coach of the track program last spring. He had a strong background in distance running as he competed in cross country and ran track distance at Gary Horace Mann HS in Gary IN and collegiately at Howard University.

In 2004, Dunham's cross country team won their first Maryland state XC title since 1988 as many started to take notice of a distance resurgence at the school. However, it was not until they earned an invitation to the 2005 NTN and held their own at Portland Meadows with a 11th-place finish as the Southeast Region's top representative did they really start to earn national respect as a legit distance program.

The most impressive stat on Dunham's coaching record is the one not seen in any meet results – the quality of young people that he is able to mold through the use of life skills and lessons as a coach. Just how important this is to Dunham was exhibited near the end of XC this past fall. Two of Eleanor Roosevelt's top three runners had been disrespectful to and disobeyed the senior captains during a practice leading up to state. Dunham sat out the two runners at state, despite knowing it might jeopardize his team's third consecutive 4A state title and a pending NTN berth.

However, he chose to risk those team aspirations over losing his credibility to his athletes in not living what he preached in the values and standards that he wanted his athletes to live by. It is Dunham's unwavering commitment as a coach to stress the importance to his kids of becoming great people first and setting them up to be in successful in life, whether it is on the track or not.



Coach Dunham Q&A:
DyeStat: How tough was it to take a traditional sprint school and balance it out with distance?

Coach Dunham: A lot of sleepless nights! We have used a lot of motivational techniques, incentives, and creative ways to get our runners to buy into the longer distances. But most of all, we first built a family atmosphere and an effort-based program, which allowed our athletes to trust long term planning/training and to always feel like they were in control and in a win-win situation.

DyeStat: Many of your athletes have great range as even your top sprinters, including the Jameson twins, run cross country. What is the benefit you see in having your athletes run cross country and exhibit great range on the track?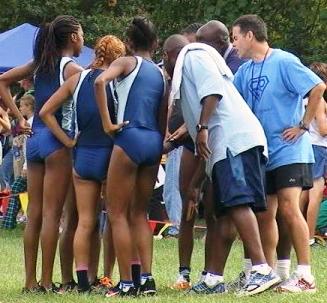 Coach Dunham: We feel that it is our job to develop the widest range possible and to allow the college coaches to do the rest (with their primary event selection). We also feel that this allows the athlete to appreciate the sport more and also to be very coachable on the next level. In addition, our coaching philosophy is to get each athlete as aerobically fit as possible and build from there into their specific training/events.

DyeStat: Eleanor Roosevelt is making the big trip out to California in April to compete at Arcadia and Mt. SAC. How do you think your team will stack up against the competition out west?

Coach Dunham: We just look to get pushed to our limits! We want to run against the best that's out there and get exposure to as many opportunities as possible. We definitely plan to be competitive and to fair very well.

DyeStat: What has been the top moment and achievement for you as a coach during your time at Eleanor Roosevelt?

Coach Dunham: By far, it has been developing relationships with our coaching staff and our athletes. These young ladies are special to our coaching staff and the most pleasurable moments for us is not watching them get better as athletes, but to grow and mature as better people.


Congratulations to Coach Desmond Dunham, the second Eastbay National Coach of the Week! Eastbay Coach of the Week Coaches will receive a Eastbay Reward Card as well as a team color Eastbay jacket.