2007 XC Week 8

Coach Paul Vandersteen

Neuqua Valley, Naperville IL

Throughout the 2007 cross-country season, the editors of DyeStat.com will choose an Eastbay National Coach of the Week to recognize coaches around the country for outstanding recent achievements in guiding prep athletes.
Coach of the Week Archive

"Our success this year was based on several guys buying into training year-round.."
By Jeff Hollobaugh, DyeStat Midwest Regional Editor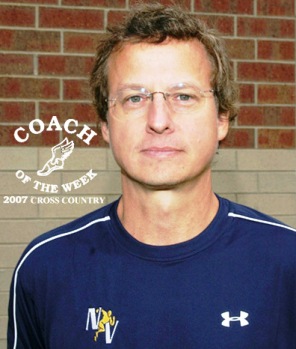 Paul Vandersteen has been coaching at Neuqua Valley in Naperville, Illinois, for 11 years now. A successful runner in his own right, the Bloomington, Indiana, native learned the ropes at a series of notable schools: Peoria Notre Dame, Pekin, and Waubonsie Valley. Now his Neuqua Valley program has risen to superstar status, with a victory by its club in the NTN Midwest Regional. The team is led by his fastest runner to date, top NTN and Foot Locker individual title contender Chris Derrick. It helps that the science teacher is also a splendid motivator, with over 150 young men involved in the program.


Coach Vandersteen Q&A

DyeStat: What were the most important building blocks of your team's success?

Coach Vandersteen: Our recent success did not come overnight. We have qualified for the State meet the last seven years, but it just so happened that this year we had the right ingredients to win a State championship. We are a relatively new school (opened in the fall of '97) and I was fortunate enough to build a program from scratch. Our success is based off of values that we communicate often. It took some time to formulate these values, and not all guys follow them, but no one ever said coaching was easy :)

I remember our first summer of training and one guy showed up to train in the middle of July. We now have over 150 guys in our summer running program. Our success this year was based on several guys buying into training year-round. In the past, we always had guys put in good summers, but this group also worked hard during the winter. Chris Derrick showed the way, but it was guys like Danny Pawola and Bryan Winek who watched what Chris was doing and took action.

DyeStat: What are you doing differently now than you did when you first started coaching?

Coach Vandersteen: We used to do a lot of intervals. In fact, we would start them at the end of June and would build upon them until the end of the season. I know this works for many programs, however, we seemed to fizzle out toward the end of the season. After listening to Dr. Chapman at Indiana University, reading Jack Daniels' book, and reading message boards and reading what Jim Spivey had to say, I changed our workout format. We do far fewer intervals and more up-tempo type runs. It was Daniels and Dan Fitzsimmons (Yankton SD coach) that convinced me that "moderation and consistency" was the way to go.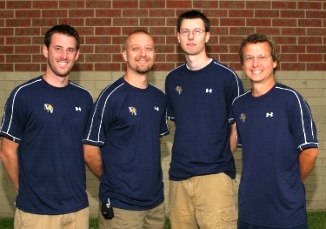 DyeStat: What were the biggest surprises of the year for you?

Coach Vandersteen: The biggest surprise was losing our #2 guy to a stress fracture (Jimmy Riddle) and still winning the State title. This happened because we had a core of guys ready to step in because of the work they did in the off-season. Aaron Beattie, our super sophomore, was a surprise along with the improvement of Kevin Grady (10:24 3200m last spring) who broke 15:00 for 3 miles at the State meet.

DyeStat: How is your team looking for next year?

Coach Vandersteen: We have some very talented guys coming back. However, we all know that championships are not won on talent alone. If these guys put in the work and we are lucky enough to stay away from major injuries, we could be very competitive again next year. We return three sub 15:00 guys, a couple of talented sophomores, and three juniors who could make waves next year as seniors. I think we have the potential to have more guys under 15:00 than this past year.

DyeStat: What do you enjoy most about coaching?

Coach Vandersteen: I enjoy hanging out with my assistants and the guys on the team the most. We have a lot of fun poking fun at each other and talking about various issues. Like many other coaches, I enjoy working with others in striving for excellence. To me, nothing is more satisfying than providing an atmosphere where young adolescents can accomplish something meaningful.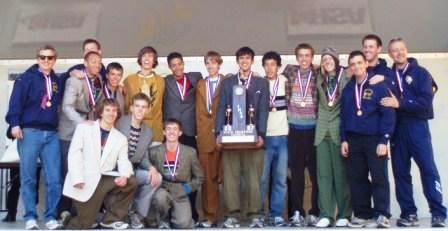 Congratulations to Coach Paul Vandersteen, the eighth Eastbay National Coach of the Week for Fall 2007! Eastbay Coach of the Week Coaches will receive a team color Eastbay jacket.