2007 XC Week 6

Coach Van Rose

Shawnee Mission NW, KS

Throughout the 2007 cross-country season, the editors of DyeStat.com will choose an Eastbay National Coach of the Week to recognize coaches around the country for outstanding recent achievements in guiding prep athletes.
Coach of the Week Archive

"We probably are grossly undertrained, but I have never had a kid complain about being underworked. I would rather have a kid healthy and racing, than try to have them put in some extra work and come up injured and not running meets."
By Tony Bozarth, Heartland Regional Editor

Van Rose has been the coach at Shawnee Mission Northwest High School since the school opened in 1969. He is a math teacher at the school. Shawnee Mission Northwest is located in Shawnee, Kansas, a suburb of Kansas City about 15 miles from the downtown area.

Shawnee Mission Northwest won its first state XC title when the boys team took the 6A crown in 1977. Since then, SMNW has won a total of 31 state harrier titles (19 boys, 12 girls), including the last 14 straight boys 6A championships.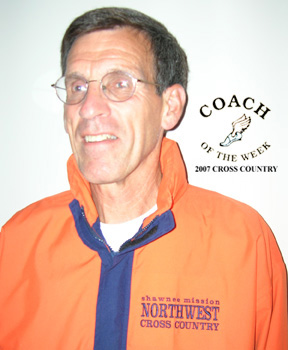 Coach Rose Q&A

DyeStat: Could you describe your background and how you got involved in cross country. I remember reading in the KC Star that you felt your background of working on the farm in the summers was a great help.

Coach Rose: My family moved to the country when I was in junior high. We were farmers on the weekend. A few cows raised and later sold for beef. Did the usual farm chores: mending fence, putting in fence posts, bailing hay and putting it in the barn.

I got into Cross Country because at SM North there were basically two fall sports, cross country and football. I played sandlot football, and didn't like getting hit. My brother ran cross country at SM North and was pretty good at it, so I decided to follow in his footsteps.

Living on a farm, even if we were only weekend farmers, taught me how to work and to tolerate the boredom and fatigued that may accompany work, such as bailing hay in the heat of a summer's day. We were not rich farmers. We had to make do with what we had. You don't hire something to be done, you do it yourself.


DyeStat: How would you describe your philosophy of coaching and teaching?

Coach Rose: Provide kids with opportunities to excel. Provide them with the means to succeed, to be as good as they want to be. Accept the fact that the majority of kids don't aspire to be State Champions or "A" students. All the motivation techniques in the world won't change them. Give them the best that you have to offer, but don't lose any sleep if they are content with being average.


DyeStat: Could you briefly describe your training program?

Coach Rose: I try to figure out where kids are in the training process. Most kids are beginning runners for their entire running careers. We probably are grossly undertrained, but I have never had a kid complain about being underworked. I would rather have a kid healthy and racing, than try to have them put in some extra work and come up injured and not running meets.


DyeStat: SM Northwest has now won 14 boys titles in a row. Does that present a different challenge in your approach (in terms of motivation), than when the program began, and you were attempting to win your first titles?

Coach Rose: We start over each year. Each year, I have to try to find kids that are willing to put in the work necessary to run on the varsity. Most kids don't want any part of running on the varsity. They may well associate varsity running with pressure. The feeling on the first day of practice hasn't changed.


DyeStat: SM Northwest also has had great success with the girls program. Do you find that there are differences in coaching boys and girls.

Coach Rose: The girls have won 12 state titles. There's not a whole lot of difference. In most years, I am hard pressed to find 7 girls who want to run on the varsity. I haven't found my girls to be as competitive as my boys. My girls don't do a lot of passing the second half of the race. I find girls to be really concerned about hurting the feelings of other girls. This makes it difficult for them to pass other girls, especially their teammates.


DyeStat: Northwest has a great parent and support group (The Orange Army). (Editor's note: At any SMNW meet, you will find hundreds of parents, fans and alumni dressed in orange cheering on the SMNW team.) How did that develop?

Coach Rose: I started back in the early 90's with Jim Hill, the dad of my top girl runner. We designed a logo and put it on some jackets and things kind of took off from there.


DyeStat: You began the SM Northwest program in 1969. We read a lot about how kids are "different" in school today. Yet the SMNW program continues year in and year out to be successful. What qualities do you find in the athletes you coach that enable them to be successful in school and in running?

Coach Rose: I think for the most part, my older runners do a pretty good job of welcoming the new kids into the XC program and in getting involved in the activities at school, since so many of them are involved in all aspects of school. I think that the younger kids see how seriously the older kids take their studies and it rubs off on them. For the older kids, the level of effort is constant regardless of the activity.



Congratulations to Coach Van Rose, the sixth Eastbay National Coach of the Week for Fall 2007! Eastbay Coach of the Week Coaches will receive a team color Eastbay jacket.