2007 XC Week 4

Coach Rob Murray

Danbury HS, CT

Throughout the 2007 cross-country season, the editors of DyeStat.com will choose an Eastbay National Coach of the Week to recognize coaches around the country for outstanding recent achievements in guiding prep athletes.
Coach of the Week Archive

"Last year our goals were to win States and New England; this year we want to be physical and mentally at our highest level at nationals."
By Matt Soja, Northeast Regional Editor

Our Eastbay Coach of the Week, Rob Murray, has been coaching the Danbury HS, Connecticut, boys for a decade and a half, including the last seven years as the head coach. Despite his relatively young age, he has already accomplished more on the high school level than most coaches. Last year he led his boys to the New England Championships title and an 18th-place finish at Nike Team Nationals, but this year he has even higher goals for his team, currently ranked #2 in the Northeast. They are fresh off winning their division at Manhattan Invitational, easily winning their conference title, and are preparing for the upcoming Connecticut state meet.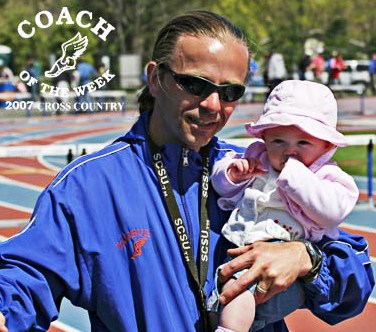 Coach Murray Q&A

DyeStat: Describe briefly your coaching career and what you think have been your biggest accomplishments. When did you decide to become a high school coach and why at Danbury?

Coach Murray: I have been coaching at some capacity at Danbury since 1993. First as a volunteer, then as an assistant, then as a co-coach, and now as a head coach since 2000. I graduated from Danbury High School in 1988, and then Southern CT State University in 1992. At both schools, I competed in cross country and track and field. I majored in exercise physiology while at S.C.S.U.

I wanted to stay involved in the sport so I decided to go back and run/help my high school team. I have had many great experiences and accomplishments as a high school coach. It is hard to put one thing as the most memorable here are a few items:

winning our league championship 12 out of the past 15 years;
winning the CT state championship;
winning the New England Championship twice;
qualifying for NTN in 2006;
having a large number of athletes go on and compete at the college level;
and having the honor to train one of my former athletes toward qualifying for the Olympic trials.

DyeStat: What is your general coaching philosophy, e.g. high mileage, a lot of threshold runs? Do you derive your workouts from legendary mentors like Lydiard or Daniels?

Coach Murray: I am strongly influenced from my academic foundation at S.C.S.U. in exercise science. I also have studied and utilized Dr. Daniel's concepts into my training. I am always interested in studying all the great coaches and scientists, but try to keep a personal touch with my own experiences as a athlete and coach. We are a moderate program as pertains to mileage with our seniors reaching around 60 miles a week. We are progressive in nature with volume, strength and speed within the framework of our training.


DyeStat: What is your "secret" to Danbury's dominating at the state level (and beyond) in the last few years?

Coach Murray: I think there are many factors that are probably common in all successful programs found anywhere – such things as lifestyle, work ethic, communication, tradition, pride, and respect. I think these are common not just with the student athletes but all the coaches that are part of the program.


DyeStat: Is the cross country season more important to you than track? Do you consider the indoor season as important?

Coach Murray: We take both cross country and track seriously. We believe that one will help the other. We have been focusing more on the outdoor track season lately for our top athletes. It is difficult to focus on the national level for all three seasons.


DyeStat: How do you keep your athletes healthy and prevent them from getting hurt?

Coach Murray: I have a background in fitness, so we do an extensive warm-up routine that can last sometime up to 45 minutes before our main run starts, and we incorporate things after the runs, as well. Some of the things we incorporate are conditioning routines, core routines, hurdle mobility, dynamic flexibility routines, form drills, flexibility routines, static stretching routines, striders and form analysis once a season. We will listen to our bodies and cross-train when necessary on a bike or in a pool doing swimming or aqua jogging. We also do a lot of icing or take ice baths at the end of practice.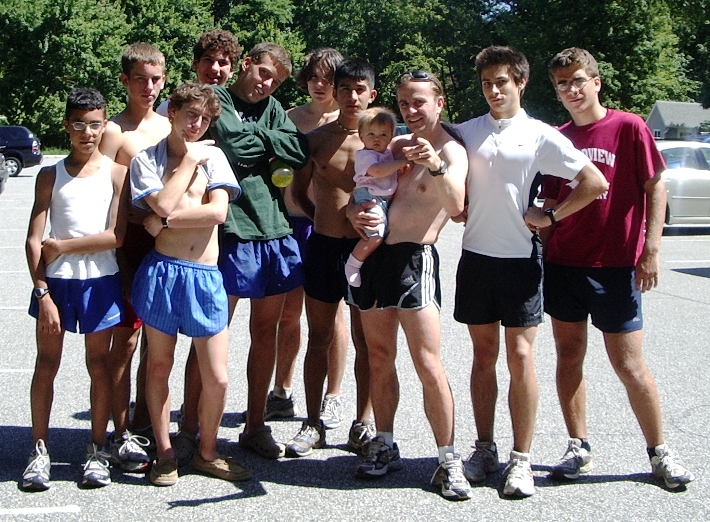 DyeStat: How do you motivate your runners psychologically? Do you put a lot of pressure on them before meets or do you prefer them to relax?

Coach Murray: We take more of a relaxed approach. Most runners tend to be obsessive, so I feel keeping them relaxed, focused and positive tends to work the best. I have been known to bribe a kid once in awhile to help him find that little extra motivation. We do mental preparation sessions toward the end of the season, where we work on relaxing by breathing, focusing by visualizing and staying positive by repeating positive affirmations to ourselves.


DyeStat: Who are the leaders on your boys' team (in terms of personal leadership, not necessarily in terms of fastest times)? Do you think having strong leadership on the team is crucial to success?

Coach Murray: I find the best leaders are not necessarily the fastest; they are the kids who like being around other people, who have fun even when things are stressful and who do things with their teammates outside of the team's practice and running.


DyeStat: Do you think that not racing many meets in the first half of the season will help your team qualify for NTN next month? Are you concerned they will not have enough racing experience this fall?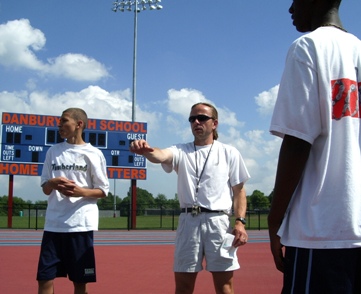 Coach Murray: We have a plan and we talked about it in the summer. I think the most important thing is to have a plan that is simple and direct. We have a very seasoned team; maybe not a team that has raced a lot this season, but has done so in previous track or cross country seasons. We raced a lot last year and we found, for us, we were running on empty at our New England and National events. We have a very detailed plan that we all believe in, and will be ready to perform and compete at our highest level when we get to the destination.


DyeStat: What is the most important meet for you this year – State Open, New Englands, Regionals, or NTN Nationals? Do you think your runners will be able to hold their peak for several weeks in a row?

Coach Murray: We change our plan every year according to our goals. Last year our goals were to win States and New England; this year we want to be physical and mentally at our highest level at nationals.


DyeStat: What are your long-term coaching plans? Would you like to become a professional coach or prefer to stay at the high school level?

Coach Murray: I am not sure. I am happy right now coaching at the high school level. My passion is coaching and I can't imagine not coaching. I tell the kids I coach that when you don't have the passion everyday, to hang up the spikes and look back on everything you have accomplished. I am not looking in the rear view mirror yet. I feel coaching challenges me and that I am making a positive impact on young men. So lets keep rolling!



Congratulations to Coach Rob Murray, the fourth Eastbay National Coach of the Week for Fall 2007! Eastbay Coach of the Week Coaches will receive a team color Eastbay jacket.