2007 XC Week 2

Coach Adam Kedge

Albuquerque Academy, NM

Throughout the 2007 cross-country season, the editors of DyeStat.com will choose an Eastbay National Coach of the Week to recognize coaches around the country for outstanding recent achievements in guiding prep athletes.
Coach of the Week Archive

"The great thing about distance running is that we work with two or three energy systems. Aerobic conditioning runs can be done for a couple or few days in a row while the body recovers from a hard VO2 max workout."

By Sal Gonzales, SW Regional Editor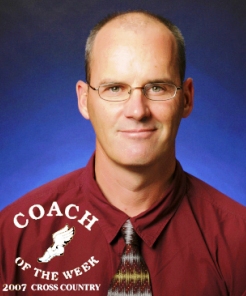 Adam Kedge is the head coach of the SW#1/US#2 Albuquerque Academy Chargers. He is the head coach of both the boys cross-country and track programs. In cross-country, he started coaching at Albuquerque Academy 12 years ago. Since that time, Albuquerque Academy has won 9 team state championships.

Adam is 42 years. He and his wife Lisa have three kids; Lauren (14), Aric (9) and AJ (7). He was born in Chicago, but has lived in New Mexico since the age of 5. A self-proclaimed native New Mexican, Adam grew up in Espanola and participated in running since the sixth grade. He ran cross country and track for Espanola High School and the University of New Mexico before entering the coaching field.




Coach Kedge Q&A



DyeStat: Talk about growing up in northern New Mexico. How has it shaped who you are as a coach and teacher?

Coach Kedge: I'm from a community and school that has never been known for athletic excellence. Growing up, most people did not understand running and runners. Athletics was not stressed, so I often had to go at it alone. Doing something that is important to you by yourself makes it all the more valuable. I did experience moderate success, but by no means was I a high school superstar. Like most people, I dealt with plenty of disappointment along the way.

Much of my philosophical ideas are rooted in my days as a high school and college runner. Long before I knew a lot about the science behind running, I knew that in order to be good at something you had to work at it. Taking it on the chin taught me to never give up, to work hard, and to scrape the dust off after you've been kicked to the ground.


DyeStat: What is the Charger/Red Army philosophy? How have you shaped this team over the last 12 years? What is the one piece of advice you would want to leave with every Charger?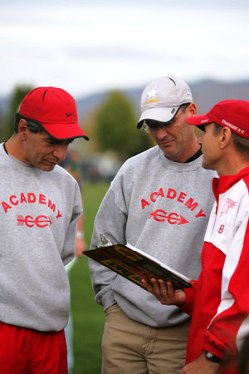 Coach Kedge: Our philosophy can be summed up in two or three clear statements. The first being this: Stick together, through good times and bad. Share in the glory and the disappointment. The second statement would be this: Never make excuses - the best team always wins - and full credit to the victors. It is easy to be a good sportsman when you win. Your actions when you come up short are the true test of a person.

Two pieces of advice for every Charger: First, for the current Chargers, never be afraid to risk failure. For the Chargers of old: Once a Charger, always a Charger. Each of you will always be a part of this team.


DyeStat: Talk about the rivalry with Los Alamos and the Hipwoods. I know that you have great respect for them; how does your team discuss the rivalry?

Coach Kedge: With Los Alamos and Academy, you have two very similar schools. We draw from smart kids that are used to achieving. Both coaching staffs are extremely dedicated, knowledgeable, and enthusiastic. Both teams have been very successful over the past 15 years. It is a natural rivalry. Los Alamos is good, year after year, so beating a team of Hilltoppers is never easy and always counts for something.

As far as what I tell my kids about the Los Alamos rivalry, I don't speak too much about it. We see each other so often during the course of every year that every kid is aware of what it means to go against Los Alamos. Just the sight of those green uniforms can get my kids' ears to perk up like hunting dogs. Going against great runners and a well-prepared team is a load of fun and makes each season even more special. We don't have to go to a huge national or regional meet to see quality competition.


DyeStat: You have always stated that winning state is the primary goal. How do you keep your athletes focused on the task at hand with all the national attention they have received?

Coach Kedge: Winning state is what every high school athlete dreams of. When I was a boy, I used all my wishing well coins, all my falling stars, and all of my wish-bone wishes on one thing; wanting to win state. It did not happen for me, but in a cool twist of fate, I now have coached 14 state championship teams and countless individual state champs. It sure is a cool feeling. It is a feeling that I want every one of my kids that share that goal to experience. The joy of seeing 7 guys stand alone on the podium makes it easy to stay focused.

Nationals is far more nebulous. It really never became tangible until NTN came about. A clear focus on state does not take away from all the fun that nationals has to offer. If we are lucky enough to make it to the podium on November 10th, we'll talk about NTN once we come down, literally and figuratively.


DyeStat: You have explained to me that you run a RECOVERY system of training. Could you explain that theory?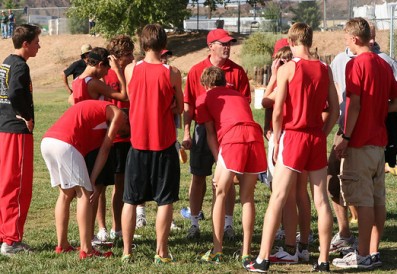 Coach Kedge: Most every coach understands the basic scientific principals behind physical conditioning. The body needs to be stressed, then have time to compensate for that stress through a recovery period. Sometimes what we understand to be right and what we do as coaches are two different things.

As a young runner, I often thought that the work bout was the only thing that mattered. It does matter and it matters a lot. There is no substitute for hard work. As a coach, if your philosophy is to push, push, push, you end up with a very good runner or two on a small team with a bunch of kids quitting or getting hurt. I want a team of healthy kids that are enjoying what they are doing. Every group of kids has an optimal amount of work in an allotted time period. It is my job to find that amount and not over do it. I'd rather take my chances with a team that works hard but gets rest a couple of days each week.

When I say rest, I am not talking about sitting on the couch eating corn flakes. Run them hard a couple days a week then have them do a bunch of easy 5-6 mile runs. The great thing about distance running is that we work with two or three energy systems. Aerobic conditioning runs can be done for a couple or few days in a row while the body recovers from a hard VO2 max workout. So, one system can get some recovery and rejuvenation time while another system is being stressed. How you weave all of this together is an art form and not a science.

A word of advice is to be extra careful with volumes and intensities when you are coaching top quality individuals. Very fast kids know how to push and need a coach to hold them in check.



Congratulations to Coach Adam Kedge, the second Eastbay National Coach of the Week for Fall 2007! Eastbay Coach of the Week Coaches will receive a team color Eastbay jacket.