2007 XC Week 3

Coach Carlton Efurd

Rogers HS, AR

Throughout the 2007 cross-country season, the editors of DyeStat.com will choose an Eastbay National Coach of the Week to recognize coaches around the country for outstanding recent achievements in guiding prep athletes.
Coach of the Week Archive

"Some years you have to fight and prod the kids to do the work. This year I have to slow them down."

By John Sullivan, South Regional Editor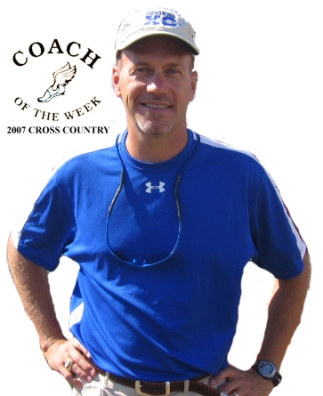 The Rogers cross country program has long been a powerhouse in Arkansas, and this year is no exception. Under the guidance of coach Carlton Efurd, the boys team has reached new heights, with a recent #13 U.S. ranking by the Harrier magazine and quality wins at Missouri Southern and the Cowboy Jamboree, along with runner-up finishes at the loaded Nike South and Chile Pepper meets.

Coach Efurd grew up in Arkansas and graduated from Greenwood HS in 1982. He was a successful mid-distance runner in his local area, and when he read that the University of Arkansas had won the SWC (the old Southwest Conference) triple-crown, he thought that would be the place for him. It was a big step up, as his longest run in high school was four miles. He started out slowly, eventually training with standouts such as Stanley Redwine during his college career, and is #6 on the school's all-time 1000-meter list.

Upon graduation in 1987, he accepted a position as a business class teacher at nearby Rogers high school. He didn't coach that first year, but took over as the boy's coach in 1988. The rest is history - 14 boys cross country titles with 46 all-state runners, and 2 girls titles since taking over that squad in 1999..


Coach Efurd Q&A

(after Nike South meet)

DyeStat: Tell us about this year's team.

Coach Efurd: This is a fun group to coach! Some years you have to fight and prod the kids to do the work. This year I have to slow them down. They're very hungry and eager. You don't have too many years like this. We have great leadership on both the boys and girls side. And our second groups are the same way, and have won some local meets when we've rested our top group.


DyeStat: How has the season gone thus far?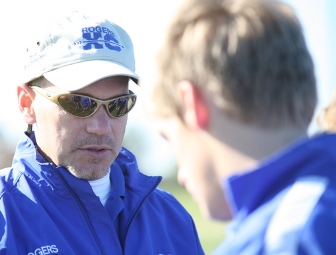 Coach Efurd: The season has been going great. It really started this summer, when we have voluntary team training on Monday-Wednesday-Friday. My philosophy is, "the ones that want to be good will be there." It really worked out this year, as I can go right down the line of our top runners, and those are the ones that showed up and got in the most miles this summer.

We decided to upgrade our schedule this year. We went to Missouri Southern, which we hadn't done in recent years, and of course, Nike South. I wanted to test the team, because it makes the kids tougher. We ran well and won at Missouri Southern and the Cowboy Jamboree against good competition, and of course Nike South is a great meet. We've been pleased and feel like we're right on track.

We'd love to qualify for Nike Team Nationals, but we're not changing our training or philosophy, as the state meet is still the top priority. But it is definitely a motivator for the kids.


DyeStat: Tell us about your program. What are some of the reasons for its success?

Coach Efurd: The team size has grown since the early days, which is helpful. There are well over 100 kids in the program, counting junior high. My wife, Becky, is the coach at a local junior high school, Elmwood. There are 88 kids on the high school team this year, 56 boys and 32 girls. Our district has grown and there will be a new school opening next year. We'll lose many athletes that have been in our program for years, which is disappointing. It will be tough coaching against them.

Our training is similar to what I learned at the University of Arkansas, tempered for high school athletes. Less miles and less intensity, of course. We run 2-a-days just a couple times a week.

I became a counselor five years ago and gave up coaching track at that time. Last year, one of my former athletes took over the track distance coaching duties, so I spend time with him planning the workouts during track season, which works out pretty well. Some of the team goals are –

Maximize your potential daily,
Be a little better today than you were yesterday,
Bring a positive attitude to practice everyday,
Develop a lifelong love for running!!!
Many of our grads have gone on to run in college. Scott Swearingen is one of the most successful, having recently been an NCAA D-II All-American and member of a national championship team at Western State (CO).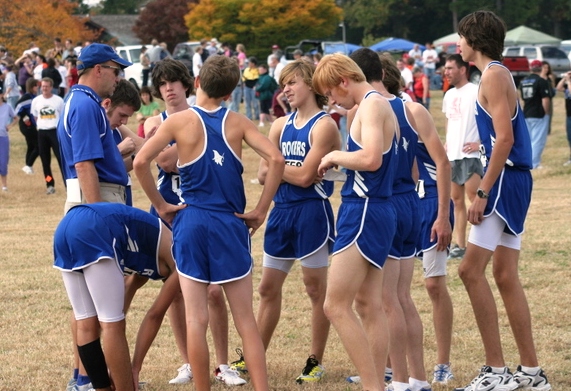 Congratulations to Coach Carlton Efurd, the third Eastbay National Coach of the Week for Fall 2007! Eastbay Coach of the Week Coaches will receive a team color Eastbay jacket.