2007 XC Week 1

Coach Greg Echols

Mountain Brook HS, AL

Throughout the 2007 cross-country season, the editors of DyeStat.com will choose an Eastbay National Coach of the Week to recognize coaches around the country for outstanding recent achievements in guiding prep athletes.
Coach of the Week Archive

"I try to coach people, not a sport. If you do not learn to roll with their moods, emotions, injuries and life's curves, they will burn out pretty quick."

By Brett Honeycutt, SE Regional Editor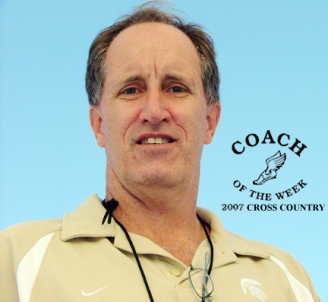 The Mountain Brook, AL girls cross country team is fresh off a huge victory at the Firman Invitational in Boise, Idaho, where they beat three regionally-ranked schools from other regions (Northwest No. 2 Gig Harbor WA, Northwest No. 3 Boise ID and Southwest No. 3 Davis UT), but Mountain Brook's success isn't just recent. The girls began winning Alabama state titles a year after the state began holding championships for girls, claiming their first two in 1974 and 1975 (both were all-class titles before the state broke up into classifications). Mountain Brook didn't win another until 1990.

Since Coach Greg Echols took over the program in 1993, Mountain Brook has won the Alabama 6A girls' cross country title 10 times -- 1994, 1995, 1996, 1997, 2000, 2001, 2003, 2004, 2005, 2006 – in 14 years. His boys' teams have also been successful, winning six Alabama 6A titles (1993, 1994, 1995, 1996, 2003 and 2006), giving the school nine boys' cross country titles overall since winning their first in 1974.

The girls' cross country team's recent success has thrown the girls' program into the national spotlight (No. 2 in SE rankings, released 9/28/07 and No. 21 nationally in the latest Harrier Super 25 poll), and a win out of the region helped put the team's name out there even more.

Echols' philosophy on coaching was influenced by some writings by Wes Neal.

Dyestat Southeast Regional editor Brett Honeycutt asked Coach Greg Echols about this season, his philosophy on coaching and a myriad of other questions pertaining to coaching, his team and the sport of cross country.


Coach Echols Q&A
Dyestat: Is this where you thought the team would be at this point in the season, or did you think this type of success would come later?

Coach Echols: I knew we were capable, but actually thought it might take a little longer to jell and incorporate one of our girls who came from track to try cross country. It has been pretty exciting to see them perform and truly love being out there together. I guess to answer the question, I knew they could, but was not sure if they would click this early.

Dyestat: How do you keep them level-headed and focused on the entire season?

Coach Echols: Throwing in fun days at practice, changing locations of practice, easing off when they seem to be getting flat or stressed. Our school is very tough academically, so if you do not, as a coach, try to be aware of when teachers are pouring it on, sometimes you can lose them for a while.

Dyestat: Mountain Brook has dominated Alabama 6A in recent years, with four straight titles, and 6 of the last 7 titles and 11 titles since 1990. What's the secret?

Coach Echols: Hard work, tradition which creates positive expectations, and a success-oriented community. We started an elementary meet with over one thousand children 15 years ago, which I think really helps introduce the kids to track and helps us identify some kids who might have running abilities at a young age. It really helps our Jr. high program, which has 15% of the school involved, which in turn helps our program. We have about 10-12% of the school doing track and/or cross country.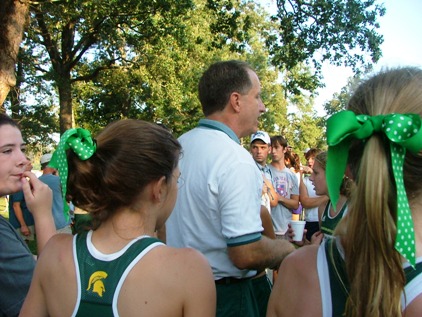 We are also blessed to have a great, experienced staff. My Jr. high coach, Mike Abercrombie, does a great job and sends them to us as accomplished runners. Michael McGovern is my lead assistant and Randy Stephens runs our JV program. They are all outstanding coaches, who I trust daily to help develop our program. I coached Michael and Mike growing up, so we have a great relationship and trust each other. We do not always agree, but there is respect and I value their opinions probably more than they know. I still have to stick to my philosophy as the head coach, but I am definitely influenced by them and their knowledge. Randy is a tremendous asset as well and I have known him for 20 years. I think a big part of our success is we are a big family and run our program, 7-12 as one program even though we are on separate campuses.

Dyestat: How do you keep the athletes from complacency and thinking "we've already done that?"

Coach Echols: Because our philosophy is always doing your best. So, it is not really about winning, but more about each time you step on a course give every ounce you have for your team. If the team dynamics is right then the motivation always seems to be there.

Dyestat: Tell me about each of your top 7 this season:

Coach Echols: Madeline Morgan, 11th, Leads all workouts, PR's 10:45, 4:57, 2:18, 18:10; Catherine Diethelm, 9th, tremendous speed and has state indoor records in 800 and 1600, PR's 56.5, 2:12, 4:56, 18:50; Leslie Boozer, 11th, solid runner and plays varsity basketball, PR's, 5:07, 11:15, 18:48; Marie Demedicis, 9th, national champion this summer in 13-14 girls 800, PR's 56.5, 2:12, 18:50; Brigid Carey, 12th, one of team leaders, 5th year of varsity cross country, PR's 5:13, 11:15, 19:02; Reed Ellis, 12th, another team leader and hard worker, 5th year varsity cross country, PR's 2:23, 5:23, 11:28, 19:24; Lucy Newton, 11th, Rapidly improving with a lot of potential, PR's 61, 2:22, 19:43; Several others not far behind: Mary Catherine Farrar 8th; Sasha Corcoran 12th; Maggie Carey 9th, and Catherine Adams 11th, all have run under 20:10.

Dyestat: Coaches say its different coaching girls and guys. Is it? If so, what tips can you offer to coaches who coach both teams?

Coach Echols: A little different. I guess to me the biggest difference is girls seem to trust a little easier. Our workouts are very similar. Probably do not need to peak as much for girls as boys, but not really a whole bunch different. I think girls need to be heard and know they are cared about as a person as much as a runner

Dyestat: When did you know you wanted to get into coaching?

Coach Echols: Middle of my freshman year in college. Almost changed to go into the ministry my senior year in college, but decided I could make a bigger difference in school setting.

Dyestat: What's the most important thing to remember as a coach?

Coach Echols: It is about the athletes, not about you. I feel like I am a relational coach. I try to coach people, not a sport. If you do not learn to roll with their moods, emotions, injuries and life's curves, they will burn out pretty quick. It is hard to push an athlete to their limit if you do not know what they can handle emotionally. I think you have to know when to push and when to stoke or hug. Obviously no guarantees that you always make the right decisions, but if you keep their best interest at heart it is certainly a lot easier.

Dyestat: What's your training philosophy?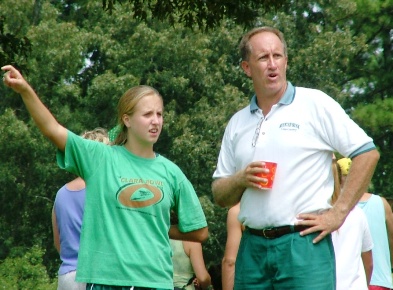 Coach Echols: I think the most important thing is that the athletes must believe in themselves and the program. We are not a high-mileage team. Partly because of our hilly area and partly because of the heat. We try as much as possible to train for the big meets and at the same time consider what type of course we are going to race on that weekend. Whether it is surface changes or incline changes. I guess you would say we are a speed-oriented program, but not totally. I try to throw in some variety just so they will not get stale. We drive to different areas to run and sometimes drop off and run back, just to get a variety.

I guess more than anything else, if I had to say a philosophy, is to watch the runners and adapt to how they are feeling each week. There are certain things we want to accomplish each week, but how we attain it may change depending on school load, weather and how fresh they are mentally.

Dyestat: Where does this team rank among your best teams you've coached?

Coach Echols: Best girl's team I have coached. Basically same team we have had for 3 years. We lost a really good girl who moved to Tennessee and had one graduate, but we have added Marie and Catherine Diethelm in last two years. They are a year older and wiser and have truly become a team and run every step for each other

Dyestat: Long-term, I know NTN is in your mind. How do you balance peaking for NTN regionals and peaking for the state championships?

Coach Echols: We are taking one step at a time. We will prepare for NTN when the time comes. Our primary goal is to win state and have some fun. As stated earlier, that is part of how to keep pressure off. Just keep doing best you can and take one step at a time.

Dyestat: Anything else you want to add?

Coach Echols: I would have to say that when it is all said and done, I feel like coaching is a calling. God has blessed me to be in this position. I pray each year that God will use me in their lives and help them be better people and runners. God expects us to give Him our all and I try to teach the athletes to give their all each time they run. If they learn to deal with failure, fear and giving up a piece of who they are to truly become a team, they have grown and we have all won. To me that is what makes a champion. Everything else is a by-product.

Congratulations to Coach Greg Echols, the first Eastbay National Coach of the Week for Fall 2007! Eastbay Coach of the Week Coaches will receive a team color Eastbay jacket.