2007 XC Week 9/10

Coach Bill Aris

Fayetteville-Manlius NY

Throughout the 2007 cross-country season, the editors of DyeStat.com will choose an Eastbay National Coach of the Week to recognize coaches around the country for outstanding recent achievements in guiding prep athletes.
Coach of the Week Archive

"We believe that each individual team member is interconnected with each team member and that each kid's and coach's mind, heart, and soul all relate to and benefit each other in a very meaningful way."
By SteveU, DyeStat News Editor; Photos by Kirby Lee, John Nepolitan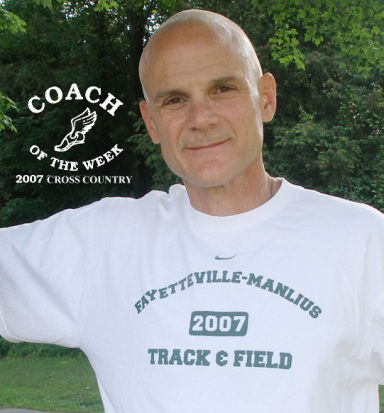 Last weekend, Bill and John Aris, the father-son coaching team at Fayetteville-Manlius HS in New York, celebrated another tremendous accomplishment with their athletes. The girls of the Manlius XC Club, made up of the girls they coach on the high school team, claimed their second consecutive NTN title – this one by a record 88-point margin. This has followed on the heels of what the boys teams of 2004 and 2005 did with their club at NTN, with finishes of 2nd and tied for 2nd in consecutive years. The F-M program, overall, has really evolved into a something special for the ages, and there's no sign that it won't continue.

Bill Aris, now 52, grew up in NYC and Long Island, moved to Syracuse after high school in 1973, and attended and graduated LeMoyne College with a bachelor's degree in Business and Economics. After a 13-year career in business, Aris began investigating getting into teaching and coaching, first as a volunteer with the F-M varsity and a teacher's aide. "At the time I just raced my 12th and last marathon (Boston for the 3rd time)," he said, "and I was interested in putting some of my knowledge and experience to use beyond myself."

That eventually evolved into becoming the Head Coach of the XC, Indoor and Spring Track and Field Program, while his wife, Chris, progressed in the medical field and the couple raised their two children. In 16 years since Aris began, FM has won the State/Federation title in the Boys in 97, 04, 05 and was 2nd/tied for 2nd at NTN in 04/05. The girls won State/Fed titles in 2006 and 07 and, of course, won NTN in 06 and 07. Beyond that, there have been numerous team and individual titles at all levels in track, and at other levels of cross-country. "At this time I see no end to coaching as I thoroughly enjoy it and we have been successful as a program," says Aris.


Coach Aris Q&A

DyeStat: Congrats on your team's 2nd straight national championship!! You talked a lot about the racing style your girls team employed this year versus the way they approached races last year. Can you talk about the differences between the teams and the process by which you came to understand how to best guide this group?

Coach Aris: The main objective of every team I have coached over the years is to simply maximize their potential for that season. In that way, the 2006 and 2007 girls teams were identical. Where each team differed was in their upper ceiling for improvement and how to get there.

The 2006 team actually showed a consistent degree of improvement all season, with a power spike of maximal level performances at States, Feds, and NTN. In other words, they peaked to perfection and extracted the fullest of their potential when it counted the most. That is why it appeared to many that "FM came out of nowhere." Actually, we were there all along in 2006, just not ready to show our very best until it counted the most. I was quite proud of those girls, their trust, loyalty, and dedication while evolving into a unified and believing team as the season progressed.

The 2007 team had many of the same girls from 2006, plus a few new additions with little or no major XC race experience. Our task was to meld this "new" team into a unified force, and again pursue maximizing their potential for improvement. With the competitive experience and excellent fitness levels of the returning girls, forged during the previous years XC, indoor and spring seasons and corresponding training, we added a few girls who had successful track experience, an outstanding work ethic, and good competitive instincts, which translated well to XC.

Beginning with your standard solid summer of XC base training, the girls became a team as one. Based upon the work, desire, dedication, and love of what they were doing, it became clear to both John and me early on that this team had the potential to be a team of destiny. Of course, with the incredible strength and depth in NY State this year with the girls, we would have to be an improved team just to have a chance to succeed in the state championship season, let alone qualify and succeed at NTN once again.

Since I have never coached by a standard formula that I follow every year, I knew I would have to tailor a new plan, quite different from the 2006 regimen, in order to maximize this team's potential. Thinking outside the box, I set up a comprehensive regimen, which addressed every aspect of the girls' physical, mental, and emotional capacities in order to achieve to their fullest, without going over the edge. There were certainly a few weeks, or specific training sessions, which involved us doing what I call "the barefoot razorblade walk," but none which put the girls at risk or over the edge. Every time we had a more challenging week, the girls responded with significantly improved racing or time trialing the following week. We were very careful to not overdo it, yet at times go to the edge.

Essentially, we approached this year beginning with NTN 2006 as a starting point instead of an ending point. We improved the veterans of 2006 and merged the new faces into the existing team in such a way as to form a new and improved version for 2007.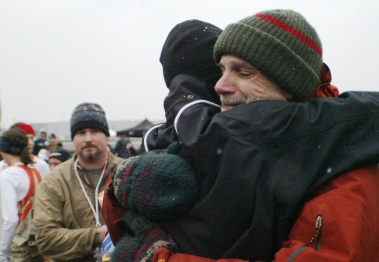 DyeStat: Both last year and this year, with somewhat different groups, your girls have made it clear that a big part of their success was the team "bond" they've established. What do you do as a coach to either facilitate that or create an environment where that can happen? How do those dynamics vary between girls and boys?

Coach Aris: In a word, our prime focus is team synergy. Without it, all the physical work in the world would amount to little. As I said above, the physical preparation is only one part of our approach. What development occurs inside the heart and mind is of far greater significance in our belief system.

This is our Stotan approach, our version of the great Percy Cerruty's plan to become a champion. We believe that each individual team member is interconnected with each team member and that each kid's and coach's mind, heart, and soul all relate to and benefit each other in a very meaningful way. This belief system or approach began in earnest with the Stotan boys of 2004 and has been successfully taught and passed on each year, applying it to both girls and boys alike. This year and last with the girls was the logical transference of this system from the boys of 04 and 05. While our entire program is now rooted in this approach, it has been the girls time to shine the past two years.


DyeStat: What are some of your key training principals, in terms of volume, intensity, rest and peaking? How have those developed over the years?

Coach Aris: Key training principles … hmmm … How about unorthodox, original, outside the box, creative? I try to not be predictable, obviously, and to share any training plans or philosophies would do nothing more than share a plan of the past. I change things every year. Some years there are similarities with the previous; some years things appear completely different.

What I am getting at is that I develop a new and unique plan each year based upon the nature and capacity of the team or teams I am working with that year. Accordingly, this year's plan in no way resembles the plan which resulted in the 2006 Girls Championship.

I am a true student of the sport of running in all types. I have read all I can get my hands on over the years and continue to. Regardless of how popular or unpopular an approach may be, I seek as many views and opinions as possible; the more contradictory the better! It stimulates thinking and originality much better than to simply and with little effort follow a common doctrine without exploration of the "what ifs."

Every year, following a careful review of the year's results and training plan, I put it all in a large manila envelope and date it. That is the last time I will look at it. The plan for the next year is developed from scratch, utilizing what I have learned from experience, and seeking to include new ideas and innovations from great coaches of past and present, as well as a few of my own innovations or adaptations which I arrange into a usable format for the new year.

I find that this approach keeps me sharp, constantly reading and listening, and as original and fresh as possible. When the day comes (and I hope it won't for a long time) that I am not able to follow this approach without referring to past years' plans, I will probably retire from coaching. I would rather do so than become stagnant in my thinking and approach to coaching. The kids will always deserve my very best and I think this way assures that I will give it. If the kids commit to challenging themselves, I must commit to do the same.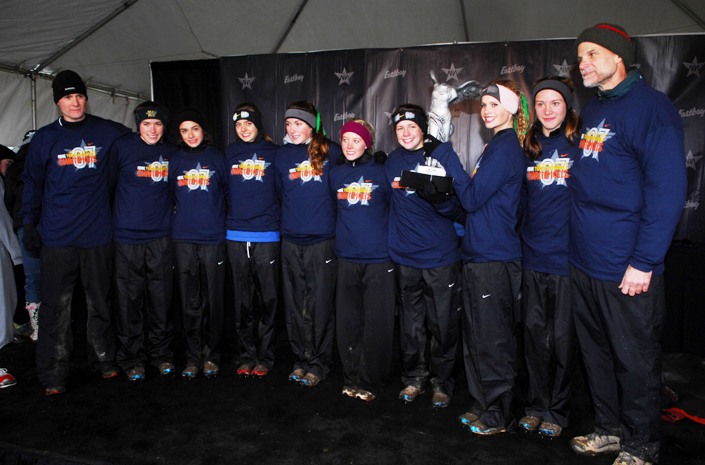 DyeStat: You had one of the best teams in the country for boys in 2004 and 2005, then the girls the past two years. How much did the boys' success inspire the girls? Talk about what the boys were like this year now that Tommy Gruenewald and the last of the 04-05 group is gone.

Coach Aris: The boys' successes of 2004-05 had a profound effect on the girls the past 2 years. The girls have been truly proud of the boys of those years and have sought to emulate their commitment to excellence in their own way. In turn, I have heard from many of the original Stotans of 04 in the past few days, sharing their expression of pride and admiration of the girls' success, and more importantly, their pride in the girls ascribing to the very same values and virtues of Stotanism which the boys made renowned in those years.

The girls have simply accepted the torch and carried it with strength and purpose in their own way.

Interestingly, the current crop of boys, while not of the team caliber of the 04-05 boys, appear to be simmering with enthusiasm and ambition to the extent that they, too, wish to elevate themselves to the level of the girls of today and the boys of the past. Time will tell; much work needs to be done with the current boys in the form of improvement and much in terms of new raw materials acquisition, before work in process can commence to produce finished goods. Nevertheless, I am eager to challenge all boys who wish to be challenged to pursue excellence.

Tommy G. and Geoff King last year were and are role models to several of the boys of this year. With their graduation and moving on to college, a void was created as one would expect. Those guys, as is the case with all of the original Stotans, are icons of greatness to most of the boys in our program today. Today's boys have to find their own way, their own path to excellence with our coaching guidance. Of course, it must be in their hearts and minds for success to occur. I think we are not far off, just a few more pieces of the puzzle and plenty of belief and we could get back there again.


DyeStat: You and your son seem to have a unique and very successful coaching arrangement. Please share how that has developed.

Coach Aris: My son and assistant, John, was a senior team captain and member of our state and federation champion team of 1997, which finished ranked 2nd in the US, behind Stillwater, MN led by Luke Watson.

After several years away from it, in 2004 John offered to return as a volunteer coach and help me develop a group that became the Stotans. John became more than a coach; really an older brother to those guys and that relationship lasts to today. John continued helping me coach both boys and girls since 2004, and the success of our coaching partnership has become apparent. He is a great asset to me and the program as a whole; the kids love him and we share the same commitment to excellence and do our best to bestow it upon the kids we coach.

John works for a local construction company as a project manager and estimator during the day, and drives to practice after work to coach. Both his day and mine start at 7am and usually don't end until after 7pm. While it is never easy to work for your "old man," we have found a way to make it work, and thoroughly enjoy working with each other. As a father and a head coach, I couldn't be happier with our relationship, not to mention proud of it. We tend to think alike in terms of coaching, I guess since I coached John while he ran for us in high school. We constantly throw ideas at each other; you could call it brainstorming. It's a cultivating and stimulating environment for the kids and coaches alike.


DyeStat: If a 25-year-old guy or gal came to you, who had decided to focus his or her energies on coaching after a competitive running career, what kind of advice would you give them in developing a program?

Coach Aris: I would tell an aspiring new coach to think outside the box; challenge all doctrine with intelligent questions; become as well read as possible from all sources, whether you agree with their positions or not; try your very best to see things through the eyes of others, especially from the kids' perspectives; and always believe you can learn something new every day. Do not necessarily accept that the way you were coached is the right or only way to coach your charges, and be open to new ideas, be original, be unique.


Congratulations to Coach Bill Aris, the 11th Eastbay National Coach of the Week for Fall 2007! Eastbay Coach of the Week Coaches will receive a team color Eastbay jacket.