Week 13:

Coach Bryan Westfield

Pioneer HS, Ann Arbor MI


Throughout the track season, the editors of DyeStat.com will choose an Eastbay National Coach of the Week to recognize coaches around the country for outstanding recent achievements in guiding prep athletes.
Coach of the Week Archive

"It used to be my way or the highway. Now you have to listen. I rely on the feedback now."

By Jeff Hollobaugh
Note: It was announced that Bryan Westfield was named the Mike Byrnes National Coach of the Year at Nike Outdoor Nationals
As the sun set on the East Kentwood track on June 2, the powerful Pioneer girls team from Ann Arbor celebrated another state championship in Michigan's toughest division. Athletes screamed, hugged, and congratulated their rivals from Detroit's Mumford High. They had run and jumped their hearts out, earning every decibel of their celebration.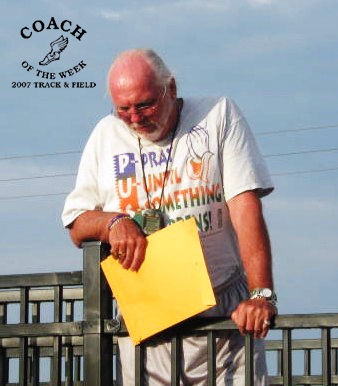 Bryan Westfield
Across the field, coach Bryan Westfield and his able assistants leaned against the fence and watched. Their celebration was eerily quiet, but it boasted a special satisfaction. They had told their girls they could do it, and they had showed them how. But as any coach knows, that's just a small part of the task. Getting athletes to truly believe and do the hard work required—that's the real challenge, and Westfield's staff had again succeeded.

The team had scored 104, nearly doubling the tally of Mumford. A scoring record? Westfield said, "Someone said it is, and someone said we had scored more than that once. I really don't know." He shook his head, looking tired.

During Westfield's tenure, Pioneer has won 14 Division I or Class A titles in track. Six other times the team won runner-up honors. Add to that three cross country titles (and five runner-up slots), and Westfield has a record that any other coach would envy.

Anyone who knows Westfield will quickly say that for him, it was never about the numbers, and it was never about the glory. It always has been all about the team. "I just think I was put here to do this," he says. "I believe that everybody has a purpose in life."

Westfield found his purpose through adversity. In 1964, he was a hurdler at Cornell University—good enough to qualify for the Olympic Trials. That year was tumultuous for him, as it was for many college students. America seemed like it was tearing apart at the seams, between the fight for Civil Rights and the growing protests against the Vietnam War. The tumult reaffirmed Westfield's faith that good things can come from difficulty times.

It wasn't long before the one-time business major found himself a teacher in Ann Arbor, coaching a girls track club and raising a family of his own. "Coaching and teaching, that's something I had not envisioned. No one in my family had ever done that. It just happened."

He acknowledges now that it happened for a reason. And it's that faith that has kept him at it so long. This month he has retired from the classroom after 40 years of teaching at the same school. He also celebrates his 40th wedding anniversary this year. "Same woman, same job, same neighborhood. All I did was change classrooms occasionally."

The most gratifying aspect of the whole experience, says Westfield, "is to see a kid that did not have much talent and confidence reach goals that they had set. To see a kid get confident enough to step up. I don't necessarily mean the state champions. I'm talking about the kids who are at the back of the pack sometimes."

Westfield's voice can be commanding and gentle at the same time. He directs his school's gospel choir, and can be seen leading his team in prayer. While many public school coaches shy away from such displays, Westfield makes no apologies.

"My social beliefs and my Christian beliefs are the root of my coaching and teaching. I use them as a basis for treating young people fairly and not discriminating. My program attracts kids who have struggled," he says. "I pray a lot—to make sure my own personal things don't get in the way. I'm not as good a Christian as I want to be. I do dumb stuff. I make a ton of mistakes."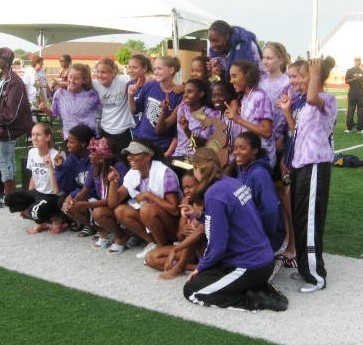 The Pioneer girls celebrate another title.
Like all successful coaches, Westfield learns and adapts. Years ago, with 10 girls on the team, he had to make all the decisions. Now with over 60 on a typical squad, he relies on his assistants. He speaks glowingly of Kent Bernard, a longtime friend who won a bronze medal for Trinidad in the 1964 Olympics. "He's a good teacher, very positive. I give him five kids, and he makes them into a 4 x 8 team."

Westfield's daughter Crystal coaches the throwers and the high jump; she is also Pioneer's women's basketball coach. And over the years Westfield has had a steady stream of his past athletes come back and help out. This year, former Ball State hurdler Ayesha George and Bowling Green distance runner Amber Culp were among them. Those former athletes are among the first to notice the gradual evolution in Westfield's style.

"They come back and say I'm getting soft… 'You wouldn't let us do that!' I'm not so dictatorial anymore. I had to lighten up there. It used to be my way or the highway. Now you have to listen. I rely on the feedback now."

Any athlete thinking the rules have gone out the window, though, will be in for a quick correction. Pioneer athletes are expected to work hard in practice and in the classroom. When their classmates take off for spring break, they hit the track. "They know to take their vacations at Christmas and winter break," he says.

Non-athletes who have had Westfield as their biology teacher have seen the same single-minded devotion to excellence. More than once he has knocked unannounced at a student's front door at dinnertime to sit down with the family and talk about academics. With his classroom days behind him now, he intends to coach one more year of track, in addition to helping his wife, Elaine, around the house. They have four daughters, six grandchildren, and three great-grandchildren. "My wife has already said I better not be a problem. So I'm going to help out, or she said I can get a job bagging groceries," he says with a chuckle.

It's natural for any young coach to look at what Westfield has done for the Pioneer girls and want to copy it. Certainly, people have tried. His advice? "You have to have patience. You have to listen as much as you are teaching. In today's world you have to understand that not all kids are the same. You have 60 kids, you have 60 different ways to coach.".

Congratulations to Coach Bryan Westfield, the 15th and final Eastbay National Coach of the Week! Eastbay Coach of the Week Coaches will receive a team color Eastbay jacket.