Week Eleven:

Coach Carmen Jackson

Miami Northwestern HS, Miami FL


Throughout the track season, the editors of DyeStat.com will choose an Eastbay National Coach of the Week to recognize coaches around the country for outstanding recent achievements in guiding prep athletes.
Coach of the Week Archive

"I'm surrounded by people who share my vision in the program"
By Steve Underwood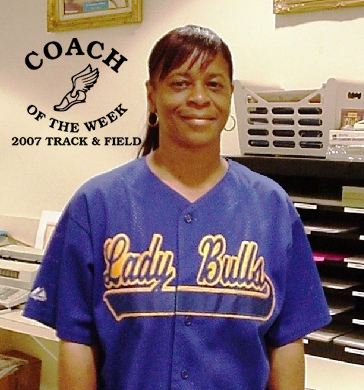 Coach Carmen Jackson
If Miami Northwestern girls head track coach Carmen Jackson seems to have a strong connection with her athletes, it should be no surprise. She's been there, done that – on the highest level. That empathy and subsequent commitment are huge reasons she has won five state titles there in Florida, including three in a row, and will again bring a large contingent of potential All-Americans to Nike Outdoor Nationals in two weeks.

Jackson, a Miami native, began running in middle school for the Presidential Fitness test. When the sixth-grader dominated the dashes there, she says she was approached by a Ms. Carol Hardemon, who asked if the young Jackson would join her track club CYC track club (now Known as Metro Dade Track Club).

That was Jackson's start, and she continued on to Miami Jackson HS, where she met the key mentor and influence in her racing, and ultimately coaching career, Lula B. Smith. "Under her direction I became one the county's best female sprinters," she recalls. Only county competitions were available to HS girls in Fla. at the time, but by Jackson's senior year the state opened it up, and she helped Miami Jackson to the first girls state championship.

Jackson was unbeaten in the 100 her final two years, but at state she finally met her match. But what a match it was! In a photo finish, Jackson was 2nd to none other than future Olympian and US record-holder, Chandra Cheeseborough, one of the all-time legends in the sport. "What a great experience it was for me," says Jackson.

Coach Jackson was still named Florida Athlete of the Year and went on to attend Jackson State University, where she was a 4-time All American indoor and outdoors under Coach Martin Epps. She was SWAC 100m champion 3 times and was on a world record relay team indoors, running the 200m leg on the mile medley. In 1979, she graduated from JSU with Honors.

After graduation, Jackson learned that her high school coach, Lula B. Smith, had transferred to rival Miami Northwestern. "She asked me if I would come out and coach with her and my club track coach," Jackson recalls. "Life had brought us back full circle. I was back right where I started."

In 1991-92, Jackson took over the program. "I've coached at Northwestern only it where the Lord has planted me," she says. Her teams have won five state titles and numerous others at the county, district, and regional level. She has coached 12 All-Americans.


Coach Jackson Q&A

DyeStat: What has been the biggest factor that has enabled you and your program to have its most recent run of success the past few years?

Coach Jackson: The success of the program, I guess, has a lot to do with (first) having great, versatile athletes. Year after year, I've been blessed to have athletes to compete in multiple events. That means that they were willing and able to compete at the state meet in four events, all in one day. That is a great task at a state meet in Florida. Secondly, I have a great, great, coaching staff. I'm surrounded with people who have shared my vision with in this program.


DyeStat: What have you found about being a former top athlete has helped you most in coaching?



Coach Jackson: My being successful in my own track career has given me a passion to give that same opportunity to these young ladies. But what's had the strongest impact on my track career is the support and guidance I received from my club and high school coaches. These ladies really gave all they had, by exposing me and my teammates to great track and field competition and always finding funding to do this.

In this program, student-athletes come with a lot of deficiencies, such finances, low self esteem, single parent homes and bitter with the world, and poor academic success. I have coaches who can meet those needs for them and get the athlete to succeed in spite of their circumstances. So have years of success followed. This program in the last eight years has been the champion or the runner-up at the state meet.


DyeStat: What are the biggest challenges about coaching athletes today?

Coach Jackson: Coaching athletes today come with many, many, challenges. Today there are so many distractions with young athletes, such as pregnancies, lack of commitment, and having no direction when entering high school. Finding funding is a big obstacle and so is having little-to-no parent support.

In my belief, me being the head coach, I must dream and dream big and hope that these young ladies catch on to the dream. I must always stay creative in keeping them focused on the prize, and that is putting themselves in the position to be a scholarship athlete. There is a chemistry that have developed over the past years, with past athletes coming back and giving their time and money. Many, many of my past athletes come back (Tiffany Ross-Williams, Ariel Brooks, Charlette Greggs, Wylliesha Myricks, etc.). People like Sanya Richards come support this program, because of the love of the sport. Keeping greatness around these young ladies will keep hope alive.


DyeStat: What athletes - relay teams or individual events - will you have at NON and USATF jrs this year?

Coach Jackson: This year I will take twelve athletes to the Nike Outdoor, competing in various individual events and relays. The following week I will be taking eight onto Jr. Nationals in Indianapolis, to cap off a great season. These young ladies will get to see as well some of the former Miami Northwestern track athletes (Tiffany Ross, Charlette Greggs, Wylleshia Myricks etc.).


DyeStat: What do find keeps you motivated and going in this year after year?

Coach Jackson: I still have a great vision for this program. If you notice, I said PROGRAM. Many teams are not programs and have no direction. Many coaches do not take their job seriously. Most are going through the motions. Many coaches here in this county will not go on after the state meet to take their team to national meets and we have many that will qualify to compete at Nike Outdoor.

Female sports are not given top notch coverage, be it through the media or even right their in their own state. We are given poor recognition across the nation. So I want to make sure these young ladies are exposed nationally and at the end of their high school career they will go on to get a scholarship. This will be their way out for these inner-city athletes. My motivation will be there year after year, because of my high goals for these ladies.

.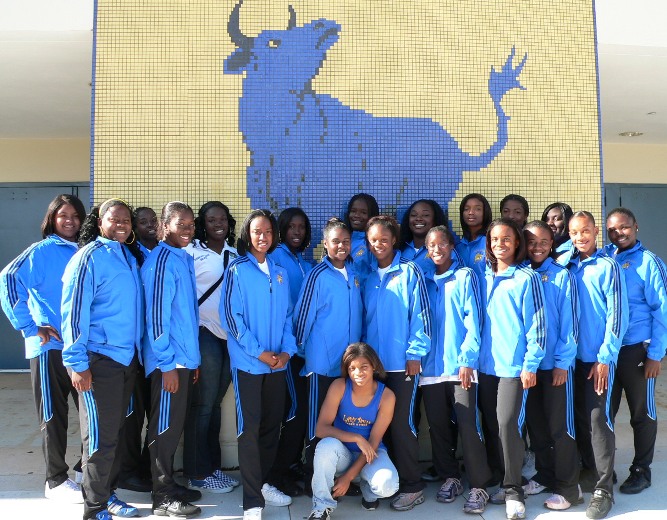 .
Congratulations to Coach Carmen Jackson, the 13th Eastbay National Coach of the Week! Eastbay Coach of the Week Coaches will a team color Eastbay jacket.