2009 Track Week 1

Coach Brian Zatorski

Southern Regional NJ

Throughout the 2009 track season, the editors of DyeStat.com will choose an Eastbay National Coach of the Week to recognize coaches around the country for outstanding recent achievements in guiding prep athletes.

Coach of the Week Archive

"I'll explain to the girls that it is OK to be sick, it is OK to be tired, and it is even OK to be injured. But it is NEVER OK to be weak. Strength in mind and body is the goal for the young women at Southern."

Interview by SteveU


One of New Jersey's (and America's) best high school coaches was a young assistant at Monmouth University in New Jersey when he "essentially ran out of money" and took a job bartending in Philly. "The life of a small time Division I college assistant coach is filled with peanut butter and jelly, and credit card bills," he laughs.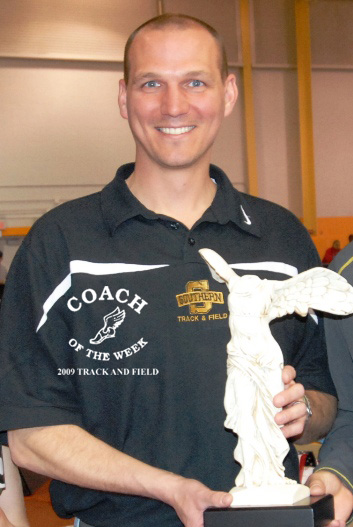 Winning the Bowerman Award as the coach of the winning girls miler at NIN in 2008 (Jillian Smith). Photo Donna Dye


After a year, this bartender ran into "an old friend" who was an athlete at Monmouth and was set up with the old friend's mother for an interview at Southern Regional High School, where the mother was a principal. While it's difficult to imagine that Brian Zatorski would still be tossing drinks 11 years later, what has happened since really does show how great things in life can hang on the slim thread of an incidental meeting or contact.

Zatorski had seven girls on his first XC team and 20 in track. Now those numbers are about 40 and 100, respectively. The program is known for middle distance queens Danielle Tauro and Jillian Smith, but they are just part of a big machine that has turned out 20 Nike National Champions (counting relays and individuals) and 65 Nike All-Americans. What Southern Regional did at NIN two weeks ago, winning the DMR and 4x800 in history's second-fastest clockings, was typical – yet better than ever.

But Zatorski is quick to say, "I am just as proud at the fact that we have grown steadily into one of the best all-around teams in NJ for the past 4-5 years. Shot put, triple jump and javelin points count just that same as mile points do, and we make certain to try and score in every event." The head coach gives a lot of credit to colleagues Jason Church – jumps, Mike Concilio – multi, and Andrew Beckett – throws. "They do an amazing job of creating champions in every event and have instrumental in helping build a program."

Zatorski was a hurdler and vaulter at Middletown North NJ and then Moravian College in Bethlehem, PA, eventually also competing in the decathlon. His first assistant job was at Middletown North, where he was able to work with his own former coaches Bob Welsh, Rich Riro and Rocky Christopher. Then he was hired at Monmouth, where he worked primarily with the sprinters, jumpers, and hurdlers, and coaches Joe Compagni and Mark Gottdenker. He gives a lot of credit to all and shares much about his ideas and what has evolved at Southern Regional.


Coach Zatorski Q&A

DyeStat: You've mentioned that you've learned a tremendous amount of things from, first, the coaches you worked with at your alma mater to begin your career, and then, second, the coaches you were able to work with in your time at Monmouth. If you could identify some key principles or ideas that you absorbed during those years that help you today, particularly things that might have really opened your eyes, what would those be?

Coach Zatorski: The most important lesson that I have learned about coaching young women came from one of my former coaches at Middletown North High School. Rocky Christopher (a girls coach for over 35 years) always reminded me coach people, not athletes. He taught me to encourage the kids with positive reinforcement and that very few people respond to negative comments. Each and every day, I try my best (even on days when I'm in a sour mood) to put a smile on the kids' faces and keep the mood light and positive. I find this to be a very effective motivating tool, especially on those tough workout days in the cold and windy winter.

I have tried to build my teams using the same blue print that Joe Compagni (head coach at Monmouth University) has been effectively using for over a decade. At Southern, we try to overwhelm our competition with depth in every event. While Jillian Smith and Danielle Tauro have garnered most of the attention in the past 5 years (and deservedly so), I do not consider us to be a "distance" school. Our hurdlers, throwers and jumpers regularly amass large quantities of points in championship level events that usually go unnoticed in the press or to the casual observer. At Southern, it is always team first.

While at Monmouth I had the pleasure of building a friendship with Mark Gottdenker (former throws coach who also spent time at Penn State and UMass). I was amazed at his attention to detail in creating workouts that were dynamic, functional and effective. His preparation and thirst for athletic education really made me reevaluate what I was doing with my groups. I now place a very high emphasis on the planning of cycles and workouts for the many different groups of runners that we have at Southern. I also try to avoid making "cookie cutter" workouts.

A cookie cutter workout is a workout that is just like all the others that you have completed. For example, 10 x 400 is boring! Why not try 8 x split 500 where you run the 400 at a similar pace as the previous workout, take 30 seconds rest, and then hammer the final 100 as hard as you can. Both workouts cover the same overall distance, but the second one adds a component to keep the athlete more focused. Athletes need to be stressed in a variety of ways to avoid a growth plateau or injury and consistently keeping the athlete off balance will avoid mental burnout..


DyeStat: When you came to Southern Regional, you said you started with some very small numbers. What are some things you learned in those early years about attracting kids to and selling to kids a program and a commitment to excellence?

Coach Zatorski: My first year at Southern, we finished the seasons with seven girls on the XC team (one joined us mid-way through the season), and slightly less than 20 for T&F. I am a big believer in recruitment and will always be on the lookout in the hallways of the school for potential T&F athletes. That's how I found Danielle Tauro. She was just walking by my classroom one day as an 8th-grader and I was amazed at how athletic she looked (her arms were ripped). When I asked her if she played any sports, she said that she did not (and never had). The rest is history. After a few seasons of building her up (XC was a very slow grow, I assure you), she ran a 4:52 1600m to culminate her freshman year. Having girls like Danielle Tauro and Lauren Lewis (a 4-time NJ Group 4 champ in the 800m) on your team, to name a few, really helped spark the school and community interest.

Also very instrumental in our success is our feeder program at the middle school level. The team regularly fields more than 100 girls with an emphasis on having fun and learning. Many of the girls from our middle school program join us at the high school level and already have a sense of who we are and what we do.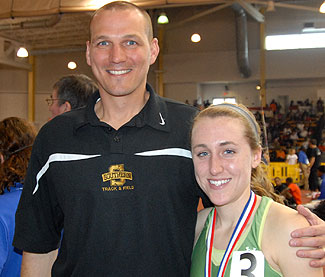 With Jillian Smith at NIN 2008. Photo Donna Dye


DyeStat: In most of the Northeast, especially, it could be easy to have kids racing constantly from August until June (with the indoor season starting right after XC). I know with some of your outstanding athletes – like Danielle and Jillian – you had to make some decisions in the last few years to deemphasize parts of some seasons to make sure they got rest before the season ahead. Can you talk about how you've learned as a coach not to overdo it with the continual seasons, but still stay competitive when you need to? Obviously, this has to be done not just with the elite athletes, but with all – though elites sometimes have the longer seasons.

Coach Zatorski: The most important thing to consider (in my opinion) is that at the end of the day, even the most talented high school athletes are still 15-16 year old kids. They need space and time to enjoy that youth, and grow physically and mentally. With a rigorous racing schedule in place, it can be easy to overlook the fact that the athletes are sacrificing so much of their social lives for the good of the team. I try to make sure we (as a staff) can give some of that time back to the kids by carefully picking our battles throughout each season in terms of when we want our kids to be race ready. You simply cannot win every race, all of the time. By preparing for a physical peak (and sticking to the plan – no matter how tempting it is to run another high profile race), we have had a lot of success in keeping our athletes (at all levels) healthy and focused.

I will also stress to my athletes (Danielle and Jillian, for example) the importance of running to win rather than running for time. When you have an athlete as talented as Jillian Smith, you do not have to break every record or set a PR every time you set foot on the track. Obviously, records are a nice thing, but I am more interested in economy than speed. With our TEAM emphasis in place as first priority, Jillian accomplishes more by running to win, than by running for records. I have been criticized for this approach by some, but I truly feel that this best serves the athlete and I haven't had any complaints from our team members or their parents– and that is what is most important to me.

I will say this in regards to records and fast times (or great marks in the field): I am confident that we can achieve high standards as the competition dictates as our athletes at Southern Regional are trying to win every time out. Once or twice a season, I will take the reigns off the girls and let them stretch their legs out to see how fast they really can run (or jump, or throw), but that is about it. I'm more interested with maintaining a consistent high level of performance, than one flash in the pan. The best compliment I ever received was from Coach Mike McGuire (University of Michigan). He thanked me for "leaving some gas in the tank" with Danielle Tauro. That's all the validation I need that we are doing things the right way.


DyeStat: What have you found is the difference between having a program that's competitive on a local level, or maybe the state level, versus one that's competitive nationally?

Coach Zatorski: To be honest not much has really changed with the way we handle our daily business from a practice routine. From a meet standpoint, our goals will always be team driven. With all of the success we have been fortunate enough to enjoy at the state and national level, we have shifted our priorities a bit at the local level though. We are still travelling to the local meets attempting to win, but we are fortunate enough now (with our team depth) to be able to rest our top kids and still be competitive.


DyeStat: You've said that you can sum up your coaching beliefs in two works, "persistence" and "suffering." Tell us what you mean by those words, exactly. How do get the kids to buy into that? How did the philosophy develop during your years of coaching?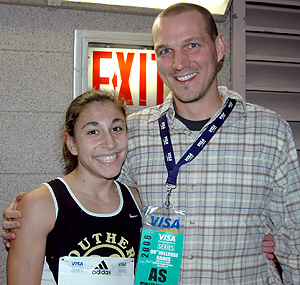 With Danielle Tauro after a Millrose Mile victory. Photo Donna Dye


Coach Zatorski: In my opinion, nothing can take the place of persistence and hard work. There are far too many talented people out there (in any walk of life) who are unsuccessful when relying only on talent. In sport and in life, an individual with mediocre talent can often achieve greater things with the addition of persistence and hard work. Building off that principle, to add the ability to suffer often builds character and strength.

It makes me so proud to speak with alumni (some of whom have since married and started families) recall what it was like to suffer through Bruno's (our 350m hill – a regular stop for all Southern XC and T&F girls on Mondays), how they had to really grind out a tough workout when they were athletes in high school, and how the values of hard work and suffering were instilled in them as youngsters and still remain. I'll explain to the girls that it is OK to be sick, it is OK to be tired, and it is even OK to be injured. But it is NEVER OK to be weak. Strength in mind and body is the goal for the young women at Southern.

One of my collegiate coaches at Moravian, David Hightower, really taught me a lot about the value of persistence and suffering. He was a physical specimen and would not hesitate to jump into a workout with us and suffer himself, just so he could get his point across. I was also very fortunate to work with a man named Richard Airey for a few years at Southern. As an athlete at Monmouth University, Rich's threshold and tolerance for pain (good pain, not injury) was legendary. Together he and I built the expectation with our team that no matter what, Southern was going to be the most prepared and fit team at any meet we went to. If somebody was going to beat us, they were going to have to endure a great deal of suffering themselves to do so.

With that notion came the inevitable tough workouts and circuits to back up our expectation. Rich moved on from Southern about 5 years ago, but his values still remain. He is now teaching and coaching in a neighboring county where he continues to mold champions.

Getting girls to buy into the extension of their pain threshold and tolerance has really not been too difficult of an endeavor. I prefer coaching the girls BECAUSE of the fact that once they see the results of hard work, the amount of suffering they can endure is almost endless. If you can convince a handful that the path to championships lies through hard work (suffering), the rest of the team will follow. I have never had that kind of success in convincing men of this fact. The girls on my team are far tougher than I ever was, hands down.


DyeStat: Relays have obviously been a huge part of the Southern Regional program, with top athletes even sometimes sacrificing what they could do in individual events for running on the relays. On the other hand, those same athletes will often run many events in meets like state groups to earn points for team victories. Can you talk about that approach, its origin, and what it means to the kids?

Coach Zatorski: Running relays over individual events at the regional- and national-level meets and has been a decision made by the kids. The reason they always give for choosing the relays over individual events is because relays are more fun. I'd like to think that their choice is a by-product of the team-first values that I try to instill in them, but I'd be reaching a bit.

As a coach, I prefer the relays because it displays our team depth and (in my opinion) are more exciting than individual events. It's not an easy task to have all four members perform at their highest level on the same day. When it happens (like it did for us at this year's NIN) the feeling was indescribable. I have sat at a restaurant after a big win with one kid and their parents and it was fun, but to have a huge table full of kids and their parents at that same table after the big win is much more satisfying.

In terms of our varsity athletes competing in multiple events at state meets and such, we are very careful in choosing when and where we want to go full steam ahead. Typically, we will load up for our Shore Conference meet, and State Group 4 meet which fall two weeks apart. Other than that, our horses pretty much stay in the barn for most of the season. If that means that we sacrifice a team championship in a meet we deem as less important, then so be it. That is not to say that our top kids will not compete throughout the season, it's just that they will compete more sporadically in an effort to shake off the rust for the two more important upcoming team affairs. I feel that by focusing on only two big multi-event efforts (where the girls really have to run their fastest to win), we are keeping their legs fresh and their minds sharp. The other meets throughout the season supplement their fitness and help prepare them for the big show.

If, however, the girls are fortunate enough to qualify for the NJ Meet of Champions and the Nike National meets, all bets are off and the kids are free to choose which events they would prefer to run and how they want to run them (for time or for place depending on conditions and competition).


DyeStat: In terms of training and types of workouts, what are some of the hallmarks of the Southern Regional program? Tell us about "Bruno's" and some of the other key workouts.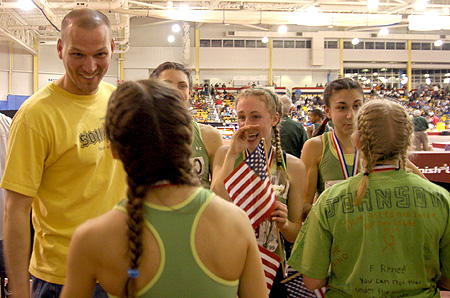 With his DMR team after winning NIN in 2006. Photo Donna Dye


Coach Zatorski: Bruno's is certainly our hallmark workout. Bruno's is a 350m hill located just off the school grounds. Its name came from the Italian delicatessen at the base of the hill. We run Bruno's throughout the season, usually once per week. Because the hill is so long, we are able to be as creative as we want in crafting workouts to suit any ability level or event specific (yes, our throwers and jumpers run and jump up the hill as well!). Running Bruno's for our team has really become a rite of passage. I always tell the freshman that the hardest Bruno's workout they will ever run is the first one. After that, it just becomes part of what we do.

From a distance-running standpoint, I like to focus on a lower mileage approach. I'm not admonishing running higher mileage, as it certainly works for many coaches and athletes. The decision is really more of a comfort level thing for me (as the coach). We do make up for our lower mileage by keeping our recovery and threshold runs dynamic. We will very rarely do a steady state run for more than 20 minutes without shifting gears. I am a big fan of fartlek runs because you can always change things up to keep the athletes on their toes.

We also do our share of intervals (both on the trails and track). Again, I prefer to keep things interesting to the athletes, so I am constantly trying new ways to run old workouts. In my opinion, there is no magic workout, just consistency in the plan and persistence in the athlete's execution.


DyeStat: The span of time with Jillian and Danielle at the top of the national heap, combined, has been about five years now. Have you thought about what it will be like when Jillian graduates? Having had these two over this period of time, have you come to believe that they are very unique in their talent, or that there's more girls who are at least, say, sub-2:10 and sub-4:50 out there every year, but that talent just has to be nurtured and cultivated?

Coach Zatorski: Whew, that is a loaded question. The time that I have been fortunate enough to spend with Jillian and Danielle has been terrific. Their talents have afforded me the opportunity to travel all over the country (and world) and to meet so many great people. It really has been quite a ride. Those two girls in particular have had such a tremendous impact on our XC and T&F teams, as well as all of the athletic programs at Southern Regional. They have been ambassadors of our sport at every level, and every function imaginable.

With that said, I cannot wait to see Jillian go. Not because I do not want her on the team any more (that would be crazy); I just cannot wait to see how far she can take this! Danielle has already begun to throw some deep roots at U. of Michigan and is slowly (but surely) beginning to make the jump to the next level. I have no doubt that Jillian has only scratched the surface of her running ability as well.

I have done my job as their high school coach to the best of my ability in helping Danielle and Jillian transition to the next level and am very proud of their accomplishments. I am grateful for their efforts and sacrifices along the way, but the time has come for Jillian (like Danielle) to move on to new adventures. There are not too many races at this level that she has not already participated in, and won. In my opinion, she has nothing left at this level to prove.

While I believe that everyone has the ability to improve, I think the numbers you listed (sub 2:10 and sub 4:50) are a little bit of a stretch in terms of every-year production. If I can continue to keep my staff together at Southern (and the support of my wife on those long track weekends), I think that we will be able to continually produce athletes that challenge the 5:10 and 2:15 barriers with the system we have currently in place. There is no doubt that in every school, there are athletes walking the halls. Whether or not their talent will be realized, cultivated and nurtured is another story.


Congratulations to Coach Brian Zatorski, the first Eastbay National Coach of the Week for Spring 2009! Eastbay Coach of the Week Coaches will receive a team color Eastbay jacket.