2009 Track Week 2

Coach Armando Siqueiros

Mission College Prep CA

Throughout the 2009 track season, the editors of DyeStat.com will choose an Eastbay National Coach of the Week to recognize coaches around the country for outstanding recent achievements in guiding prep athletes.

Coach of the Week Archive

"I set out to teach those kids how to set a goal, how to make a plan to achieve that goal and how to carry out the plan."

Interview by SteveU


Dr. Armando Siqueiros never imagined he'd be coaching the country's best female distance runner, and eventually, the country's most popular prep track and XC athlete – period – when he started at Mission College Prep in San Luis Obispo CA several years ago. His son had competed in XC and now wanted his dad to help start a track team there. When he heard "Jordan" was coming to MCP, he really didn't know who she was.

It wasn't that "Mando" was a stranger to the distance running world, just the youth distance running world. He had been running competitively for years, as an NCAA D-3 All-American, and then a near-national class club and, eventually, masters runner. But he was about to begin an amazing ride coaching the one and only Jordan Hasay.

Though the competitors in last Saturday's 3200 at Arcadia produced an outstanding race, led by Alex Dunne's victory, there was a huge hole in the heart of the event. It was a rough day for the coach and his star pupil, with Jordan finally deciding after warming up that she was too ill to run, concurring with what Coach Siqueiros had strongly encouraged.

While that was a down moment for the pair, the last four years has been mostly filled with soaring highs, including Foot Locker and USATF titles, a countless list of state and invitational championships, scores of records on many levels, and a 1500 USR at the Olympic Trials last year that put Jordan over the top as the sport's brightest prep star. Few, if any, prep athletes in history have had more written about them than she, and many of those stories have included insights from Dr. Siqueiros.

But what about the story of Mando himself? How exactly did this doctor of internal medicine in San Luis Obispo CA he arrive at MCP, how has he developed his coaching philosophy, and what about the team behind the superstar? Read on to learn more …


Coach Siqueiros Q&A

DyeStat: A lot of people don't know the story about how you started with Mission Prep. Can you share how working with the school and with Jordan came about in the first place?

Coach Siqueiros: I started coaching at MCP at the request of my oldest son. I had asked him once he started high school to go out for a sport. He had always been a football fan and I thought he'd try out for football. To my surprise, he decided to run XC. I had known the XC coach for years... she was his second grade teacher and a local runner. She had been looking for help and I offered for XC. I started just learning who the kids were and what they did.

When spring came around my son came to me and said, "Dad, a couple of us guys want to start a track team." That first year there were four guys who were diehards and two others who kind of came and went. The four diehards were two juniors and two freshman. The two original freshmen competed all four years. The two juniors competed both their junior and senior years.

This all started the year before Jordan enrolled at MCP. I had not followed youth or age group running and I knew nothing about her ... in fact I had kind of lost touch with competitive running as I had started a new business that consumed the rest of my life (besides coaching). When people started to mention "Jordan" was coming to our school I thought OK ... nothing more nothing less ... just another kid.

Remember, I grew up in the running crazed '70s. I had been involved with the sport since then and seen and heard of all kinds of phenoms ... perhaps she was just one more. I had had the opportunity to run with and know Olympians. I had undergone medical school and residency training. I wasn't intimidated with the thought of coaching some high school kid. In fact, my original idea was to teach the kids something of what I had learned from the sport. I learned to set a goal, make a plan to achieve my goal and then carry out the plan. It had nothing to do with running fast at all. And so I set out to teach those kids how to set a goal, how to make a plan to achieve that goal and how to carry out the plan.


DyeStat: You were a successful college and post-collegiate runner, even into your masters years. Can you share how you integrated your own personal training philosophy into your coaching? What worked and what didn't?

Coach Siqueiros: As I said I was a product of the 70's. I remember prior to the 1972 Olympics watching commercials of Kip Kieno running up Mt. Kilimanjaro, training for the Olympics. I had seen some of the '68 Olympics on TV, too. We had a successful and charismatic high school coach that turned me on to running and I was hooked.

I went to college with the idea that I would someday compete for an NCAA championship (what a dreamer!). I made a number of errors regarding the NCAA and transferring schools. This left my eligibility in question and I decided to enroll at UC Santa Cruz, which at the time did not have a team nor was it an NCAA affiliated school. That first year I was there they became NCAA affiliated and I ran for them ... I ran in Kenosha, Wisconsin that fall where you proceeded to pound me! Hahaha

(note: SteveU and Mando competed together in the 1981 NCAA D3 champs, both finishing in the top ten. While SteveU finished ahead of Mando that day, Mando would go on to be much better!)

Through this time, I coached myself. I read as much as I could and tried to do as much as I could. I ran anywhere from 80 to 140 miles per week, trying to figure out what was best (140 miles a week didn't work too well, I ended up injured all the time).

When I went to medical school, I hooked up with coach Vince O'Boyle and there I started to learn how to put things together (in the past I thought I was taking what was best from each coach or runner and putting it together for me). After a couple of years of running, watching, and learning how he and others put their programs together, I soon became completely engulfed with medical school and residency training. I continued to run as best I could, but my development stagnated. I moved up to San Luis Obispo in '92 to start my practice of medicine and run with my friends. I did the best I could, given my schedule, and soon I was a masters runner.

What I learned from the years of medical training, medical practice and running (with some truly gifted and talented people) could fill volumes. What I have been learning of late is how to adapt this knowledge to kids of all levels. I would say I still have much to learn with this adaptation, as I am sure many kids may feel I am too rigorous.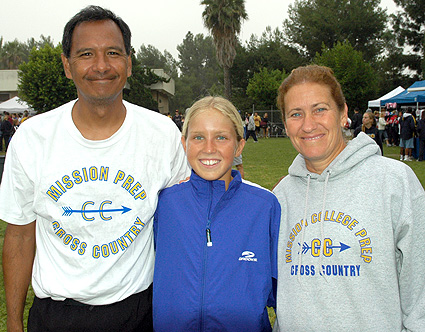 With Jordan and Coach Monaco at Foot Locker 2005. Photo Donna Dye


DyeStat: There have to be special challenges of working with a team with a super elite athlete that stands above the rest, yet trying to make the whole team successful. What have you tried to do to meet both challenges and integrate things whenever possible.

Coach Siqueiros: So there I was, trying to adapt what I knew with the majority of the kids, when along came Jordan: great talent and work ethic all wrapped into one. What I quickly saw, however, was how naive she was and how those basic things I wanted to teach the other kids she could benefit from, too. Needless to say, she has been a very quick learner and is advanced far beyond the basics. We now speak of learning how her body is responding to workouts, like what measures she can use to judge how she is doing. We speak of race tactics and how to execute them. The exciting part is she has the ability to execute a technical race plan.

As far as workouts were concerned, I was initially just aiming for fitness. I would try to stretch out our warm ups as long as I could. Some kids would run to the workout area (a trail or the track; we have no place for them to run on campus), rest and then turn around and run back. Coach Monaco (the continuing head XC coach) would work more specifically on drills and usual core training.

(One of our difficulties is we don't begin practice till 4 p.m. The kids are supposed to be able to go for tutoring from 3-4 p.m. every school day. So we are time-crunched, particularly in the fall when it gets dark so early after daylight savings.)

I worked (and continue to work on) on a basis of long "tempo"-type workout early in the week and a strength (hills), race pace or speed-type workout as the second hard workout of the week. That's all the hard work I ask the kids to do. It would be nice if they could do a long run on the weekend. I have purposely tried to keep it very simple.

With those guidelines I have been able to just "add on" or "cut down" on volume/speed for kids as their ability dictates. Of course, Jordan has been doing the highest volume and fastest speed for most of the time. In track, like any other coach, one can have multiple workouts going on at the same time as the kids are working for different distances or goals (I currently only coach distance events but briefly coached sprinters.... no field events).

One of the hardest parts has been the warm up. Most of our kids can't do as long or as fast a warm up as Jordan does. Lastly, because of the quality of work Jordan has been trying to do the last few years, we have moved to an all-weather track out of town and not all the kids can make it consistently.


DyeStat: As a doctor, you have depth of knowledge in some areas that many coaches don't. What have you been able to use from your professional training and knowledge to help train distance runners?

Coach Siqueiros: What I do with the kids is try to teach. Perhaps I am more in tune with physiology and therefore I try to teach them some basic physiology. As a measure of stress, I want them to understand baseline resting heart rates. I ask them to take their heart rates first thing in the morning. Over the course of a season, we can see the baseline rate decline as they become more fit. They can see their baseline heart rate go up as they are stressed from lack of sleep, illness or difficult workouts amongst other things. I am very comfortable in speaking with the kids about their questions regarding health and exercise.

I also think I may look at the sport differently from some coaches. I think of long-term health effects and having a healthy lifestyle. I have to admit this is beyond most kids. I can keep this sport in perspective and it helps to allow the kids to learn to deal with success and failure, a huge life lesson.


DyeStat: As you look back over your years of training Jordan, what are the things your most proud of? What are some things you'd do differently if you could all over again?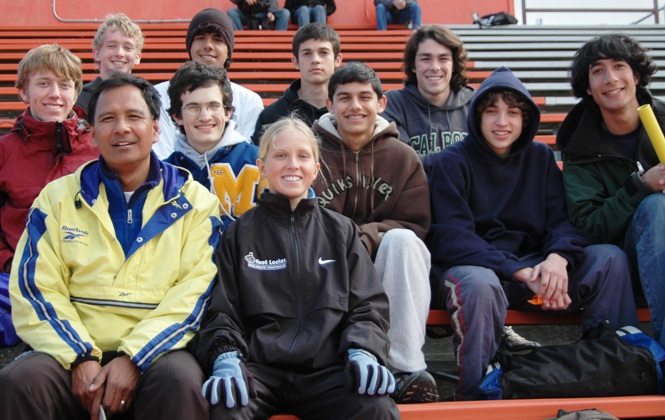 Coach Mando, Jordan and the Mission College Prep team. Photo submitted


Coach Siqueiros: Over the years, I am proud of the development Jordan has made in her training, in her racing and the fact that she has had no major injuries. She is really learning how to read and communicate what's going on with her body. She is learning how to have the discipline to make tough decisions. I believe she is learning how to rest and how to respect the talent she has.

I have a few sayings I have shared with her over the years, such as "the key to success is not working harder but working smarter." She's really picking up on that one. I have asked her to have faith in the work we do to prepare for races, to have the patience to carry out the plan we come up with, and not to panic if things aren't going our way – we're smart enough to figure out something that will work. I am proud of the fact that she still enjoys the running she does.

If I could do things differently, I am not really sure what I'd change. I believe we learn the most through the unexpected. Those unexpected tough times were hard to deal with ... the first Foot Locker loss, the hard workouts that went array, this current reign of illness ... we are learning how to deal with these things as they come up.


DyeStat: Building on that last question … What are the things you are most proud of as a coach regarding the Mission Prep program in general? Of building a competitive D5 program in California?

Coach Siqueiros: First, remember that I did not build a XC program. The program had been going for about 10 years, I think. However, in the five years that I have been at MCP we've had four different male runners win the Central Section title. I am not sure if we had ever had a male individual Section titlist before that. I am proud of that impact I've had on XC.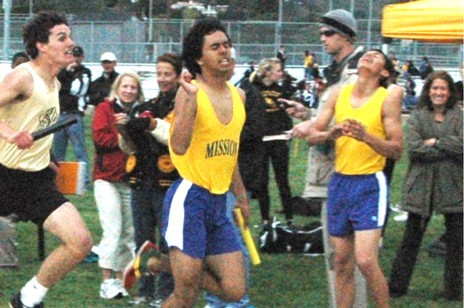 A memorable first relay win for Mando's MCP relay crew. Photo submitted


In track, it has been quite a blast! That first year our two freshman had never run at a track meet. I'll always remember that first meet. They had to run varsity because we only had 2 other kids (juniors). We ran a distance medley. One freshman was running the 400 leg and the other was running the 800 leg. I pulled them aside and said, "This isn't XC; you guys gotta get out there and run when you get that baton." They took off so fast! It was painful to watch that last 100! I realized, I've got to be careful what I say!

That first year our 4 x400 relay didn't break 4 minutes. Our fastest miler barely broke 5 minutes. However, we've now had a team run 3:36 and change for the 4x4 (with those original two freshmen on that team), a 2:00.01 800m, 4:20.9 1600m and 9:27.99 3200. I've had 3 girls, counting Jordan, under 5:20 at 1600m, and 2 girls under 2:20 for 800m (I believe this year we'll have our third). And I've had kids win numerous races. This past week I had one kid win the first race of his life and boy, was he psyched!

The local track community has really helped us out. We do not have a league, so to speak. We now walk down the street and compete with that "big" school the kids were initially intimidated by. I'll never forget the first time our 4x400 team won a race there. (see photo at left) You know how the kids line up on the side of the track for the last 100m, especially when the meet is close? I'll never forget standing next to some kids from an opposing school hearing a kid say, "What the ****, MCP is going to win this!" They just couldn't believe our team could do it! The other coaches have helped me tremendously. It's just been a great experience. I hope I have given the kids some tools to create their own success in life!


DyeStat: We've talked a little about what it will be like for you as a coach when Jordan leaves … or if you'll even continue coaching. Can you share more about that?

Coach Siqueiros: I am definitely going to go through withdrawal when this current class graduates. I am getting used to it, though. I went through withdrawal pretty hard this year after my oldest son (the "instigator") graduated.

But it has been harder to coach now that I've changed my job once more; I am now back in my office (like a traditional doctor). The problem is I am only out there twice a week. I tell the kids what other runs to do while I am not there. That's not fair to the younger ones ... they need more direction. It's also not fair to the older ones to expect them to "slow" their runs down to monitor or supervise the younger ones. I just cannot afford to close my office every afternoon to be out there to coach.

I am not sure yet what is going to happen next year ... I'd like to think I'll be coaching at some capacity at some level somewhere, but I need to figure something out. I've really enjoyed this!


Congratulations to Coach Armando Siqueiros, the second Eastbay National Coach of the Week for Spring 2009! Eastbay Coach of the Week Coaches will receive a team color Eastbay jacket.