2009 Track Week 3

Coach Kristin McWilliams

Bishop Kenny HS FL

Throughout the 2009 track season, the editors of DyeStat.com will choose an Eastbay National Coach of the Week to recognize coaches around the country for outstanding recent achievements in guiding prep athletes.

Coach of the Week Archive

"While team and individual championships are awesome, true success comes when I get kids excited about the sport of track and field."

Interview by Laura Magee


A sea of red and black, the Bishop Kenny Crusaders are impossible to miss at Florida cross country and track meets. Carrying a team of approximately two hundred athletes in both fall and spring seasons makes this head coaching position a daunting one. Coach Kristin McWilliams jumped at both the opportunity and challenge.

McWilliams relocated north from Tampa to Jacksonville in 2006 in order to fill a position teaching mathematics to Kenny students and to coach the BK boys. Upon arrival, McWilliams was greeted with a lesson of her own-- a history lesson. The history of success and tradition of excellence within this perennially strong program guaranteed that the eyes of athletes, parents, fellow coaches and former athletes would be closely watching her every move as "the new coach." A few short months, and some measurable success as both District and Regional champs with a young team, turned any remaining skeptics into supporters.

It is nearly impossible to not become a supporter of McWilliams and her team, when you see the dedication she has to the sport. Her main goal is helping the Crusaders reach their potential and develop a lifelong love for the sport of running. McWilliams shared with me the road that brought her a love for running, a love that now fuels her coaching. Before this weekend's Florida state track meet, take a minute to learn more about the force that guides the mass of red and black.


Coach McWilliams Q&A

DyeStat: You coached in Tampa FL for several years before moving to Jacksonville for the Bishop Kenny position. Flashing back even further, how and when did you initially get involved in the sport of running? How did your running experiences lead to your coaching career? And, how have those experiences shaped you as a coach?

Coach McWilliams: Growing up, I always won my elementary school's fun run, and I could run forever! Eventually, they would pull me off the track when my face would turn purple. My dad and I ran the Gasparilla 5K in Tampa every year, and in junior high we ran before school on my future high school's track.

I was a cheerleader in ninth and tenth grade, but finally decided to hang up my pom-poms to run cross country as a junior. I didn't run a step all summer, joining the team on the first day of school, so I can relate well to my incoming freshman and rookies. I understand that not everyone can come out and run far their first practice! I wish somebody had told my high school Coach Roy Harrison that same principle. He made me run 3 miles my first day, and though I lost my lunch it made me tough!

DyeStat: Although you work as head coach, your focus at Bishop Kenny has been the boys program. Having coached both boys and girls in the past, what differences do you see in the two genders when it comes to running and coaching styles that work best? Do you see yourself coaching girls again in the future?

Coach McWilliams: There is quite a difference! My first five years in Tampa, I coached both genders and that was quite a challenge to switch gears between the two. I think that girls thrive on positive feedback; the hardest part is instilling confidence. While boys obviously need some positive feedback, if they have a tough race, they don't want to hear "Good race" or "That's alright, you did your best." They want to know what specifically what they did wrong and how they can fix it for next time. They are also very competitive and sometimes keeping their competitive drives in check can be quite a challenge. Convincing them not to race at the end of a distance run, or being consumed with their team mates' times in a workout can be tough. I have also found that girls tend to like "fun" workouts like fartleks, and boys prefer structured intervals where they can try to hit certain goal times. Girls tell you they love you, and boys show you by letting you be a part of their conversations/jokes and getting involved in their shenanigans. I actually took over as the Head Girls Coach this past track season in addition to the boys' position, so I only had a break from coaching girls for two years. Our former Head girls' Coach Mary Terry had a baby but remained on staff as the Girls Distance coach and does a phenomenal job!

DyeStat: Coaching is often a time-consuming and thankless job. Nationwide, the female to male coaching ratio is dramatically skewed. Why do you think women are less likely to take this type of position? How is it being one of the few female head coaches in the sport? What challenges has being in this minority presented? What advantages?

Coach McWilliams: I think many females retire from coaching or lessen their roles to start a family. I am single so I don't have that problem! I also think that many schools are not willing to put females in head male coaching positions. I was fortunate to get the opportunity at Robinson High and Berkeley Prep (both in Tampa) as well as at Bishop Kenny. With my first job 8 years ago, I think they were just desperate to fill the Cross Country position since the year before I took over, there were only 5 athletes combined on the boys and girls teams. In my case, it was being in the right place at the right time and having incredible mentors.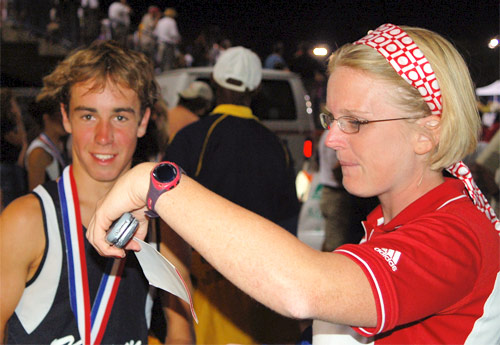 Coach McWilliams with BK distance standout Michael Wallace. Photo submitted


I would be remiss if I didn't thank the coaches in Florida who gave me advice over the years and didn't look at me as some silly little "girl coach." Mike Hill (Winter Park), Ladd Baldwin (Gaither), Rod Archield and Trey Hicks (Robinson), Dave Rittenhour (Sickles), Ray Rodriguez (Jesuit), Roy Harrison (Plant), Doug Butler (Holy Trinity), Andrew Wills (Leon), Dave Halliday (Flagler Palm Coast), Ernie Chatman (Hernando), Brian Devine and Tracy Kuhn (former Bishop Kenny), Tony Ryan (Bolles), Paul Nowicki and Dave Frank (Bartram Trail) and my all time hero and mentor Mike Boza (Jesuit/Plant) have all made me the coach I am today. I think the advantage of being a female coach is that people are surprised and impressed when we have success.

DyeStat: Heading into the state track meet, you have two athletes, Michael Wallace and Colin Barker, that could potentially take home state championship titles. How is it coaching two strong athletes, who are both teammates and competitors? What are the benefits and challenges of having that strength up front?

Coach McWilliams: It is incredible! Their success has afforded me the opportunity to travel to Nike Indoor, Arcadia, Nike Outdoor, Great American and other big meets. They are both just juniors so the fun has just begun!

It is tough though as they have shifted positions on the team. Michael Wallace has been our top runner the last two years, winning a state title in the 3200m as a sophomore and the Cross Country title as a junior. His teammate and best friend Colin Barker grew over seven inches his first two years of high school and battled through the growing pains to emerge as our top runner in school history in both the 1600m and 3200m. Both boys are incredibly coach-able and take care of the little details in their training and in regards to nutrition, rest, and stretching. They motivate the other athletes on the team with their unparalled work ethic and positive attitudes.

Our team has almost 200 athletes so it can be a challenge to give everyone enough attention, much less these national caliber athletes! They are usually the last ones at practice everyday so I try to wait to discuss things with them when everyone else has gone.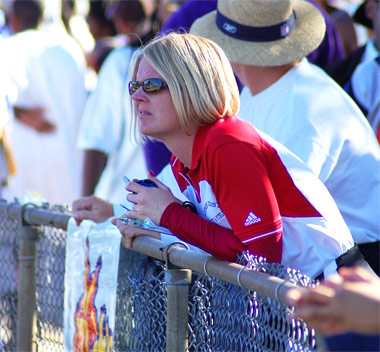 Coach McWilliams "on the rail" at FSU Relays. Photo submitted


DyeStat: With coaching prep, there is a constant flow in the team dynamic. Student-athletes graduate and new ones come in to fill their shoes. How do you look at each team from year to year? What does it take for you to feel a season has been a success?

Coach McWilliams: It can be dangerous to compare each group from year to year. When I was at Robinson, I had incredible sprinters and a 7-foot high jumper. I may never coach a jumper of that caliber again. My current jumps coach Randy Reagor always teases me because he tells me my standards are too high and that I am not easily impressed. I have to be careful not to expect kids to do what others before them have done. Coaching at Robinson made me a more well-rounded track and field coach.

Now, I am confident that I can coach any of the high school events, since I stepped out of my comfort zone of the distance events. With each upcoming year, I assess the returning talent and try to pull freshman from my math classes to try out for track. While team and individual championships are awesome, true success comes when I get kids excited about the sport of track and field. I try to do track trivia and give kids articles about running in order to facilitate their passion for the sport.

DyeStat: Bishop Kenny has a long-standing tradition in cross country and track. Many of the alumni, particularly the 1991 state championship team, hold that tradition very dear, even gathering annually to compete at an Alumni cross country meet held in August. How does that pride exhibited by the now 30-something year old men influence the current BK athletes. How do you help promote the tradition of pride?

Coach McWilliams: Our alumni are amazing! We often have over 100 alumni participate in our Alumni Fun Run. They write the boys inspirational letters before State, give motivating talks to the kids, and last year donated over $4,000 to our program. I am fortunate to be close friends with our two former coaches Brian Devine and Tracey Kuhn. They did a phenomenal job educating me on our "Tradition of Excellence" and helped me instill these values in my current team. I keep an open communication with our alumni and try to keep them apprised of upcoming events and the current teams' success. When Barker broke the 1600m and 3200m records this year, the first congratulatory email I received was from J.D. Weiskircher who previously held the 1600m record. Our shot put record holder Margaret Schuchts came to our Regional track meet in Tallahassee this year to see our Rookie Lauren Brumley throw (she is 7 inches off the record in her first year). That kind of support is unreal. Each year, I uphold the previous traditions and have created several new traditions of my own.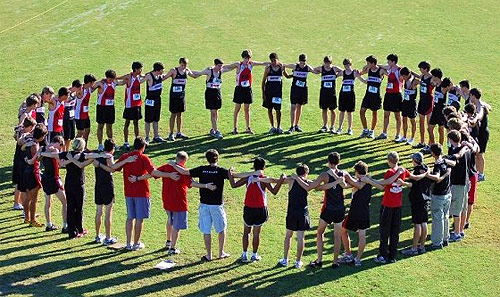 Bishop Kenny team prayer prior to the Bale N Trail Invitational . Photo submitted


DyeStat: What is the most challenging aspect of coaching track? What is the most rewarding?

Coach McWilliams: The hardest part of coaching track is trying to be at several places at once when the field events and running events occur at the same time. It is all about balancing and realizing that I am only one person. Luckily, I have an incredible coaching staff.

The most rewarding part is getting to know the athletes on a personal basis and seeing them continue to compete in college. One of the coolest things this past year is that two of my captains joined our coaching staff, Steven Flemmer and Adam Thompson. I must be doing something right if they want to continue to be a part of the tradition of excellence!


Congratulations to Coach Kristin McWilliams, the third Eastbay National Coach of the Week for Spring 2009! Eastbay Coach of the Week Coaches will receive a team color Eastbay jacket.