2009 Track Week 4

Coach Mike Hart

Dallas Gold TC, TX

Throughout the 2009 track season, the editors of DyeStat.com will choose an Eastbay National Coach of the Week to recognize coaches around the country for outstanding recent achievements in guiding prep athletes.
Coach of the Week Archive

"I remember when I saw Sanya Richards run for the first time as an intermediate level athlete, I said to myself, that is how I want my athletes to look and run like."
Interview by SteveU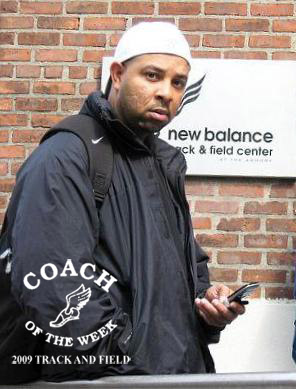 At the Armory ... Photo submitted


You've seen them before, at indoor meets here and there, up to the national championships, and all over the summer championship and Junior Olympic scene. Those dashing young ladies in the "Dallas Gold" uniforms. When we think about high school track, we most often think of the high school programs and the seasons up through the state meets. But for thousands of prep track athletes around the country, clubs are as big or a bigger part of their training and competition structure as high schools. In some areas, there are the only chance athletes have at quality training as they aspire to the next level.

While there are strong, prominent clubs of all shapes and sizes around the country, Dallas Gold is certainly one of the best for elite sprinting and hurdling. The list of girls who have trained in the program – Porscha Lucas, Victoria Jordan, LaKeidra Stewart, Ashley Collier – is made up of some of the best prep sprinters this decade. Behind much of their success is the quiet, firm, and studied efforts of Mike Hart. Coach Hart's main passion formerly resided on the gridiron, but with exposure to the sport, especially on the club level, his passion grew. Studying the greats in the sports, he has helped put together an all-around program to help athletes develop, compete, and position themselves to earn scholarships and go to the next level.


Coach Hart Q&A

DyeStat: Were you the founder of the club, and can you talk about either what motivated you to start the club or (if you didn't start it) what motivated you to get involved in coaching with the club? What kind of competitive and coaching background did you have prior to Dallas Gold?

Coach Hart: Yes, I was one of three coaches to form Dallas Gold. Two of the three coaches are still involved with the team, including myself. I first got involved with summer track through one of my former summer coaches that I ran for during my teenage years. After volunteering that summer, two of the coaches from that club and me decided to form a new club, which is how Dallas Gold was started. Coaching is something I never dreamt of doing, especially track, but I became the head girls coach of this new team, primarily working with high school level athletes.

My first love growing up was football. At that time, running track for me was just something you did to stay in shape for two-a-days in the fall. Also, running summer track allowed me to travel to other states for Junior Olympics, places I might not have normally had the opportunity to visit. And it allowed me to meet athletes from other high schools in the Dallas/Ft. Worth area.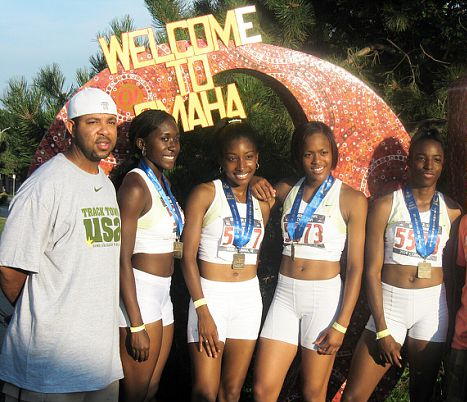 With a relay quartet at USATF JOs in Omaha. Photo submitted


DyeStat: Texas seems to have one of the most prominent club scenes of states around the country. Any thoughts as to why that is? What kind of things can a club like Dallas Gold provide that a high school team is unable to do or doesn't do as well?

Coach Hart: Texas is such a large state and there is a lot of undiscovered talent in every city. Summer track is where undiscovered athletes are discovered. The weather is also a factor as far as training is concerned. We (coaches) are able to train outdoors almost the entire year, which allows us to have better sprint marks than other northern states.

A club like Dallas Gold is unique. We spend most of our time teaching the basic principles of track and field. For instance, things like strengthening the core, body position while running, block clearance, proper stretching, running mechanics, eating habits, and mental preparation before competition. Unfortunately, high school coaches are completing their fall sport and going into spring sport and are unable to give an athlete or athletes the individual attention that is needed in track and field.


DyeStat: Are there some athletes that you coach during their high school seasons? How does that work out and what kind of arrangements do you have to make sure that it works for everyone involved?

Coach Hart: The majority of my athletes train with me year round and the bulk of our training is done in the fall. Then, we participate in two to three indoor meets to see the progress we have made from our off-season training. After that, they compete with their high school team in the spring. Last, we try to be at our peak between the state meet and Junior Olympics, if possible.

It has been a challenge for me over the years to get the high school coaches to understand that I put a lot of thought into what I do with athletes during the entire season. We do a bare minimum of practicing (one or two days a week during the high school season). We spend most of our time on blocks and form running. I do not believe in overtraining the athlete. Every sport, like football, basketball, volleyball and other sports are able to have more than one coach to learn from – why not track and field athletes?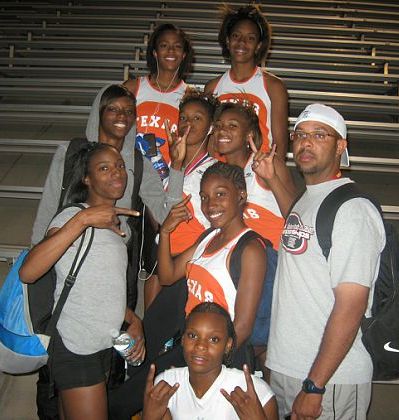 With Team Texas at Great Southwest. Photo submitted


DyeStat: How did it turn out that the club just works with girls and mainly sprinters at that? What differences have you found coaching girls vs. boys?

Coach Hart: Since the beginning of Dallas Gold, I was over the girl's program, and I have been blessed to train some of the best female athletes in the state of Texas as well as in the country. Training young female athletes teaches you to be patient, understanding, and encouraging. The team consists primarily of sprinters because I believe that sprinting is the foundation to every event in track and field. I also love teaching 300/400 hurdles, and the 800 meters, which takes speed and strength to be great.


DyeStat: Please talk about some of the key elements of your training philosophy. What are some principles you learned from other coaches and what did you develop through trial and error yourself. What might some observers say are the hallmarks of a Mike Hart-coached athlete? Are there some myths about sprint training that you find yourself having to clear up with athletes who might have learned otherwise from somewhere else.

Coach Hart: Well, my training philosophy is not something I just thought up overnight. I have been coaching for almost ten years. Through trial and error, and speaking with a few collegiate level coaches about training, I was able to come up with a training program that would allow high school level athletes to run fast enough to earn Division I level scholarships.

I remember when I saw Sanya Richards run for the first time as an intermediate level athlete, I said to myself, that is how I want my athletes to look and run like. So I watched lots of film of runs that had that similar style, and if you have ever seen any Dallas Gold athletes run before you can see that they all have similar running styles compared to other high school athletes.

Yes, there are some myths out there about sprinting, but I believe that certain things may work well for one athlete but not another. As for the coaches, I suggest that every coach (all levels) should become USATF Level I certified, or have some basic fundamentals in developing athletes, before instilling incorrect information into young undeveloped athletes.


Congratulations to Coach Mike Hart, the fourth Eastbay National Coach of the Week for Spring 2009! Eastbay Coach of the Week Coaches will receive a team color Eastbay jacket.