2008 XC Week 8

Coach Shaun Zepf

Burnt Hills-Ballston Lake NY

Throughout the 2008 cross-country season, the editors of DyeStat.com will choose an Eastbay National Coach of the Week to recognize coaches around the country for outstanding recent achievements in guiding prep athletes.
Coach of the Week Archive

"It was difficult at first to get the girls to buy into what I was trying to do, but it all starting to come together with the emergence of Meaghan Gregory as my top runner in 8th grade. She bought into the system and has brought along Sam Roecker, Rachael Cyrus, Molly Pezzulo and others along with her."
Interview by SteveU; photos submitted by Coach Zepf

Shaun Zepf was a soccer player, turned prep runner at Burnt Hills-Ballston Lake NY, turned collegiate runner at SUNY-Cortland. There was a great coach, though, waiting to break out and all it took was realizing who his own coach was to begin bringing it about. Zepf learned everything he could under the legendary Jack Daniels and began to apply it at Scotia HS in NY.
When he had a chance to return to his alma mater five years ago, though, the magic began to build. The result has been New York 3 Class A titles in XC and a Federation title this year. The school's club also placed 5th at NTN last fall and hopes to earn another bid this weekend. On the track, Burnt Hills last winter and spring took NSIC and NON 4x1 Mile titles, running near-national-record times in both instances.

Coach Zepf Q&A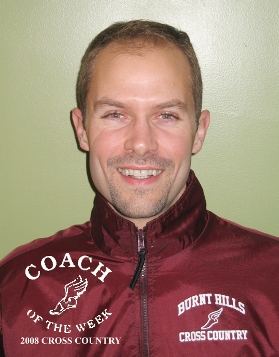 DyeStat: Your girls started the season very highly ranked nationally, dropped some spots during the year, but ultimately came out on top at The Federation meet November 15. Having had some time to reflect, what were some of the biggest lessons you as a coach learned this year, and what your athletes learned as well?

Coach Zepf: We were aware of the national ranking, and although a great honor, it was not our focus. We have a system that stresses early-season base fitness and not race readiness. We ran very few races early in the season, and when we did, we used them to work on different facets of racing strategy that may not have led to the best results, but laid the groundwork for later success. It takes a certain level of patience and trust in the system to make it work. We knew that our ranking would take a hit, but our focus is on season-ending peaking and not early season success.

For us, Sectionals, States and Federations were our focus and the girls learned to believe in the system, their fitness and each other through layers of trial and error.


DyeStat: Last year, your team bypassed the Fed meet to prepare for NXN the following week. This year, Fay-Man did the same thing, but you competed. What was the difference between this year and last for you and your team in this situation?

Coach Zepf: Two things: One was the health and fitness of Meaghan Gregory and Molly Pezzulo last year. We wanted Meaghan to have one more week of training coming off of mono to help build fitness and more importantly confidence. Meaghan is an experienced runner who needed just a little more time to be race ready. Molly, unfortunately, suffered a minor calf injury following our sectionals and we wanted to give her one more week to heal. She was unable to get back in time, but the extra week off gave us our best chance of getting back one of our most important runners.

The second reason we skipped Feds last year was due to the fact that I believe there is a limit to the number of races high school girls should run in a season and especially in consecutive weeks. Running in NY Section 2 affords us no easy races. This year Feds was followed by a week off before the regional meet, and the girls are all healthy and fit, so we decided to run Feds.


DyeStat: Nike Cross Nationals has provided some incredible opportunities with its meet, but obviously the scheduling of regionals has created some challenges. What are some of your thoughts on having HS XC nationals, the way the meet has evolved, and the approach that has to be taken to keep kids focused on local and state competition, but at the same time ready for the national state of an opportunity arises?

Coach Zepf: Nike Cross Nationals is a great oppurtunity for cross country kids to get the national exposure that they so deserve. I feel that Nike Nationals has had a tremendously positive influence upon our sport. It has helped raised the standard of performance in much of the country and given teams something that they can dream about and strive for.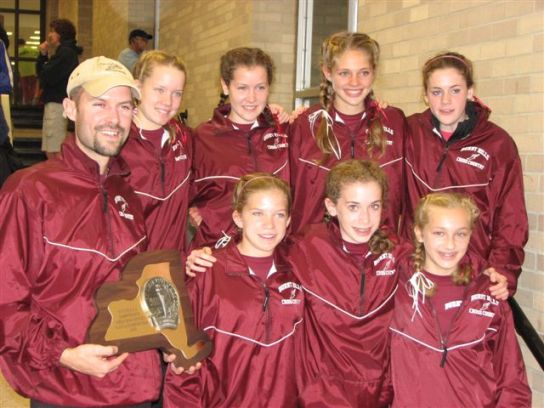 The only difficultly with the current setup is the length of the season, which has taken a tremendous amount of planning and patience to pull off. We have to learn how to alter our training to keep the kids fresher later into the season while still balancing our local and state championship season. The workouts now focus on mid-November peak instead of a mid-October peak. Our girls have been patient and bought into the system.


DyeStat: Let's go back to the beginning now … tell me about your own running background and how you got into the sport. Then in college, I've read that you ran under Coach Jack Daniels at SUNY-Cortland. I got the impression that you weren't initially aware that he was a coaching legend until you were already running there. True?

Coach Zepf: I started running in 8th-grade at Burnt Hills under our current boys coach, Chip Button. I was a soccer player, but switched to XC when Coach Button took over the team my junior year. At SUNY Cortland, I was able to train under the guidance of Jack Daniels.

It is true that I had no idea that he was a legend until one day after practice I was over at a friend's house and saw a copy of Runners World with the title "Training tips of the World's Greatest Coach." I opened to the article and saw Jack!! I was stunned to say the least. I had just done a workout with him less than an hour before.


DyeStat: Can you talk about the process of how and when you first started talking about coaching with him (long bus rides?), and how you personally evolved from simply a runner to someone who really wanted to learn and then apply to others as a coach yourself?

Coach Zepf: I knew I wanted to be a coach and I could not believe I had the opportunity to learn from one of the world's greatest. After reading the article, I took every opportunity to listen to Jack, ask him questions or just simply watch him interact with his athletes. Jack was a quiet man, but all it took was a little patience and he would open up and tell stories for hours on bus rides or at meets about his training philosophies, former athletes or great journeys he had been on.


DyeStat: Did you coaching path take you directly to BHBL or elsewhere first? Not many get a chance to coach at their high school alma mater; how did that come about? What kind of unique challenges are there coaching in an environment where people already know you pretty well?

Coach Zepf: I first coached at Scotia, a nearby school where I had interned as a special education teacher. I had the opportunity to coach great kids, including Caroline and Jillian King. I ended up at Burnt Hills by pure luck. I picked up the Sunday paper and saw that Burnt Hills was hiring a special education teacher and decided to apply. I had not been looking for a job; I was very happy at Scotia, but teaching in Burnt Hills was something that I had always wanted to do. It was home for me. I do not believe there were any unique challenges to coaching in Burnt Hills besides calling my old coach by his first name. That took a while to get used to.


DyeStat: Can you talk about what it's taken to transform the program over the years, the mental approach you've had and how you've sold the girls on their potential? Have you had a lot of school and community support, too?

Coach Zepf: Transforming the team over the past five years has been a challenge. I was a new coach coming in with new ideas, philosophies and a different personality. It was difficult at first to get the girls to buy into what I was trying to do, but it all starting to come together with the emergence of Meaghan Gregory as my top runner in 8th grade. She bought into the system and has brought along Sam Roecker, Rachael Cyrus, Molly Pezzulo and others along with her. If your top runners and leaders believe in you, it is much easier to get the others to do so. I owe so much of our success to these young ladies and their belief in each other and the system.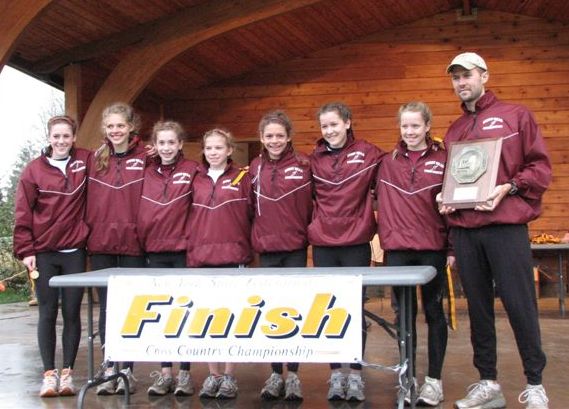 The mental approach has been the most important part of our transformation. The girls are now willing to sacrifice for a common goal. "The will to succeed is nothing without the will to prepare." The girls have bought into this idea and it has helped them to trust in themselves and each other. They know when they step onto the line that they may not be the most talented team, but they have confidence in their preparation, toughness and heart. They know if they race this way, wins and losses become secondary.


DyeStat: Getting more to the nuts and bolts, what are some specific training principles you incorporate, in terms of pre-season, volume, key workouts later in the season, etc. What are some of the principles straight from Daniels and what are some you've developed yourself?

Coach Zepf: I use a model based on Daniels' formula. We focus on early season (summer) base mileage with one longer tempo day and one long run per week. The season is broken down into three phases that mirror the basic stages of Daniels with different degrees of variation based on past experience. Every workout is tracked and evaluated to see where changes can be made for the next year. It is an ever-evolving process.


DyeStat: It's well-known that there is an incredible level of high school XC excellence coming out a small handful of schools in one part (Section II, Suburban Council) of one state. Is there really this much talent there, or is it more that there's this kind of talent in many pockets of the country, but it just needs the right guidance to bring it out?

Coach Zepf: A very good question and one that I have a very hard time answering. I believe that all areas have talent, but different factors make it more difficult for the talent to surface in particular areas. My idea on why New York girls are so strong is based on the premise that competition causes better teams to surface.

Section 2 is a perfect example of this. Currently we have four teams that have been nationally ranked, two in Class AA and two in Class A. In order to make it to the state meet, you have to beat a nationally ranked team in two different classes. I am not sure that many areas have this issue. It forces Shen and Saratoga or Queensbury and Burnt Hills to run great to get out of Section 2. The great rivalry amongst these schools has made them all better. I know that running against Queensbury, Saratoga and Shen has made us better.


Congratulations to Coach Shaun Zepf, the eighth Eastbay National Coach of the Week for Fall 2008! Eastbay Coach of the Week Coaches will receive a team color Eastbay jacket.