2008 XC Week 2

Coach Steve McChesney

Newton South MA

Throughout the 2008 cross-country season, the editors of DyeStat.com will choose an Eastbay National Coach of the Week to recognize coaches around the country for outstanding recent achievements in guiding prep athletes.
Coach of the Week Archive

"Things are complicated, but we work to teach kids that you don't have to buy into making it so. Being a good citizen that works to add to a community should still be valued. Setting priorities is not a bad thing. Setting out to achieve a clearly defined goal can be uplifting."
By SteveU, DyeStat News Editor; Photos courtesy of carmelxc.com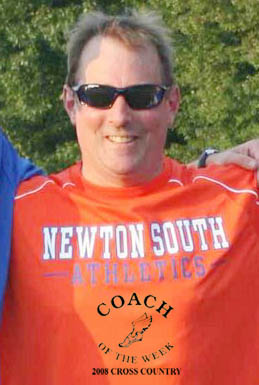 Track aficionados versed in the history of our sport in this country over the past 40 years are no doubt well acquainted with the name "McChesney." Mention of the family, especially to fans in Tracktown, USA, (a.k.a. Eugene, Oregon), evokes memories of legendary prep 4x 1 Mile relays, and then brothers wearing the Ducks' green and gold in the era following Prefontaine and bridging into the days of Salazar, Centrowitz and Chapa. Bill was the fastest of them, a gritty, record-setting runner who became an international standout and is still one of America's best-ever distancemen. There was later tragedy, as the lives of brothers Tom and Bill were lost in accidents several years apart. Still, the family, with parents Bill and Marcia, continues to be part of the beating heart of the track life in Eugene and the country as a whole.

The McChesney influence on American running, however, is not limited to Oregon. Almost 20 years ago, Steve McChesney came to New England, having already been a successful coach at two Oregon schools, including his alma mater (South Eugene). You could say Steve traded one running hotbed for another – his school, Newton South, is a few miles south of Heartbreak Hill on the Boston Marathon course. He has built a program here that has won consistently.

The past few years, Newton South and their nearby rival Lincoln-Sudbury have developed a strong presence on the national radar. They currently in The Harrier Top 25 and, in fact, met in a dual meet this week.


Coach McChesney Q&A

DyeStat: Earlier this week you ran in a local double dual against Lincoln-Sudbury, a battle against the team expected to battle you for the state title and that shares a top 20 spot in the nation, and Arlington. Dual meets seem to be an afterthought, a necessary evil, or completely done with in some parts of the country. How important are they for your team? Is a meet against a great rival like this as important as some of the big invitationals are for you? Are dual meets important, in general, in Massachusetts?

Coach McChesney: I feel a lot of teams and league in Massachusetts love their dual meets. I have loved a good dual meet since my days in Oregon. We cared about the South Eugene vs. North Eugene meets, as well as duals in college vs. Washington State in XC and UCLA in the spring. A good dual meet, at its best, can be so exciting.

And as a coach, having to match wits against the likes of a Henry Phelan (Lincoln-Sudbury coach) is an honor. I think in dual meets, the strategy that goes into a good meet is on a different level than in invites and state meets. In our league, the Dual County League, we award league titles for both the dual meet winners and the league championship meet winners. I think this is a pretty good model that recognizes both kinds of teams.

Our team focuses more on the end-of-the-season coming together of the entire league over the dual meet season. But we do love a good dual meet. I feel the dual meets are an important teaching tool. A double dual (Arlington is also running) against a team like LS, which is so well coached and has such vast experience, can really help our kids grow. In a way, the competition in the dual is close to what we would get in most invites on our state. This kind of meet to me is cross-country in its purest form. We are running against such a great team on their home course through beautiful wood trails.

So to meet a dual meet is a very exciting teaching tool to ready us for the big end of the season challenges.


DyeStat: Being part of a family that has such a strong history in the sport, and the connection to "Tracktown USA," well, we could create a book out of this interview if we went into all of that! There's a few specific things, though, that I think would be most relevant to this interview: First, what are some of the ways you would characterize high school and college running back in the 70s, at South Eugene and then, U of O? What are some of the most distinctive memories that keep coming back?

Coach McChesney: First of all, it was so awesome to see Hayward Field so dressed up for the Trials. I went every day and was so proud of Eugene.

Hey, I was a pretty decent runner surrounded by great runners. It did not occur to me, either in high school or at Oregon, just how rich my experience was at the time. Now I realize I was so lucky to be able to run among the best. My high school team was as good as a decent college team. The thrill of doing workouts with the likes of Billy, Tom, Seth Brown (Florida), Steve Surface (Washington), Chris Neilson (Georgetown), John Gustafson (Indiana) and the like … those workouts in high school were pretty intense and also we had a blast.

I seemed to always to be chasing a brother – first Tom, and then Billy. But we loved the sport collectively and we did not bring hard feelings into the mix. Instead, we all shared the joy of have great training partners in the same house. Dinner was often a track and field think tank with ideas being shared by my parents and brothers. I think when you include Kenny, our youngest brother, who won Junior Nationals in the steeple running for Montana, we were pretty unique. But I though of us being a normal family sharing a common interest. We had a lot of fun being in track and field and cross country together.

I also loved the overnight trips that (Coach) Harry (Johnson) took us on. He took four of us to watch the NCAA championship in Spokane, I believe my soph. year, when Nick Rose built the huge lead on Pre and then Pre came back to win. Talk about inspiration. It was also cool getting to know some of the Oregon guys through my brother Tom, while I was still in high school. Meeting Pre and Pat Tyson while in high school was a blast. To have Pre cheering us on in state meets was a thrill.

When Bill Dellinger recruited me, he had me come to a workout that Matt Centrowitz and Randle Markey were running. Randle was bigger than Matt, over 6 feet and stocky for distance runners. I graduated weighing something like 108 pounds. For a time, I was the smallest runner in the Pac 8. I remember thinking, "Men of Oregon, indeed" and that I had better grow up pretty fast if I was to survive on this team.

My first XC race I went out in 4:16 for the first mile in a 10K and was not all that close to the lead. The Pac 8 was awesome with the three Kenyans (including world-record holders Henry Rono and Samson Kimobwa) at WSU and the Stanford group (including Don Kardong). But with so much success and successful mentors around us, you grew into what you had to do. I was able to run 3 times a PR in the mile in our cut down 6 X miles. I was simply pulled along. In my best 2-mile race, I was hurting with about three laps to go and was trying to find a way out of the pack so I could fade. But I was so boxed in that I got carried along and then kicked to a PR. Not many people get that experience.

Another great memory was the crowd. We ran in front of crowds numbering over 10,000 as routine. But the special part is that the people that made the crowds so special took the time to get to know everyone in every field. They understood our goals and what we were up against.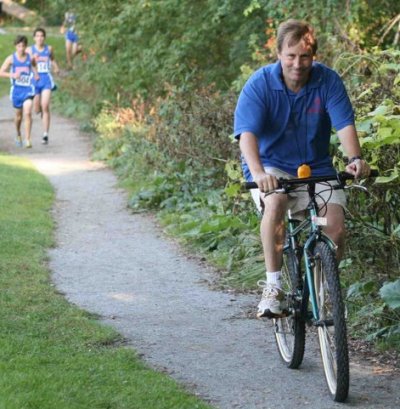 I remember being listed in the Eugene Register-Guard as a dark horse in the UCLA dual meet. Scoring in that meet was so rewarding as the "dark horse" felt that he had come through for a great and roaring crowd and for his team. In my best 10K, in the Twilight Meet, I swear that the crowd carried me along. I had a 50-second PR and I can still hear the crowd to this day. Years later, I got chills sitting in the stands at the Trials.

At Oregon, I learned a great deal from the other guys from all over. We also had a lot of foreign athletes passing through that brought in great ideas and added so much. We got to get to know people like Mike Boit, who is such nice man and a great story teller. But having teammates like Matt Centrowitz, who could settle a young kid's nerves as well as take care of his own business, was a fond memory. On such a high-powered team egos and pecking order could have flared up. But we really were a team and took care of each other. We also did some things socially and we truly respected, and more importantly, liked each other. When I came in as a freshman, Dave Taylor, Terry Williams and Matt Centrowitz really taught me the ropes.

The other thing about Oregon was the quality of athletes in all event areas. I was friends with sprinters, jumpers and throwers and we all got along and supported each other.

So my fondest memories are about the people. My teammates were great athletes to be sure, but they were also characters and a lot of fun..


DyeStat: Obviously, not everyone who is an outstanding competitive runner, or comes from a running family, winds up becoming a coach. What were the factors for you that were inspirational to setting you on this path?

Coach McChesney: I think the passion that both Jerry Andrews and Harry Johnson had for teaching us early on instilled a sense of belonging when we viewed coaches. Bill Dellinger had a calming effect amongst such talent. All three valued sportsmanship and doing the right thing above all else. All three were so very humble. I have spent my entire career with a feeling that I need to give back for all that was given to me. I loved my experience and I want my kids to love theirs as well.

With those role models being a coach seemed like a likely step. Also, my entire family embraced those same values. My brother Tom became a high school coach, and my brother Ken coaches high school cross country in Amity, Oregon. Even though Bill had a cap and gown, rings and award business, he was very involved in giving free clinics and teaching high school teams. I am very proud of that.

Still, I came to coaching by sort of by accident. I was doing retail management when I got a call from Nick Yorges, the Churchill High School coach in 1980. He told me that he had heard that I was interested in coaching. I believe Billy gave him my name. I had no idea at the time if I could coach or if I would enjoy it. But Nick was so excited that I agreed to an interview. His excitement was contagious and I could not refuse him. I coached as the head XC and assistant track coach with Nick there for 2 years prior to moving on to take the South Eugene head job. Nick turned the program around and our boys took second to South Eugene and our girls won District that first year on the track and third in state from the middle of the pack the year before. Nick gave me his best athletes, and gave me as much support as I needed, and then stood out of my way.

Nick at a young age (in his early to mid 40s) died on a run at the end of that season.

I was hooked. I loved working with this age group and they took to me, as well. At my very first practice, my top runner told me that he was not going to do the workout that I had written. I asked him his name and then told him he could form his own track club in his name and practice after Churchill was done, but if he was going to run for us he was going to do our workouts. He had something like four coaches come and go in three years. He watched us and he watched me for a couple of days and became one of our most loyal runners.

I was tested right away and was not scared away by that. I love the growth that happens during the high school years. On the very first day of every year, I tell my kids two things above all else in understanding me: I love kids and I love our sport in all the lessons that it can teach.


DyeStat: How did you wind up coming from Oregon to Massachusetts? What are some of the interesting observations you might have regarding the sport in Oregon and the Pacific Northwest, compared to Massachusetts and New England?

Coach McChesney: I felt a strong need to carve out my own place. I loved being a McChesney, an Axeman, and a Duck. But I also wanted to be Steven. So the move seemed like a good idea; I wanted to go out on my own.

It was hard at first because I have such strong ties to my family. During high school and college I felt that I had two families. One was my wonderful family and the other was two great teams and a sort of "band of brothers" thing. I loved being on those teams. Coaching in Oregon, I built strong bonds with other coaches.

Now I feel like I have two great homes and we spend a month or so each summer in Oregon. I was taken in by a great group of coaches here. Peter Martin, the Newton North coach, would actually check in on me early in my career at Newton South. He brought me into his home and I have loved being here since.

Having said that, when I first came from Oregon, I was a critic of the new things I found in MA. I was asked early on to join the MSTCA executive board, and I think people must of gotten tired of hearing about how we did things in Oregon. I really could not understand the whole indoor focus, for example, and meets did not really conform to the tight time schedules that I was used to in Oregon.

But after a time I came to understand that the ability to adjust to things was a real plus in MA, and that things really make sense here now. I am kind of famous at big invites for my time schedules that I estimate when none are printed. I will always love and respect the coaches I left in Oregon, but I have a great deal of respect for the programs and coaches in the East. Good coaches are good coaches, and good kids and teams are the same in both places. Passion for the sport is passion for the sport. Reggie Lewis can rock like a small Hayward Field when the right things come together. The differences are much less than I first thought.


DyeStat: Can you talk about how you've developed your program to where it is now? Please help us get to know the town, school and general environment in Newton and how that relates to what you've been able to create?

Coach McChesney: Newton is one of the more affluent suburbs of Boston. It is a town of about 80,000 with two large high schools. It is pretty spread out, with a couple of smaller downtown areas rather than a large downtown. Newton has a great school system, but it also can add stress. A large part of my job is to get kids to relax and have fun after a stressful day.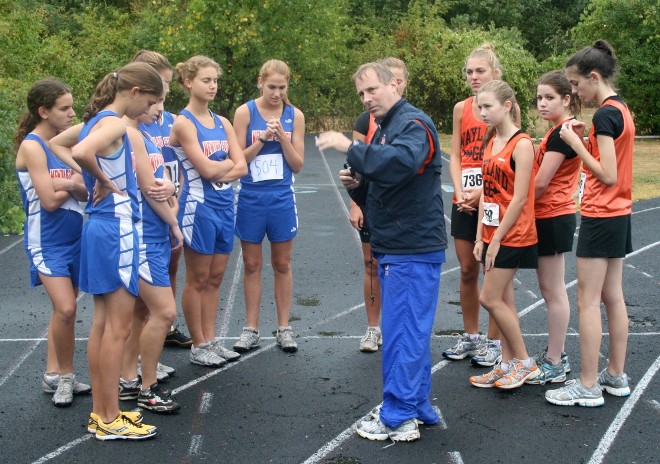 When I first took the job, 19 years ago with my wife, the team was very small and lost pretty much every meet. Our early track team was about 20 boys and a little over a dozen girls. We now get 150 or so kids trying out for track and field. Our cross-country team was four girls and about nine boys. Now we get about 60-70 kids combined each year.

In fact, Newton North was known as the athletic school. Newton North has won a lot of titles in XC and track and field. It took us a while to catch up. In my first year of coaching, no one had heard of a girl breaking 6:00 for the mile in several years. In fact, when I first started at Newton South my girls that I had left at South Eugene were faster than my boys at Newton South. It was an adjustment.

But I soon realized that there were some kids with talent at Newton South and that they were more hungry to learn than kids that had made it already. That period of growth was a lot of fun. It took us two years to win our first state level trophy, and I still look back on that time and marvel at the growth of our early teams. I just recently had the boy and girl captain of our first teams come to town from New York and spot us on our signature hill. It was great to let the kids know who really deserved the credit for getting us started.

Now we are in the kind of place that parents, teachers and the community is excited for what we are doing. We have a great principal and an AD who are among our biggest fans. Our parent support is also great. I have made many true friendships among our parents. So it is a great place to be at.

I still have ties to Newton North as well. Both of our teams have remained successful. One year we tied for the All State XC title; I believe it was 48-48. They won the tie breaker, but Peter Martin brought the 1st place trophy to our school on awards night and told our entire school that Newton had tied for All State. That kind of thing makes coaching in Newton a great experience. Also, our league is full of great coaches and kids. I am so happy that I ended up at Newton South. It is a great place to coach.

As to the how we built the program, I believe we get kids to believe in themselves. We use a mentor system and a lot of the teaching is done by the kids themselves. I also believe in a safety net to allow them to take chances. One thing I tell my kids is that I will always remember them after they graduate on their best day. I think this came from Billy. He tried the race that got him on the Olympic team many times before it actually worked. When asked why he kept going out and fading in races, he said because one day I won't fade. I am practicing for my best days ahead.


DyeStat: You mentioned to me earlier that your kids came through and won state after the death of each of your brothers. Please tell us a little about each of those teams and those seasons, and about your comment "that is a way that kids take care of those they care about."

Coach McChesney: The support and care that our teams gave to my brother and myself, as well as others through our losses, has deepened my commitment to work hard to give back to kids.

I took Tom's death in 1986 pretty hard. My little brother was a junior on my team at South Eugene then and he took it even harder. I was still a professional and worked to keep my grief from hurting the kids. But I was not really sleeping and lost a bit of weight. I was fit and that was not great.

Then a month later, my #2 girl lost her father. On top of that, there was a teachers' strike that I honored and coached through my team captains. My kids on the team constantly fixed me meals and took great care of my brother. The outpouring of support was beyond belief and it was constant. I started to notice the little things that the kids were doing for all of us, like picking up our bags and carrying them for us. But I also noticed a new resolve. Workouts were being run on a new level.

That summer I believe that my girls team, which had placed 2nd in state the year before, really wanted to give the three of us the joy of all that they were capable of. They came into the cross-country season in jaw-dropping shape. They had all agreed to not eat refined sugar before that was the thing to do. They took care of the little things like no team that I had had. Most important is that they were very close-knit. Those girls still get together every year and I am still in touch with them. I see most them every year in Oregon even though they have spread out over the country. This team had built a sense of belonging to each other that was rare. They watched me and adjusted to my needs in a way that I can look back at now and really appreciate.

As far as talent, they were a great pack. Our #1 was Sarah E. Smith, who ran for Yale. She ran 5:01 mile and a 10:12 3k. Next was a 10:01 3k runner and the girl who had lost her father that spring. After her, all of the top five were under 11:00 for 3K including a 2:16 800 runner. It was a pretty gifted team for those early times, but not a group of super stars.

Then Billy died in 1992, the night before our league championship. In 1991, we had gone from finishing near last of 90 teams in the Ea. Ma. Champ to placing 8th. This team had come a long ways in a year. We gained three talented newcomers from other sports and a new 9th-grader.

Earlier that season we got smoked by LS in the dual meet. They went 1-2-3 and won every position after that. Our kids had talked about rallying back and taking the DCL. Then I got the call and left for Oregon the next day. I was full of worry for my mom and dad, as you can imagine, as well as being in shock over losing my best friend. As I said, I roomed with Bill in college and spent most of my social life with he and his wife Nanci. He was to be the best man in our wedding scheduled for April.

Marianne (my finance) went to the team the next day and explained things to them. Before I got word of Bill's death, I thought we had a tiny chance of beating LS, but did not expect it. Well, the kids turned the table and went 1-2-3 and blew the meet open. Marianne then flew to Oregon the next day and brought a video tape from the girls. I will never forget their message to me from that meet. They had so much pride in doing something that they knew I would love to see. It was a very special moment in a very dark time.

Then they went a week without either of their two coaches in getting ready for the Eastern Mass D1 meet. We came back from Oregon and I sensed that we were a new team. Again, the kids were watchful and at times overtly helpful. But they truly wanted to give comfort in an area that they could take control of. As they stated on that video, they wanted to "kick butt" (they normally did not talk that way) for both me and in Bill's memory.

Then they did the unexpected. They placed, I believe, 1-2-3-5-12 at Eastern Mass. They went on to finish 2nd at All State that season. Marianne and I got married with about 60 of our team in attendance.

But they were not done. Like the other team, they trained over the summer at a new level. I have absolutely nothing to do with my team over the summer, other than to give them a program to follow at the end of spring season. I feel that self-motivation and time away from me are two things to be valued.

The kids would tell me that they were going to bring the title to South. They would tell me that I would have fun when cross country started.

It is hard to describe, but those two teams knew how to get me out of my funk and to give joy. Winning was a side project, but it was tied to the whole thing. My 92-93 team was good, but they won All State on our really tough course. My 2nd runner went out and led the charge up the hill way too fast, but refused to fade. We visit her twin girls with our twin boys to this day.

That team had talent, but it wasn't as overwhelming as they made those two seasons. Our #1 ran for Brown (5:07, 11:07); our #2 for Harvard (4 X top 10 in All State XC- 18:04 5K); our #3 a 5:14 Mile, our #4 an 11:48 2 Mile; our #5 a 19:46. But on that mountain, on that one day, they were better than the above.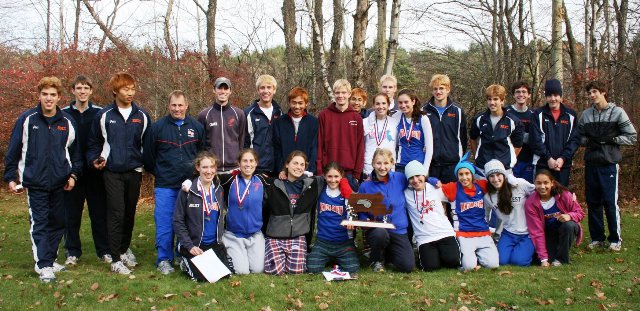 DyeStat: Another thing you mentioned was that you and your wife coached together for 15 years until recently. Can you tell us more about that – what are the challenges of a husband-wife team coaching and how were you able to work through those? What is it like now that she's not working with you?

Coach McChesney: I miss coaching with my wife a great deal. We really loved coaching together and that was quality time. We agreed on all of the important things and it was a wonderful teaming. We also were able to put school and coaching away and be with each other away from school. We scheduled times at home to work on the team and time away from that. We live in Boston, so we could get away from school. We did love having our kids come to our wedding. That was joyful.

I marveled at how quickly she became a truly gifted coach. I should not have been surprised, as she is so gifted in the chemistry classroom. But she was my equal or better as a coach in just a few years. She has always been my sounding board and the voice of reason. At first, I think she learned from me and then I learned from her. I am a on-the-go type of guy. She is the calm center of the storm.

I think it was great for the kids as well. They could go to either of us. I think the most challenging thing was not to let coaching be our entire life. Marianne has a great way of making me relax and take the big view.

Even though she is not coaching with me now, she still adds that balance to my life. She take our twin boys to our meets. They love being amongst our kids. I love taking a breath at meets to visit with Marianne and our boys. I feel more complete now as a person and as a coach with our family. At the same time, I have the most supportive wife on the planet. She really gets the importance of my work with the team.


DyeStat: When you think about the evolution of the sport, from the 1970s until now, what are some of the biggest changes you've observed? What are your thoughts on the development of national championships in cross-country, both on an individual and team level, and the national awareness that comes through DyeStat and the internet?

Coach McChesney: I think talking about the biggest changes from the 70s to now is complicated. So I have several answers to that question.

An important note to these following thoughts is that I am speaking in general terms. There are many kids that, by virtue of their upbringing or by the teaching of gifted teachers, are well above what was done in the 70s.

First, soccer has profoundly reduced the gene pool of kids that are exposed to cross country. In the 70s soccer did not fully exist like it does today. That would not be so bad if the sport of soccer thrived from that, but I feel that has had a negative impact on both sports. I feel soccer has become the sport of numbers and not quality. And many true distance runners never find their best sport. At the same time, youth soccer sometimes tends to water down taking responsibility and sometimes gives awards to non achievement.

Secondly, kids have too many things on their plate and are not asked to devote themselves to excel at something they get to chose and really value. In the 70s, specializing in the sport you loved was embraced for distance kids and we had national heroes. As I explain that to my kids, I tell them that if you are truly a great violin player you are not asked to take up the drums to get a "well rounded experience." Focus is often lacking now and it is not being taught like it was in the 70s. Parents, teachers and coaches of all sports add to the pile-on for kids. It seems to me that we are all asking our kids to be rock stars without the roadies.

The third thing is that fitness of kids entering high school has dropped a great deal in my short time as a coach. Youth sports concentrate on teaching large numbers technical things. I have looked over our area youth sports programs clinics and so little has to do with developing fitness, body strength and work ethic. As a result, building a core and strength is more important than ever when kids get to us. The best kids do all right in this area, but I often have to work hard to get them to lift or do the full core routine. It is the entry-level kids that I now have to be so careful with.

Then there's the distractions. In the 70s, kids did school, practice, homework, maybe a phone call and went to bed. Kids today have so many more distractions. I fight with my team to log their pulse rate and sleep enough hours each day. Those two things can tell us all how they are handling the distractions. Kids are also in constant contact with each other without being meaningful.

So, on a whole, I am amazed at how kids cope. They have more distractions and often face them with less teaching, but they still thrive. So I think kids that are successful today are very impressive.

On the topic of Nationals: I wish we could have gone head to head with Deerfield when I was running. There was no high school championship. Our 5th man in 1975 ran 4:12 for the mile, our 7th ran something like 9:29 and still we were not given the credit for being the best team in the land.

I love the chances kids have today. I am a big fan of both Foot Locker and the Nike Nationals meets. Kids have a choice. I hope they continue to have a choice. My coach took four of us to what now would be the USATF Jr. Nationals. That was the best trip of my life, short of my honeymoon.

We spent a week traveling in the South. At the meet, Bill ran 29:28 as a 10th grader to take 3rd. John Gustafson won the steeple in what was then a national high school record. Mike Yeomen triple-jumped 49-11 to take 3rd, and I had an OK meet, running 14:41 in the 5K.

The memories of that trip have stayed with me. I learned so much as a young man on that trip. So a team cross country meet appeals to be a great deal. It is too bad that in my state football coaches are trying to extend their seasons while our state will not allow our kids to go to a national meet in the same time frame and represent their school.

As far as DyeStat, I am a big fan in general. I used to look forward to track and field news as a high school kid. Kids have the same awareness about their sport much sooner now. I also think that DyeStat is putting up regional and state polls and that really recognizes kids and programs. And I love the new roster deep segment.

As a coach, I am old school, but love reading DyeStat most days as I did Track and Field News. Our boys team, which is a bunch of XC and T&F nerds, know everything that happens on DyeStat. My girls are not that into it, and at times I find that perplexing and at other times refreshing. They like to race and run, because they like to race and run.

As far as national awareness, I was blessed to have seats at this past Olympic Trials. The high school movement at the Trials may lead the way to a great future and DyeStat has stated that loud and clear in their coverage of nationals and the Trials. DyeStat fills a great role in generating interest in our sport. I have also watched DyeStat evolve into caring beyond the elite level. I talked earlier about the 70s, but the 70s would have loved DyeStat.

Even though I do not coach our club team at Nationals, I do get information from DyeStat in season that has helped our relays know what other teams have.


DyeStat: Can you talk about some of your key principals in training that are a core part of what you do as a coach? Please mention mileage, training stages and the mental side, as well. What changes have you made over the years? Who or what were your specific inspirations as a coach?

Coach McChesney: The nuts and bolts: First of all, I individualize. I spend a lot of time writing an individual workout for every kid on the team each week. Each Friday, the kids pretty much give me their training logs on a coded sheet of paper that I take home over the weekend. I come back the next week with workouts that are individualized to each kid on the team. My high school coach, Harry Johnson, taught me that and I have streamlined it a bit. But knowing how each kid responds to training is a bonus.

In Oregon, my kids trained twice a day, 4 or 5 days a week, and did more miles. At Newton South, my kids seem to never sleep and the MIAA bans twice a day. So my choices there are rather limited. My big change since coaching in Oregon is no longer having the option of two-a-day. I have mixed feelings about that. So we are a once-a-day team. Not the end of the world in the place we are in.

I have kids all over the board in terms of mileage depending on what I have seen that they can handle. I have one girl that has been a three-time All American on our relays that does a good deal of cross training because that keeps her healthy. I would say that we average in the mid-40 range per week. That is less than some teams before this one at NS, but this team has more speed and seems to need less to perform and gets stale with more. The tradeoff is that we have some pretty demanding workouts.

I write up the entire year of workouts prior to the XC season and I constantly adjust. We work in what USATF calls periodic training (has that phrase changed since I took level II), building towards the spring. One key thing we do is work through meets. Meets get in the way of good training. So meets are part of the workout day and we do more after most meets.

In workouts, I try to do what both Harry Johnson and Bill Dellinger taught, and that is workouts are to develop kids to face everything they will encounter in a meet and be able to adjust. Our workouts have more than one focus and that focus depends on what is needed.

In terms of training, we are not reinventing the wheel. We focus on building a base in the cross-country season. We do a lot of prolonged heart rate workouts with little pause. Our intervals are longer and slower. We train for the distance.

What pleases me is that we don't go crazy in cross country, and in indoor, and we were able to have a much better finish in the 4 x Mile at both NSIC and NON than our cross country season would have predicted. We really work to train for a good year and not just a good season.

In terms of the mental part of the sport, we try to expose our kids to hardships early on and allow them to adjust. We do a lot of things that other teams might consider rather strange. I often read children stories as motivation tools that make things simple. If you let your dog out, and he or she see a rabbit, that dog doesn't stop to consider the rabbit's strengths and weaknesses. It just chases the rabbit for the joy of it. We try to put a bit more of that back into training and racing.

We also really work on a support system that the kids can count on. One thing we do is affirmations in which each athlete is allowed to speak about what they learned, or felt good about after each meet. This is a great learning tool for me as far as what the kids are thinking. It also allows the kids to set a base of success to build upon. We also hear a lot from each other on how to be successful.

I also work to teach athletic independence. The kids need to rely on themselves and each other on big meet day, and my goal is to step back and be less important in that process each day. I tell my kids that coaches that hover either have no life or they are not secure in what they have taught has been learned. Thanks goodness I never had a coach that hovered, but I see them at all of the camps that I do.


DyeStat: What are some of your thoughts on the future of the sport? When you think of everything that teenagers deal with now in school, home, and society, what do you think are some of the most important things our sports contribute and that kids can take with them their whole lives?

Coach McChesney: I have no insight into the future of our sport. I am not that smart. I just wish and hope. It is my hope that the advantages that some countries have in term of fitness as a culture will level out in the coming years. But to me, that is like predicting the stock market, so I leave that to people way smarter than myself.

But the second part of the question is what we all try to teach and that is are we still able to impart meaningful life lessons through sport. Every year, the day before Thanksgiving, we have a get-together for alumni of our NS teams. We normally get 40-60 former kids, ranging in years, to come to that meeting. I have never heard from past members of teams that won championships a "thanks" for times or places. What I do hear, year after year, is a "thanks" for teaching life's lessons. Sports is still the best place to teach goal-setting while also teaching that being a giving citizen and giving back is what life is about.

Things are complicated, but we work to teach kids that you don't have to buy into making it so. Being a good citizen that works to add to a community should still be valued. Setting priorities is not a bad thing. Setting out to achieve a clearly defined goal can be uplifting.


Congratulations to Coach Steve McChesney, the second Eastbay National Coach of the Week for Fall 2008! Eastbay Coach of the Week Coaches will receive a team color Eastbay jacket.