2008 XC Week 1

Coach Chuck Koeppen

Carmel IN

Throughout the 2008 cross-country season, the editors of DyeStat.com will choose an Eastbay National Coach of the Week to recognize coaches around the country for outstanding recent achievements in guiding prep athletes.
Coach of the Week Archive

"When I first came to Carmel, all across Indiana cross country was basically a conditioning program for basketball players. Things have really changed; now cross country stands on its own."
By SteveU, DyeStat News Editor; Photos courtesy of carmelxc.com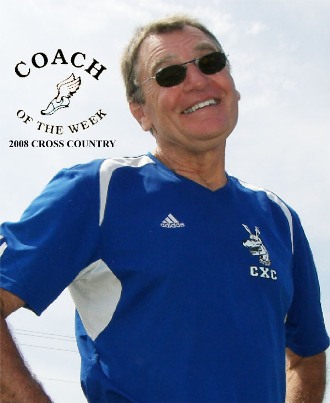 In his 37th season, Carmel IN head coach Chuck Koeppen is ready to retire, but despite his looking forward to more time with family and noises about working on his golf game, don't expect him to be far away from his beloved Greyhounds.

He will, in fact, have one of the best seats in the "house" when it comes to watching Carmel on its home turf. Koeppen has purchased a home that is just a few strideouts away from the course he designed on the school property.

The coach could rest on the laurels of 20 state titles (10 boys, 10 girls in XC) or go off quietly, but even if he wanted to, his runners won't let him. They are driving hard this fall for a final pair of state titles for their mentor.

Koeppen will talk about the titles – they belong to his runners. One of his favorite memories is his son winning the state 3200 in 2000 to clinch his only state track team title. But you have to twist his arm to get him to talk about his own running, which includes two national masters' titles and qualifying for the Olympic Trials in 1972, or the three halls of fame to which he belongs.

It's easy to see his passion for the sport, one that won't die down any time soon.


Coach Koeppen Q&A

DyeStat: Coach, after 36 years of leading the Greyhounds, you've said this is the final go-round. Several weeks into the season, how has this season been unique – both in terms of what you've seen out of your kids and how all those who've been in the sport with you around Indiana have responded to you?

Coach Koeppen: I know that both teams, girls and boys, are committed to winning the state title to give me a fantastic send off. They all have been wonderful! All the opposing coaches have been fabulous in their respect and thoughtfulness toward me.


DyeStat: When you think about the evolution of the sport, from the 1960s until now, what are some of the biggest changes you've observed? What are your thoughts on the development of national championships in cross-country, both on an individual and team level?

Coach Koeppen: When I first came to Carmel, all across Indiana cross country was basically a conditioning program for basketball players. Things have really changed; now cross country stands on its own. There are a lot of great young coaches out there.


DyeStat: Regarding training: What are some of the principles that you had in the early years that you've stood by, year after year? And on the other side of the coin, what are some of the most important training ideas that you've learned in recent years that have inspired you to adapt as a coach?

Coach Koeppen: We still train pretty much the same as we always have. Morning runs "back in the day" were much faster and at about 5:45 in the morning. Now they are much slower in a "jogging class" at 8:00 a.m. One thing we have changed a little is we tend to run "tempo" runs a bit more and somewhat less hard for intervals.


DyeStat: What are some of your basic standards now in terms of total weekly mileage and, in the strongest weeks of training before the big meets start, what are some of the key workouts that you'll have your athletes do?

Coach Koeppen: We usually get in somewhere between 50-60 miles per week. I like pace repeat 1000s with short rest intervals late in the season. We also have a great venue to run them, which makes it especially nice.


DyeStat: When it comes to the mental side of the sport, what are the things you teach your athletes for performing in big meets?

Coach Koeppen: I tell them not to put too much pressure on themselves. Just be smart and run tough. If you have paid your dues, everything will take care of itself. The ones who think too much often have problems in big meets.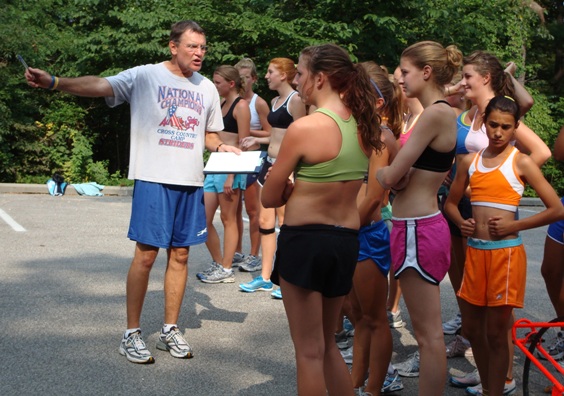 DyeStat: Over the years, who are some of the people who've been most integral to your success? I'm thinking of people you learned coaching from, who gave you opportunities when you first started out, and those who have supported the program year-in, year-out.

Coach Koeppen: My high school coach, Ken Pifer, a Hall-of-Fame Coach at Valparaiso High School in Indiana, was my biggest inspiration. He loved the sport and passed that love on to me. He was absolutely awesome. Of course, I always looked up to Joe Newton of York High School in Elmhurst, Illinois; I have all his books. Former principal, Dale Graham; former assistant principal, Eric Clark; and former athletic director, Bill Shepherd; were always great to me. I have learned from many, many great coaches from in and around Indiana. I have a tremendous passion for our sport.


DyeStat: Having worked with both boys and girls, and having started in an era when girls had much fewer opportunities than today, what are some of your memories from when you first started coaching girls and what it took to adapt? What would you say now are some of the significant differences in working with your boys and working with your girls?

Coach Koeppen: I try to do everything for both teams exactly the same; if you don't, believe me, they know. The girls are probably a little more emotional; they take everything to heart. The boys not so much. Other than that, I see all the normal qualities in both teams: competitiveness, thoughtfulness, appreciation, etc., etc.


DyeStat: Please share with us some of your best memories from coaching, both in terms of individual and team championships, and also a few of the people and events that had an impact on you that might go beyond just the titles won.

Coach Koeppen: Best memories:

Winning both boys and girls state XC titles in 1982, 1987, 1988 and 1996.
Our 2000 state championship track team, with son, Charlie, clinching the title by winning the 3200 individual championship. No, classes, no divisions – just state champs.
Also, our girls winning the State in 1987 with "19" points.
The most outstanding people that have had an impact on me are ALL those dedicated, hardworking athletes that I have had the pleasure to work with. And, of course, I must add what a wonderful, wonderful long, long list of outstanding alumni that I have become some of my best friends. I love them.


DyeStat: When the season finally comes to an end, what are some of the ways you'd like to continue to be involved in the sport … and what are some of the things you're looking forward to having time for when you're finally retired?

Coach Koeppen: I will miss the sport with all my heart, especially the kids. Cross country is my life. I cannot really see myself being away from coaching. I am sure that I will turn up somewhere being involved with the sport. In the meantime, I do have three awesome grandsons. I hope everyone has an opportunity to enjoy the sport as much as I have.


Congratulations to Coach Chuck Koeppen, the first Eastbay National Coach of the Week for Fall 2008! Eastbay Coach of the Week Coaches will receive a team color Eastbay jacket.